After Wang Suqin's parents moved out of their traditional village home in a mountainous area of Zhejiang province more than a decade ago, vegetation soon quickly covered the courtyard of the property.

"Weeds and bamboo grew so fast they almost reached into the rooms," Wang said, adding that the family has abandoned the house, as it may collapse at some stage.
The 47-year-old did not expect to get 118,000 yuan ($18,200) late last year for transferring the right of use to the property, which is located in Shenxiwu village, Anji county.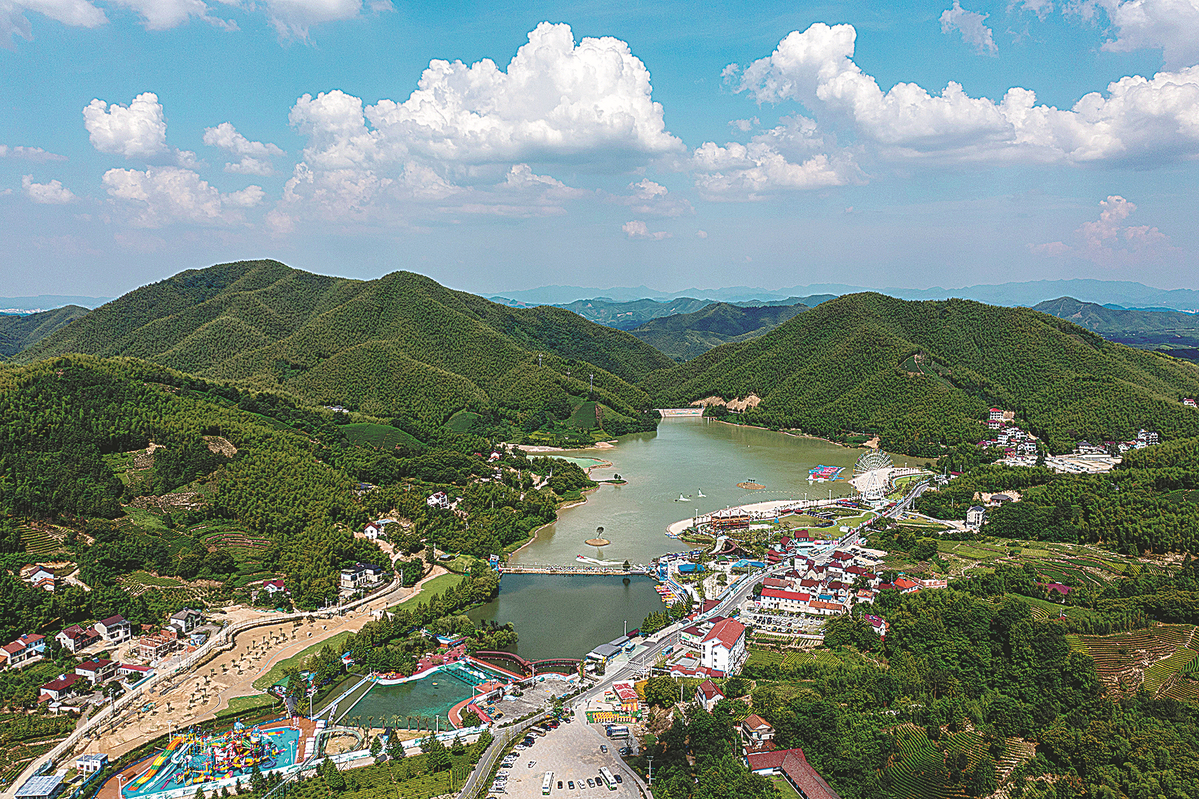 Tianzihu Town in Anji county, Zhejiang province, has benefited from the Liangshan Bank program. [Photo/Xinhua]
However, she received this amount after the local government launched the Liangshan Bank program in July last year as part of efforts to realize the value of the livable environment residents have helped conserve, but which has brought them few economic benefits.
The name "Liangshan Bank", which translates as "the bank of two mountains", is in line with President Xi Jinping's concept that "lucid waters and lush mountains are invaluable assets", which he put forward during a visit to Anji in 2005 when he was Party secretary of Zhejiang.
Apart from being a traditional lender, Liangshan Bank acts as a platform to integrate green resources and transform them into assets with development value.
Babbling brooks, greenery stretching to the horizon, and fresh air make Wang's native area an attractive place for residents and have given her many fond memories.
It was a tough decision for Wang's parents to move away. They are not in good health and there are few hospitals in the area. Moreover, for many years, they gained little economic benefit from such a pleasant environment.
The couple used to sell bamboo, but as prices for the crop fell, they struggled to make a living from their plantation, which covered about 7 hectares, Wang said.
Following the launch of the Liangshan Bank program, Wang is looking to tap more economic opportunities.
She said a company has agreed to rent her parents' house from the bank along with property owned by their neighbors in order to develop a luxury rural resort, on the condition that no damage is caused to the environment.
As tourists visit the area, the company will also likely rent her parents' bamboo plantation to cater to them, Wang added.
Many other residents in Anji are expected to benefit from the Liangshan Bank program. According to the county government, the program has integrated nearly 6,700 hectares of forest, more than 200 vacant homes, and bodies of water with a combined surface area of 1 square kilometer.
The bank said it has developed 19 projects, many of them related to ecotourism, helping to raise 11 million yuan for rural collective businesses and creating 1,430 job opportunities.
National campaign
Anji has spearheaded a national campaign aimed at realizing ecological product value-defined by the central authorities as safeguarding the security and regulatory function of the ecosystem and natural factors such as a good living environment that includes fresh air, clean water and a pleasant climate.
Absorbing carbon dioxide, producing oxygen, cleaning the air, biodiversity conservation, desertification control and wind prevention are among the key regulatory functions listed in a 2010 notice from the State Council relating to the national functional zoning plan.
In late April, the General Office of the Communist Party of China Central Committee and the General Office of the State Council jointly published a guideline, pledging to establish a basic policy framework to realize the value of ecological products by 2025.
Central authorities currently use transfer payments as part of the government's policy to redistribute money for needy regions to reward key areas for ecological conservation.
According to the Ministry of Finance, the central government plans to allocate 88.2 billion yuan in transfer payments to such areas this year, a year-on-year rise of 11 percent.
Many other areas took the initiative to establish Liangshan Bank programs before the guideline was unveiled. For example, Zixi county in Jiangxi province set up such a program in August last year.
Liangshan Bank came to the rescue of Jin Zhufu, who processes bamboo products in Zixi, and who had debts of 1 million yuan for more than five years.
For over two decades, Jin failed to benefit to any extent from his 227 hectares of redwood trees. However, he told Xinhua News Agency that by mortgaging the management and ownership rights for just 33 hectares of the trees to the local Liangshan Bank program for 15 years, he obtained a loan of 850,000 yuan.
Instead of simply holding onto the plot of land, the bank, in cooperation with the local forestry rights asset operation platform, leased it to an ecotourism company to develop projects, on condition the environment was protected.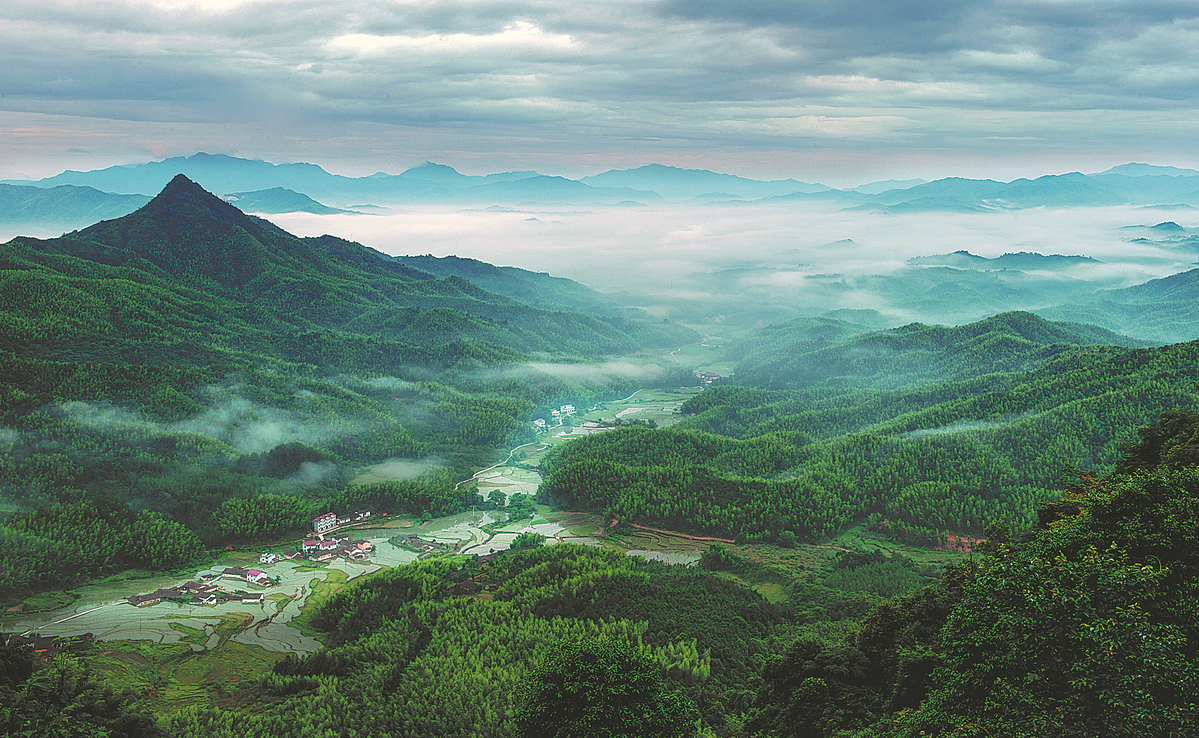 A bird's-eye view of Gaofu Forest Farm in Zixi county, Jiangxi, another of the program's beneficiaries. [Photo/Xinhua]
Win-win situation
According to a recent paper compiled by the Academy of Macroeconomic Research, establishing a system for realizing the value of ecological products will encourage the government, enterprises and the public to contribute to environmental protection.
The system will benefit those who protect the environment, reward those who use the environment, and award compensation for damage caused to ecosystems. In addition to making environmental conservation a lucrative business, the system could result in economic development and environmental protection complementing each other, which is happening in Zixi.
Jin Jianhua, director of the finance office in Zixi, said Jin Zhufu is not the only farmer in the county to benefit from the Liangshan Bank program, which is expected to address the low incomes made by rural residents from rich forestland in their home areas.
With a coverage rate of nearly 88 percent, forests contribute just 1 percent of the income earned by people living in the county's rural areas, Jin Jianhua said.
He added that the program has integrated about 6,700 hectares of forestry resources, and the county aims to double this figure in five years. Thanks to the program, the county has introduced ecotourism and carbon-sink programs in many forest areas previously considered to be economically low-valued. A carbon sink absorbs and stores carbon compounds by removing carbon dioxide from the atmosphere.
"Market vitality has been unleashed as a result of the Liangshan Bank program acting as a platform to integrate green resources," Jin Jianhua said.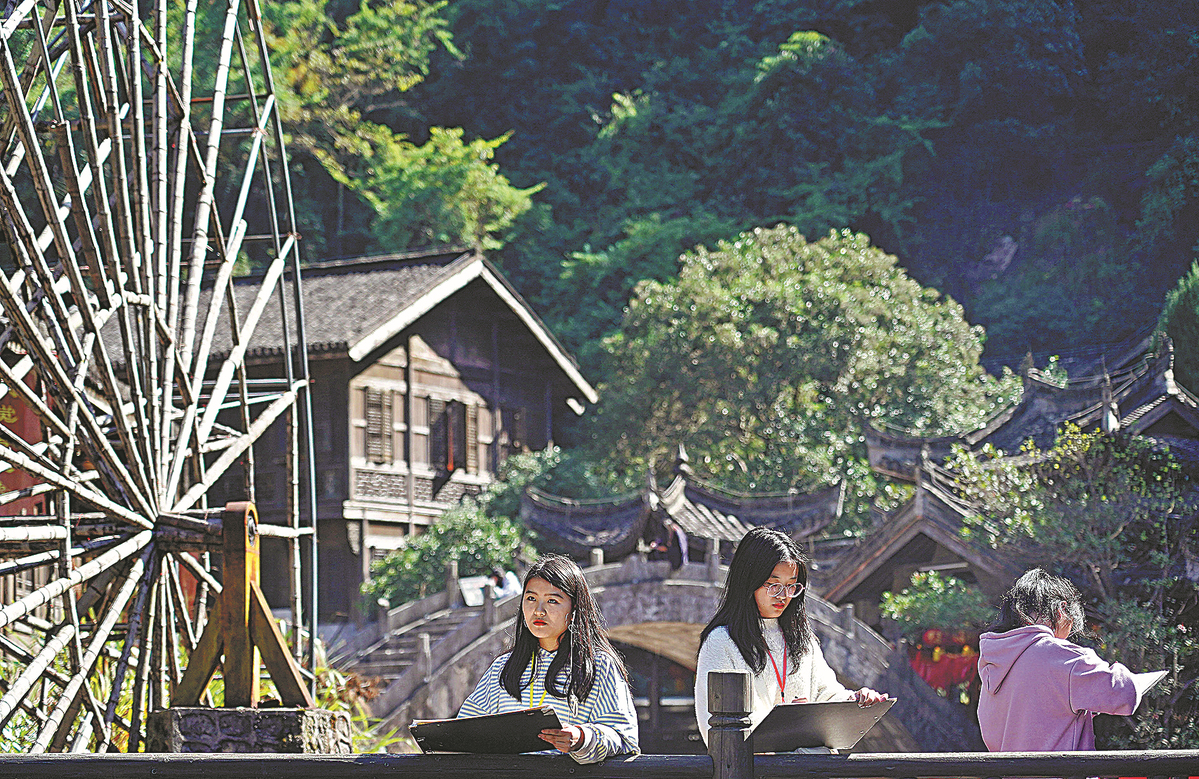 Art students sketch Dajue Mountain in Zixi.[Photo/Xinhua]
Loan granted
Lin Tao, 40, who runs a decorating business in Zixi, longed for years to open a rural resort, but had failed to realize his ambition due to a lack of funds. Close to his home, tourism is thriving in the Dajue Mountain scenic area.
Lin was granted a loan of 5 million yuan after mortgaging the management rights to about 200 hectares of forest to the program for about 20 years.
He used the loan to transform three abandoned rural houses he rented into a rural resort. With 12 rooms and 18 beds, the resort opened on July 1. "Business is good," Lin said.
Rooms are fully booked at the resort during weekends and it has an occupancy rate at least 60 percent on work days, he said, adding that a room with two beds costs 800 yuan a night.
Lin said the tourism boom has created so many job opportunities that he has found it extremely difficult to hire workers. The average monthly salary for waiters at local resorts has reached 4,000 yuan.
According to the Jiangxi Bureau of Statistics, per capita disposable income in the province was 28,017 yuan last year.
"Residents used to leave the area to sell chickens and vegetables, among other produce," he said. "Now, tourists consume all such produce."
In 2002, Zixi began closing polluting companies while refusing new investment in traditional heavy manufacturing industry. Tourism contributes 65 percent of the county's GDP, according to the Zixi government.
Meanwhile, the county has stepped up efforts to improve the accountability system for environmental protection.
After an ecological appraisal system was introduced in 2002, the county published a plan in 2016 to audit officials about to leave office for their performance regarding natural resources.
To date, 18 officials have been removed from their posts or demoted after failing to pass the audit. More than 30 officials have been promoted for good performance in environmental conservation.
The natural resources audit was included in a decision taken at the third plenary session of the 18th CPC Central Committee in 2013, which also vowed to establish a lifelong responsibility system for damage caused to the ecosystem.
Li Ximing, head of Zixi's audit bureau, said, "Guided by the ecological appraisal and audit, cadres' awareness of ecological conservation and green development has been greatly improved."