.
There are very few places on this earth where humanity can transcend the boundaries of race and nationality, where one can go beyond the human perspective and understand that we are one with the universe.
Tibet is one such destination.
"There's natural beauty around the world, but Tibet is an example of real natural beauty," said American economist David Blair. "It's great to have an opportunity to see."
"It's very spiritual," said Shaun Rein, another American expat living in China and founder of a Shanghai-based market research firm.
Invited by Xinhua's China Chat show, Blair and Rein spent a week in southwest China's Tibet Autonomous Region on a fact-finding mission to acquire firsthand experience of the lives of everyday Tibetans, local socioeconomic development, and the real face of new Tibet, possibly one of the most misunderstood places in the world.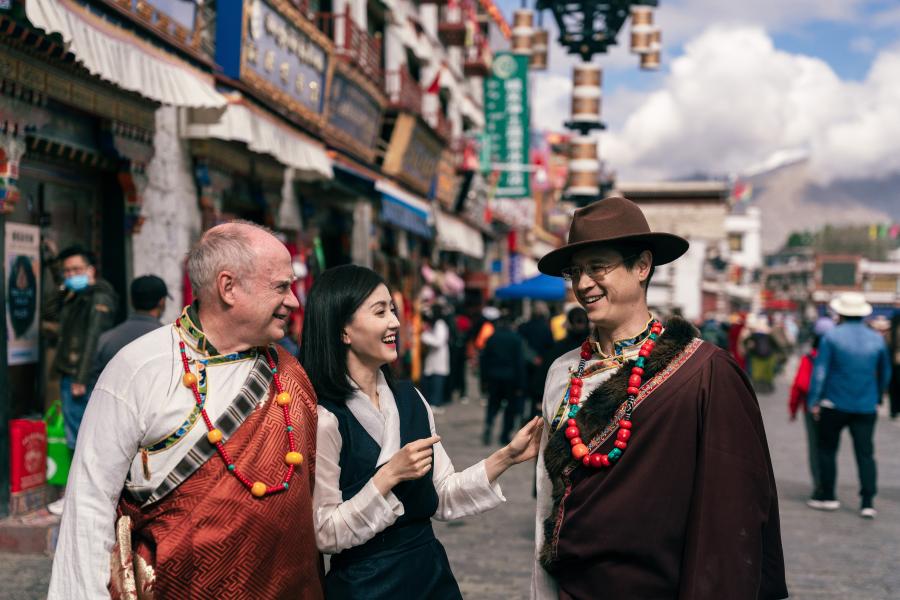 American economist David Blair (1st L), Xinhua journalist Miao Xiaojuan (C) and Shaun Rein, American expat living in China and founder of a Shanghai-based market research firm, chat at Barkhor Street in Lhasa, southwest China's Tibet Autonomous Region, May 19, 2021. (Xinhua/Xu Yongzheng)
This year marks the 70th anniversary of the peaceful liberation of Tibet. On May 23, 1951, the central government of the People's Republic of China, then still in its infancy, signed an agreement with the local government of Tibet on the peaceful liberation of the region, helping the people of Tibet break free from the fetters of imperialist invaders for good.
A subsequent democratic reform in the late 1950s abolished theocracy and feudal serfdom in Tibet. The 14th Dalai Lama, clinging jealously to the system of serfdom and slavery that dominated old Tibet, fled China in the wake of a failed coup to resist the reform.
These great changes, as noted in the late American journalist Israel Epstein's 1983 book Tibet Transformed, "were profoundly emancipatory, physically and mentally, for the overwhelming majority of Tibetans."
With strong support from the central government and the rest of China, and boosted by the great endeavors of people of all ethnic groups in the region, Tibet is catching up with other parts of the country in terms of socioeconomic development.
A new modern socialist Tibet that is united, prosperous, culturally advanced, harmonious and beautiful is taking shape, underpinned by sustained stability and rapid development.
CONNECTIVITY: ROADS, INTERNET AND INFRASTRUCTURE
Having lived in China for most of the past 24 years and having first traveled to Tibet in 2001, Shaun Rein, founder and managing director of China Market Research Group, had feared his return to the region would be a journey back in time to the Tibet of old, to a region left behind by the rest of the country.
"Tibet was so poor when I came here the first time," Rein said, recalling long bumpy journeys along winding dirt roads that left him clutching for a barf bag.
Before his return to Tibet, Rein planned for the worst and told his team they would probably not be able to reach him due to a lack of access to phone or Internet.
Yet Rein was in for a pleasant surprise. Today, fast highways connect the capital city of Lhasa to other smaller cities throughout the region, while cell phone towers dot the landscape providing incredible Internet speeds.
Rein was shocked by the changes in Tibet's transport sector over the last 20 years, even if they paled in comparison to those witnessed by Epstein as he took a grinding 12-day trip by jeep and truck convoy from Chengdu in Sichuan Province to Lhasa in 1955.
"Even that seemed wonderfully speedy then," Epstein wrote, recalling his first visit to Tibet in his book. "For thousands of years in the past, the only transport had been by yak or mule caravan -- six months being considered good time for the trip."
Since 1951, Tibet has gradually built a comprehensive transport network composed of highways, railways and air routes.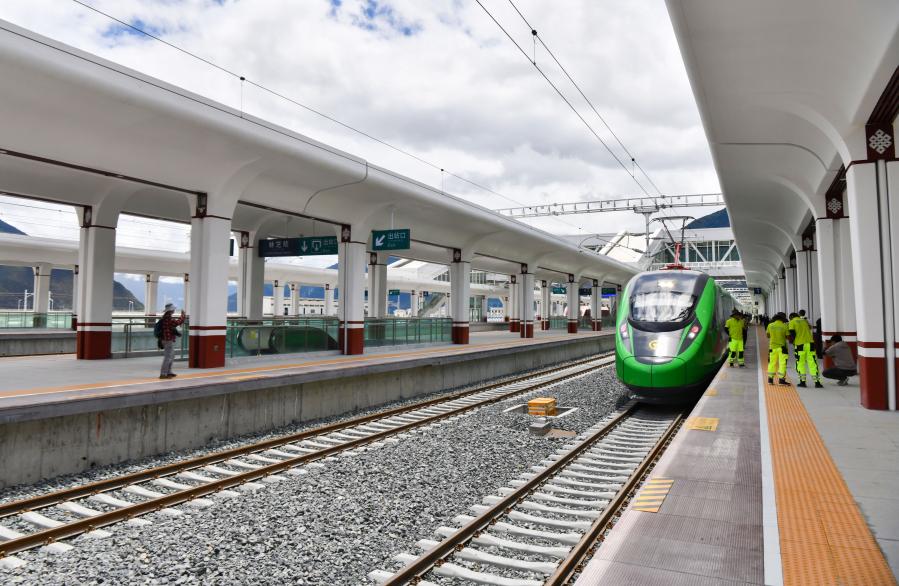 The Fuxing bullet train of the Lhasa-Nyingchi railway arrives in Nyingchi, southwest China's Tibet Autonomous Region, June 25, 2021. (Xinhua/Jigme Dorje)
According to a white paper issued by China's State Council Information Office in May, 118,800 km of highways have been built, providing access to all administrative villages in the region. Ninety-four percent of towns and 76 percent of administrative villages now have direct access to asphalt and concrete roads.
Building and fixing roads in Tibet can be very costly, and many of the roads are underused due to the low population density in more remote parts of the region, according to Dong Gengyun, a Beijing official who has been sent to Lhasa on a three-year assignment to support Tibet's development.
"But we have to do it, because we're not here for sightseeing, but to help develop the local economy and improve people's livelihoods," Dong said.
David Blair, vice president and senior economist at the Beijing-based Center for China and Globalization, regards infrastructure spending as critical because it allows people to run businesses. In Tibet, he saw people setting up B&Bs and even innovation centers.
"In many remote areas of the United States, you cannot get high-speed Internet either by wireless or wired network, and there's no incentive to provide it," Blair said, amazed by the "great 4G connectivity in a little village in the middle of Tibet."