China is contributing its fair share to help ease the global shortfall in COVID-19 vaccines as it expands assistance to countries in dire need, advances vaccine-related cooperation with eligible partners, boosts vaccine exports and gears up production.
Concerns are lingering globally about the widening gap between immunity and development around the world as high-income nations acquire more doses of vaccine than poorer countries, observers and international health agencies have warned.
China has offered COVID-19 vaccine assistance to 53 developing countries at their request, and it has exported or is exporting vaccines to 22 nations, State Councilor and Foreign Minister Wang Yi said.
The nation has also been using its strength in production chains to help other countries manufacture vaccines in China or locally in order to boost global production capacity, Wang said on Wednesday via video link at a United Nations Security Council open briefing on ensuring equitable access to vaccines.
During the Spring Festival holiday, China delivered vaccine shipments to seven countries.
Leaders of countries such as Hungary greeted the shipments' arrival at airports and expressed heartfelt thanks to China, Foreign Ministry spokeswoman Hua Chunying said at a daily news conference in Beijing on Thursday.
China has never sought geopolitical advantage in carrying out international cooperation on COVID-19 vaccines, never calculated any economic gains and never attached any political conditions, Wang said.
But countries continue to face "deficits" in vaccine production capacity and global distribution, Wang warned.
He said all parties should join hands to oppose nationalistic vaccine-related moves, promote fair distribution of vaccines, and in particular, make them accessible and affordable for developing countries, including those in conflicts.
"We must ensure that no country in need of the vaccine is left behind and no individual waiting for vaccination is neglected," Wang said.
As of Thursday, the coronavirus had infected more than 109 million people globally and killed over 2.4 million of them, according to the World Health Organization.
UN Secretary-General Antonio Guterres, who also attended the virtual meeting, said vaccine equity is the biggest moral test before the global community and 130 countries have yet to receive a single dose of vaccine.
Major producers of COVID-19 vaccines in China are working around the clock to increase supply to meet global needs.
The currently available vaccines made by China cost less than others and can be preserved safely at higher temperatures, which makes them more accessible to developing countries, experts and industry insiders said.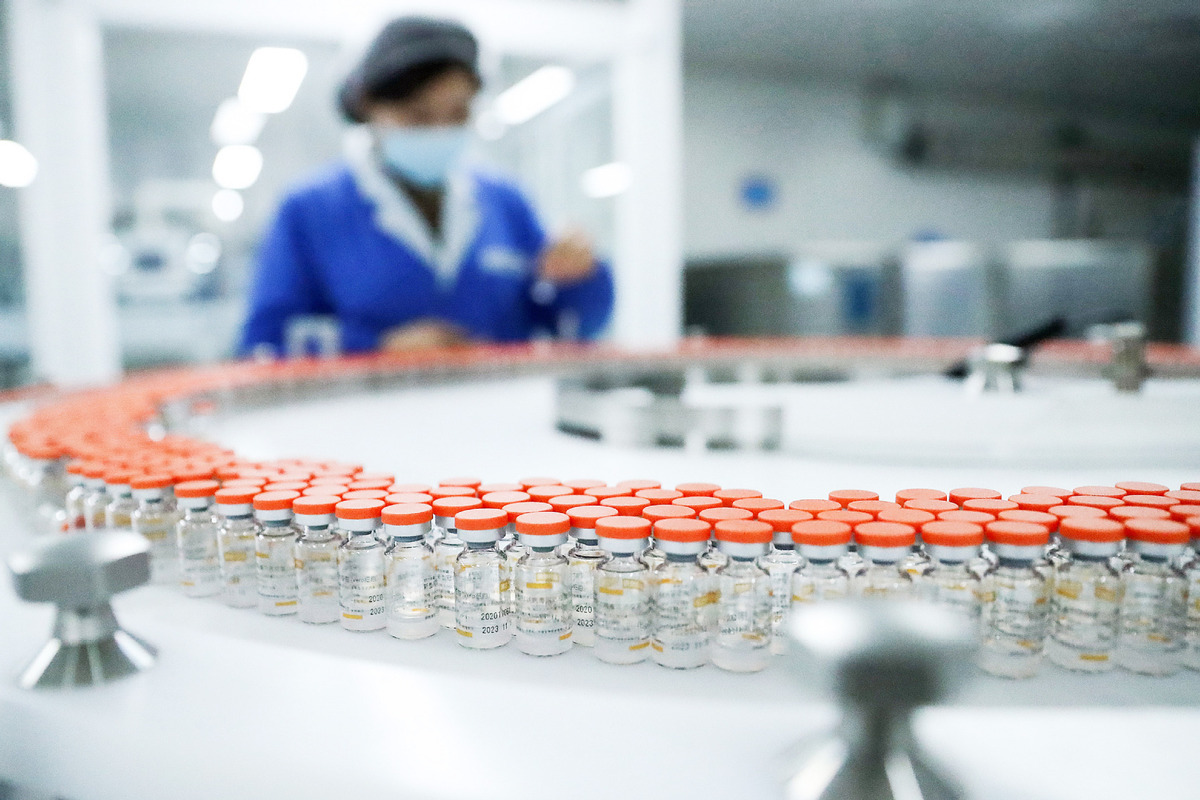 A staff member checks tags on vials of inactivated COVID-19 vaccine at a packing line of Sinovac Life Sciences Co., Ltd. in Beijing, on Dec 23, 2020. [Photo/Xinhua]
Honoring commitment

Yang Xiaoming, chairman of Sinopharm's China National Biotech Group, a major COVID-19 vaccine producer in China, said Beijing's decision to supply 10 million doses of COVID-19 vaccines to COVAX, the World Health Organization's global vaccine initiative, delivers on the commitment to make the vaccines a global public good.
The company's production capacity is expected to exceed 1 billion doses this year, Yang said.
"We will try our best to produce more high-quality vaccines as quickly as possible on the basis of safety and standards to contribute to fairer distribution of COVID-19 vaccines," he said.
In addition, a second COVID-19 vaccine production line has been completed by Sinovac, another of China's leading vaccine makers.
If the new line is put into use before the end of February, it will lead to the doubling of the company's annual production capacity for the vaccine, which will exceed 1 billion doses, Sinovac said.
Facing great demand in China and overseas, Sinovac is producing its CoronaVac vaccine around the clock and at full capacity.
More than 1,200 of the company's employees gave up their Spring Festival holiday and continued working.
"The pandemic is still spreading globally, and the virus fight is far from over," said Yin Weidong, chairman of Sinovac.
The company will continue advancing clinical research of the vaccine and its registration and application in other countries and regions to boost the global fight against the pandemic and improve the accessibility and affordability of COVID-19 vaccines globally, he said.
Since January, CoronaVac has won approval for emergency use in countries such as Indonesia, Turkey, Brazil and Argentina.
More than 10 million doses of the vaccines have been administered overseas since the end of last year.