Having worked with agricultural products her whole life, Qiu Yinfang was recognized recently as a national model worker by the All-China Federation of Trade Unions. The honor resulted in her third visit to the Great Hall of the People in Beijing on Nov 24.


A junior-high graduate, Qiu was employed by a vegetable company sponsored by the local government in Ninghai, Zhejiang province in 1985. Working as a clerk and cashier in outlet stores, she was highly valued by her company.
"I still vividly remember the summer of 1988, when the store was flooded. With other colleagues, I worked day and night to reopen it, making sure local residents had fresh vegetables to eat," Qiu recalled.
After 14 years with the company, she became its vice-manager in 1998. The local government reached out to her to help with the construction of a vegetable market.
"Many vendors were not willing to move into the market for many reasons, including the rental fees and unfamiliarity with the management of the market," Qiu said. "I talked with them one by one, listing the benefits of doing business inside."
As it turned out, the market later played a vital role for local farmers.
In 2004, typhoon Rananim hit Ninghai, and sales channels for 700 hectares of local pears were cut off. Upon learning the news, Qiu went to the orchard directly and organized the farmers. Good pears were transported to the market.
A trademark is a useful tool, Qiu often tells farmers. Through her efforts, local white loquat, juicy peaches and crispy pears become famous nationwide.
The sales value of the vegetable market also expanded from 20 million yuan ($3.1 million) in the 1990s to 1 bllion yuan after 2010.
"I was born and raised by farmers. My parents and many friends are farmers," Qiu said. "I have a strong attachment to the land and agricultural products."
It is her passion and mission to help local farmers and discover more high quality agricultural products.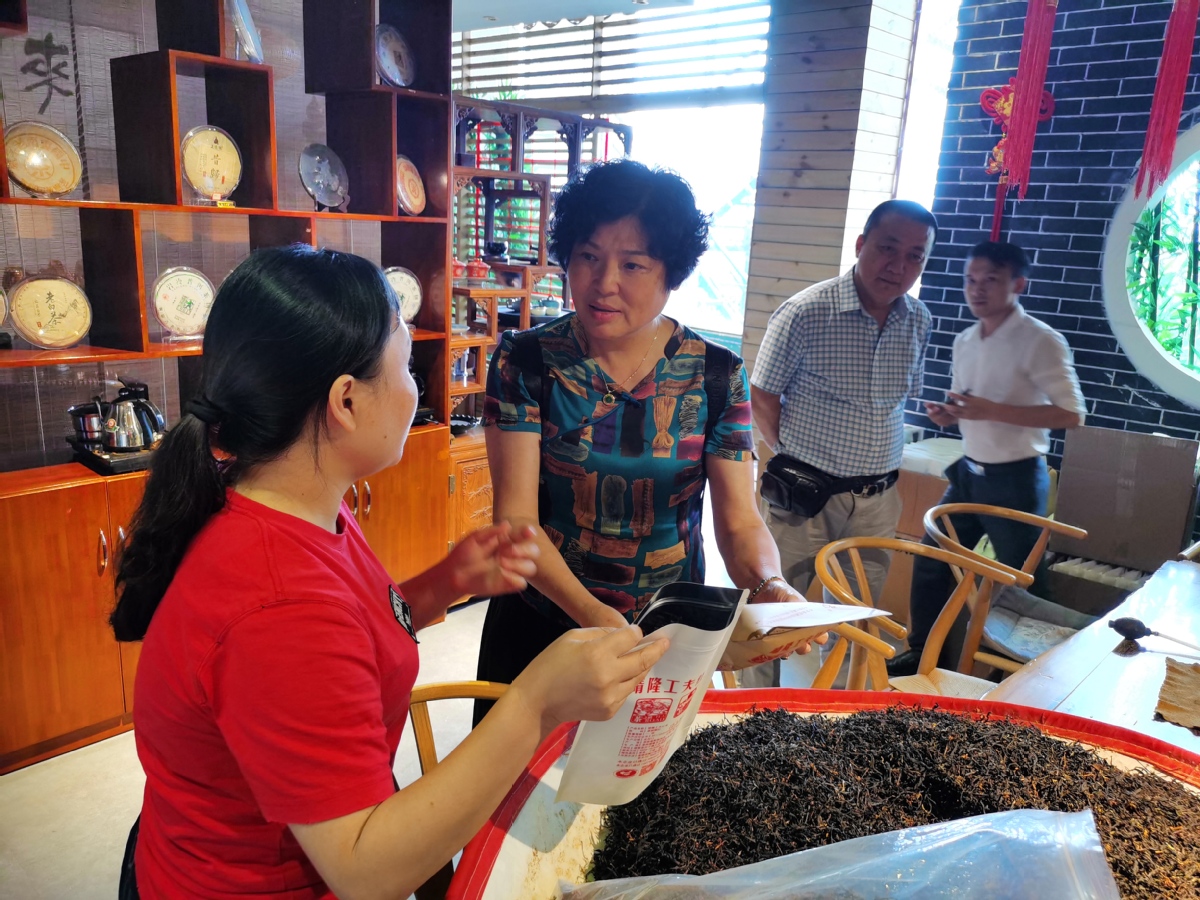 Qiu Yinfang checks the quality of produce in Qinglong county, Guizhou province, in July 2018. [Photo provided to China Daily]
A new undertaking
Qiu retired in 2015 and felt a bit empty.
"I felt I could use my limited knowledge and ability to do something for rural enterprises and farmers," she said. "I felt reluctant to simply retire."
Qiu founded a cooperative uniting all 18 townships in Ninghai county and set up an exhibition center for representative agricultural products. The barrier among production base, farmer, and market is therefore lifted.
Qiu has left her footprints not only in Ninghai but also in North China's Jilin province and Southwest China's Guizhou province.
Guizhou and Jilin partnered with Zhejiang province under the nation's paired poverty alleviation efforts. Over the past two years, Qiu shuttled between Ninghai and Guiyang, helping local farmers sell their products.
"I remember a university graduate student in Qinglong county named Zhou Qin," she said. "He and his fellow villagers planted 10,000 kilograms of peanuts. However, the appearance of the peanuts didn't meet market requirements, so we helped them reselect and repackage them."
Based on her experience, good food differs from good commodities.
"Many places and enterprises in Guizhou do have good products; however, because of problems in processing, packaging, branding and logistics, they do not match market demand," she said.
Another leading enterprise that produced lotus root powder in Anlong county faced similar problems.
Qiu advised them to make instant lotus root powder and develop different flavors such as coconut and sweet red bean to meet different customer tastes.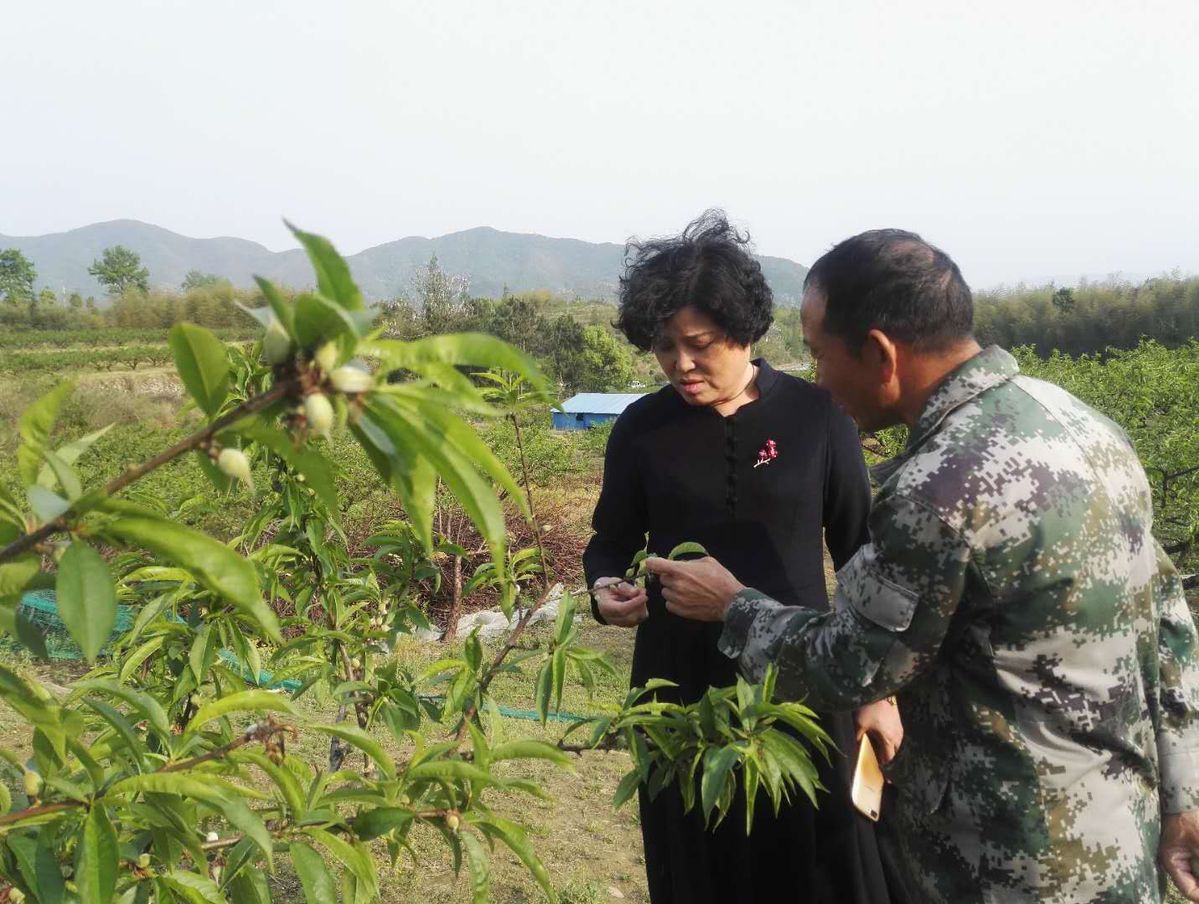 Qiu Yinfang and a farmer examine a plant in Ninghai, Zhejiang province, in April 2018. [Photo provided to China Daily]
Government service
"I never forget my identity as a deputy of the people and a member of the Communist Party of China," Qiu said.
She and her cooperative, which has about 1,500 employees, with many members of the CPC, joined in the effort to fight the coronavirus in Ninghai in early 2020 and to help those in need in their unique way.
From early February after the outbreak, Qiu donated fruit to 150 front-line medical workers in Ninghai county for several months.
"I became a deputy of Ninghai county's People's Congress in 1996. Since then, I told myself to speak for the farmer," she said.
Qiu has made several proposals such as strengthening the team of agents for agricultural products and lowering the price of water and electricity used for farming.
In 2006, Qiu got a message from a girl, saying, "I'm a student, and my parents grow watermelons. I hope you can help my family sell them."
Qiu was worried the message was a fraud at the beginning, but she replied anyway and asked the location of the farmland.
"When I came to her house there were only two beds in the room. I could tell they were experiencing hardship," she said.
The watermelons were successfully sold in Qiu's vegetable market. Further, the company sponsored the girl until she graduated from the university and joined the Navy.
When problems beyond her ability come along, Qiu finds others to help those in need.
In 1989, an 11-year-old girl came to the orange orchard where Qiu was working, asking for a job wrapping oranges. She needed money, as Qiu found out, because her father was sick and her mother was raising three children alone. To convince them to go back to school, Qiu contacted the government as asked officials to help the family.
"I treasure the honor as a national model worker, and I'm deeply touched by the trust of farmers and local governments," she said. "It has been my passion over the past 35 years to deliver agricultural products to more people, and I hope to carry on the mission."