The story of a migrant worker who struck an emotional chord with millions of people 11 years ago has become a social media sensation.

Bamuyubumu, 32, who is nicknamed "Chunyun Mama" (Spring Festival travel rush mother), was photographed in January 2010 by a Xinhua News Agency photographer rushing to catch a train home in Nanchang, Jiangxi province.
The photo drew attention in news media in China and overseas, with the photographer winning two awards at national level.
Looking determined and holding her baby, the woman was carrying a heavy rucksack stuffed with quilts, clothing, instant noodles, bread and diapers, and was also clutching a backpack in her left hand.
The photographer, Zhou Ke, lost track of the woman, but he put in years of dogged research, finally locating her last month in her home area of Taoyuan village in the Liangshan Yi autonomous prefecture of Sichuan province. Countless netizens commented that the story of this hardworking woman demonstrated her determination to improve her life and overcome difficulties.
One of the comments the photo attracted was, "Her life is very hard, but she holds hope in her arms."
Netizens were touched by the image of Bamuyubumu and the innocent face of her child, who was wrapped in a clean and tidy blanket. The photo was titled "Baby, Mom will take you home."

A photo taken on Jan 22 of Bamuyubumu smiling in the sunshine at her home triggered online comments that included: "Her smile is brimful of confidence and her eyes shine like the stars"; "I feel so glad she is now leading a better life", and "She is a fighter".
Describing her life in an interview this week, Bamuyubumu said, "Eleven years ago, I didn't have enough to eat. I lived on corn, buckwheat and potatoes I grew on my land, but there was never enough."
Bamuyubumu, who never had an education and married when she was 17, strove hard to improve her standard of living.
"I couldn't speak or read Mandarin, so I learned it sentence by sentence while helping with work in other villagers' fields," she said.
"In 2009, my newborn baby lacked nutritious food. I felt she was no better off than I was, and I was determined to improve this situation."
Bamuyubumu found a job as a laborer at a brick factory in Jiangxi. "The salary (500 yuan a month) was not that good, but it was far better than farming at home," she said.
Like many in the Yi ethnic group, Bamuyubumu has only one name.
She and her husband now work at a wharf in Ningde, a coastal city in Fujian province. From April to July each year she grows tobacco on the family's small farm at home in Sichuan.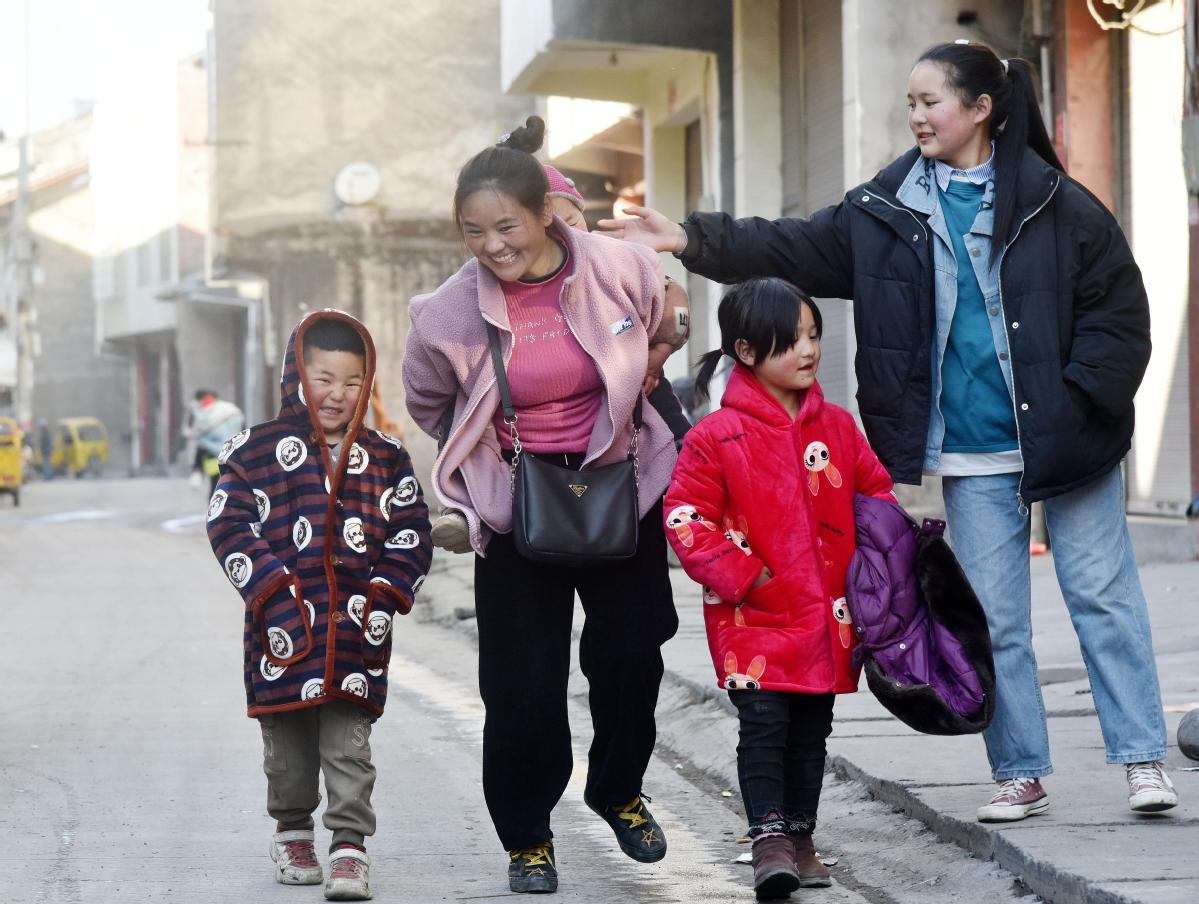 Bamuyubumu and her children walk down a street in her hometown in the Liangshan Yi autonomous prefecture, Sichuan province, in January. [Photo/Xinhua]
Bamuyubumu has four children living at home with grandparents. Unlike people of her generation who never went to school, her son and two daughters are being educated and another daughter is waiting to attend school.
After she returned home in 2010, Bamuyubumu had no idea she had become a famous face. During the past 11 years, she has devoted herself wholeheartedly to making a better living, no matter the hardship.
Zhou, the photographer, never quit looking for Bamuyubumu.
"I wanted to know her story and kept thinking about it at different times. The determination she shows in the photo has encouraged me repeatedly during the past decade," he said.
He added that he feels there is "a certain connection" between Bamuyubumu and himself.
Zhou took the photo with him on every work trip he made and asked local people whether they knew the woman.
With the help of China's booming social media platforms, he posted the photo online, trying to seek clues to her whereabouts.
The photo was taken on Jan 30, 2010, when Bamuyubumu ended her two-month stint in Nanchang and was hurrying to the city's main railway station for the journey to her hometown.
"I had washed the quilts and clothing thrown away by co-workers. I wanted to take them home for the family," she said.
Her journey home first took her to Chengdu for two days and one night. In the Sichuan provincial capital, she rested for a night at a hotel, before spending another 14 hours on a train to Yuexi county, Sichuan. She reached her home near Daliang Mountain late at night.
Now, it takes only 14 hours to travel from Nanchang to Yuexi.
The shortened journey time was unimaginable for Bamuyubumu 11 years ago when she left Liangshan for the first time in search of a better life. Her family, which was planting crops on a small plot of land, was barely able to make ends meet from the annual harvest.
She told Xinhua Daily Telegraph that 11 years ago, there was no electricity at the family home, and when it rained, the bed and quilt were drenched and she and her husband had to fumble around in a darkened room to place buckets and basins to catch the rainwater.
Arable land was scarce in the area and locals found it difficult to make a living from farming.
The mountainous land in the village used to be barren. Planting seeds did not necessarily produce crops, especially in the event of flooding and drought.
When Bamuyubumu went to work at the factory in Nanchang, she carried her daughter while removing stones and bricks. Her daughter fell asleep on her shoulder, so she put her down and watched the girl as she continued working.
The Beijing News quoted Bamuyubumu as saying, "I made few friends in Nanchang. I did talk to some people, but as I couldn't understand what they were saying, I sometimes felt lonely."
One of Bamuyubumu's daughters saw the photo taken in 2010 online and accompanying information asking for help to find the woman in the picture.
Last month, photographer Zhou and Bamuyubumu met each other face to face for the first time when Zhou went to her village. "I was nervous and excited when I met her", he said.
"She looks much younger than I imagined. Her silver earrings make her fashionable."
Bamuyubumu is always cheerful now, Zhou said, adding that her dimples show when she laughs.
As a result of the much-needed help and resources mobilized during the poverty relief drive in her home county, her family now has a stable income.
Bamuyubumu lives in a concrete house instead of the leaky adobe home the family used to inhabit. She eats rice, meat and vegetables each day and, more important, she makes a good living from planting tobacco with fellow villagers.

Initially, her family members earned 6,000 yuan a year, as they lacked expertise and experience in planting tobacco. With local authorities making concerted efforts and offering advice to residents, the family's tobacco yields grew significantly, as did their income, which reached 100,000 yuan last year.
During his interview with Bamuyubumu, Zhou noticed that she had many blisters on her hands, which sometimes bleed when she sorts stones on the tobacco farm. However, she has continued to work despite the pain.
Bamuyubumu's determination to shake off poverty not only impressed Zhou but also her family and neighbors.
One neighbor, Abuwulai, who once worked with her in Shenzhen, Guangdong province, told Chuanguan News, "Whether she is at home or working outside, she is very diligent. When others are resting, she works overtime, finding things to do and earning more than they do".
Zhou said: "No matter what, she faces up to reality. She never dodges or hides anything. She had a down-to-earth attitude about her situation. For migrant workers, it is difficult to gain a foothold in cities. The countryside is their home."
With Bamuyubumu never having received an education, the children are her hope for the future, Zhou said.
He added that every time he played with Bamuyubumu's children, they reacted "very quickly and intelligently", adding, "I think that in many cases, we must rely on the next generation to advance."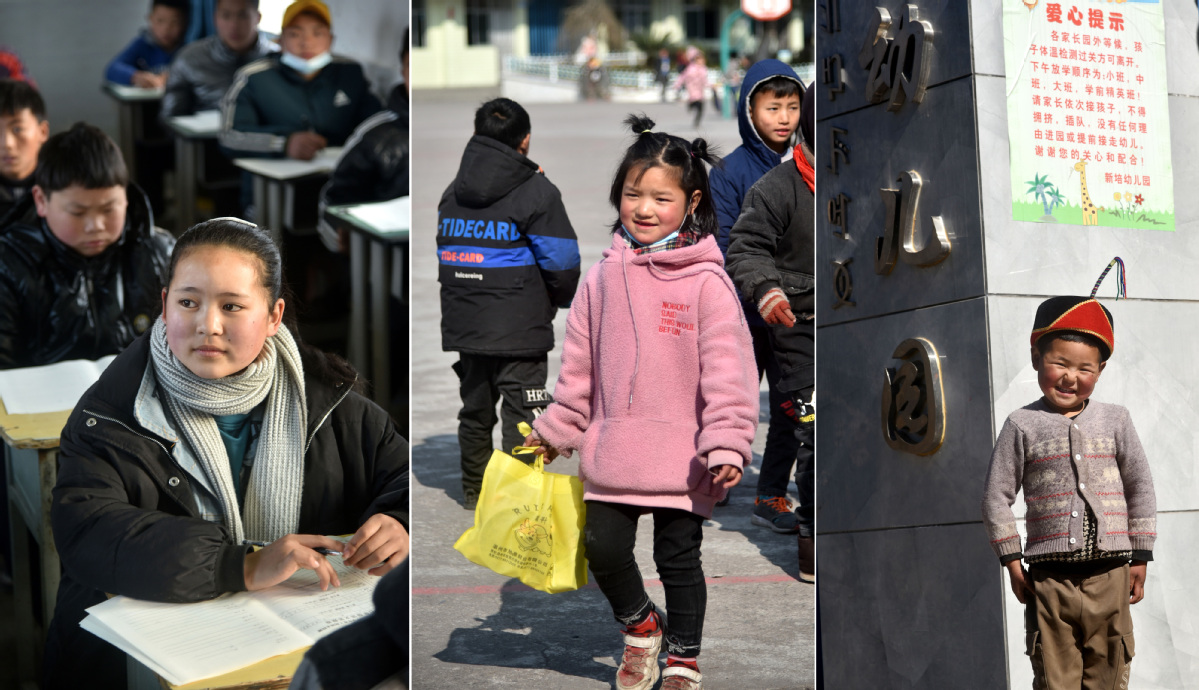 Bamuyubumu's eldest daughter studies at a middle school, her second daughter at a primary school, and son at a kindergarten. [Photo/Xinhua]
A junior high school in the north of Yuexi county is a prime example of the increased education opportunities for local children.
The number of students at Xinmin Middle School has risen from 873 in 2015 to 2,425 now, with the proportion of female students accounting for 51 percent, up from 15 percent six years ago.
However, education is just one aspect of the overall poverty reduction efforts.
On Nov 17, the authorities in Sichuan said that the counties of Puge, Butuo, Jinyang, Zhaojue, Xide, Yuexi and Meigu in Liangshan prefecture had been removed from the poverty list, meaning that all 88 counties in Sichuan were no longer impoverished.
In 2018, Bamuyubumu's family received a subsidy of 40,000 yuan from the local government to build their concrete home. The house is bright and clean, has tiled floors and many electronic appliances.
A paved road was built in Taoyuan village in 2018. Running water, electricity and telecommunications services were also introduced.
Bamuyubumu's family is now entitled to financial support for healthcare and education, and she and her husband still work away from home during the non-farming season to earn extra money.
Looking to the future, Bamuyubumu said: "I have to do more work and make more money, and the children must study hard and never experience what I have been through. We should advance, no matter what happens, whatever the adversity."
Zhou said that if many more people adopted Bamuyubumu's enthusiastic approach to life, "whether they are in rural areas or cities, I think they can see hope."