China's latest move to support over 1,000 innovative small and medium-sized companies is conducive to enhancing the resilience of the industrial chain and boosting the high-quality development of the nation's sprawling industrial economy, officials and analysts said.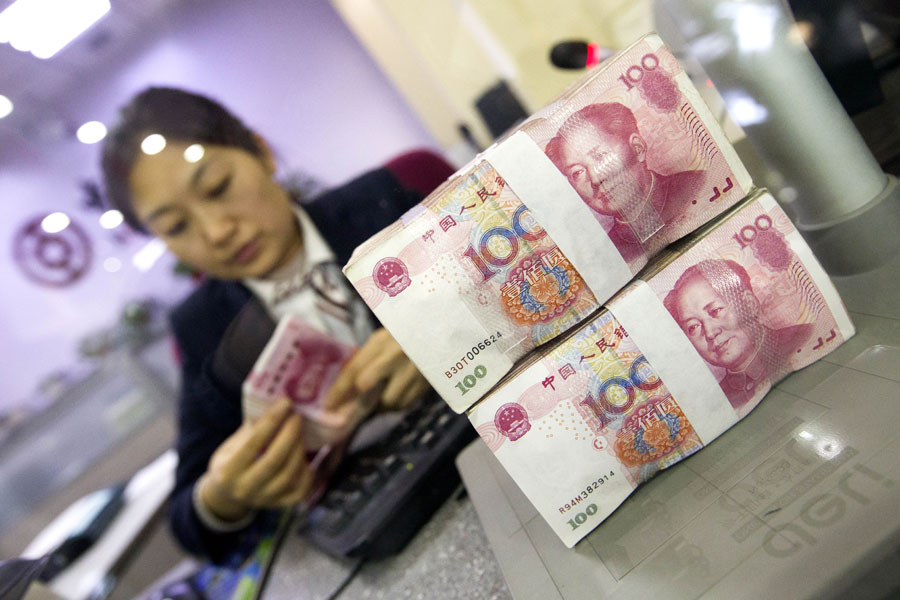 A cashier at a bank in Taiyuan, Shanxi province counts renminbi notes. [Photo/China News Service]
The comments came after the Ministry of Finance said on Wednesday that the central government will allocate more than 10 billion yuan ($1.55 billion) from 2021 to 2025 to support the growth of more than 1,000"little giants", or SMEs that focus on a market niche and master key technologies with strong innovation capacity.
Such SMEs are similar to "hidden champions", a term coined by German author Hermann Simon to describe small, highly specialized world-market leaders in Germany.
Qu Xianming, an expert at the National Manufacturing Strategy Advisory Committee, a Beijing-based think tank, said innovative SMEs are a key link in the entire industrial chain and their role is irreplaceable.
Cultivating globally competitive "little giants" can help China better stabilize the supply chain and seek high-quality development in manufacturing, he said.
"China lags behind developed countries in making certain high-end industrial components, and the efforts to nurture SMEs that specialize in one or two products can help the country achieve breakthroughs in crucial areas and complement its industrial structure," Qu said.
Shi Zhengwen, a professor of tax law and policy at the China University of Political Science and Law in Beijing, said, "The money can be used to attract provincial governments to increase their fiscal support to innovative, specialized SMEs."
The latest fiscal support is part of China's broader push to cultivate a globally competitive ecosystem of SMEs, which account for nearly 50 percent of the nation's tax revenue, 60 percent of China's GDP, 70 percent of technological innovation and 80 percent of urban employment in China, according to the Ministry of Industry and Information Technology.
Innovative growth
In August, President Xi Jinping called for efforts to foster the innovative development of micro, small and medium-sized technology companies during his inspection tour of Anhui province.
In response to the call, Xiao Yaqing, minister of industry and information technology, said earlier this year that the ministry plans to turn 10,000 SMEs into "little giants "over the next three to five years to help them improve their innovation capabilities, boost corporate management and accelerate digital transformation.
Last year, China SME Development Fund Co Ltd, a fund with registered capital of 35.75 billion yuan, was set up in Shanghai to promote the sustainable growth of SMEs in key sectors. The Ministry of Finance acts as a limited partner to the fund with a 42.66 percent stake amounting to 15.25 billion yuan.
Amid the COVID-19 pandemic, the central government has rolled out a set of policies, including tax rebates, to help SMEs resume work and solve financing difficulties.
Cao Yuteng, CEO of FlexBot, a self-driving technology startup in Guiyang, Guizhou province, said he is very excited to see the government's commitment to help SMEs.
"Despite short-term difficulties amid the pandemic, we are working hard to use technologies to improve efficiency. We are confident about future development," Cao said.
FlexBot is not alone. About 92 percent of 605 surveyed SMEs in China said they are confident about their ability to innovate despite pressure from intensified competition, market uncertainties and challenges created by COVID-19, according to a report jointly released in July by US tech heavyweight HP Inc and Peking University's Guanghua School of Management.