The internet has played a key role in aiding China's battle against COVID-19 in 2020, as total users in the country hit 989 million by the end of 2020, accounting for one-fifth of the world's total, according to a report on China's internet development unveiled Wednesday.
The figure marked a 43.7-percent surge from 688 million users five years ago with the internet penetration rate reaching 70.4 percent, notes the report from the China Internet Network Information Center.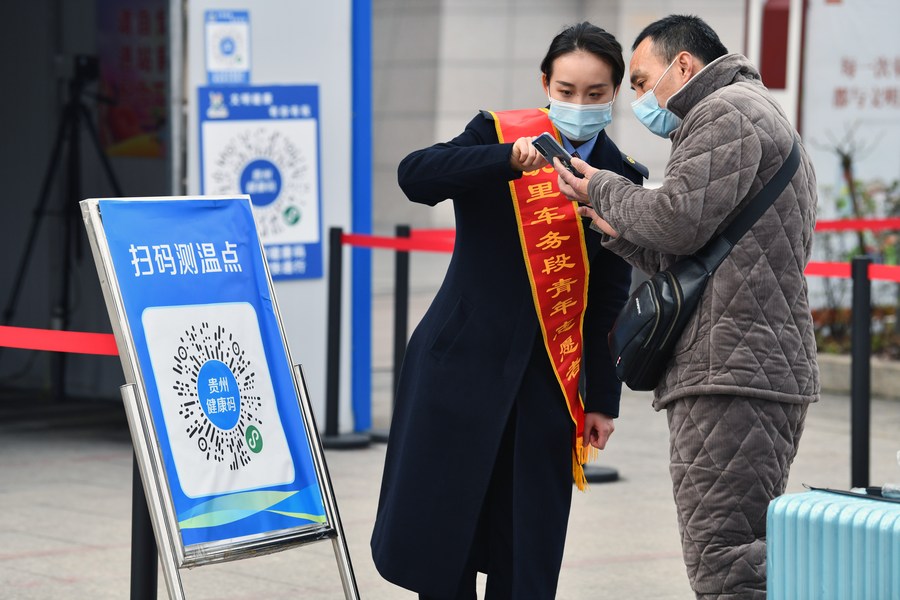 A staff member helps a passenger scan the health tracking QR code before entering Kaili South Railway Station in southwest China's Guizhou Province, Jan. 28, 2021. (Xinhua/Yang Wenbin)
AIDING COVID-19 FIGHT
The total number of registered "health QR code" users in China neared 900 million since the COVID-19 outbreak, figures from the report show.
Health QR codes, automatically generated quick response codes assigned to people as an indicator of their health status, were introduced by a national integrated government service platform among China's wider epidemic prevention and control efforts.
Code-based access has been realized in most parts of the country, with big data playing its role in COVID-19 control and the resumption of business and manufacturing, according to the report.
Meanwhile, China has seen a rapidly expanding e-learning user base and growing needs for internet-based healthcare services since the coronavirus outbreak.
As of December 2020, e-learning and online health service users totaled 342 million and 215 million, accounting for 34.6 percent and 21.7 percent of China's total internet population, respectively, says the report.
The report foresees further roles of the internet in boosting economic recovery, ensuring the functioning of society and promoting international cooperation on curbing COVID-19.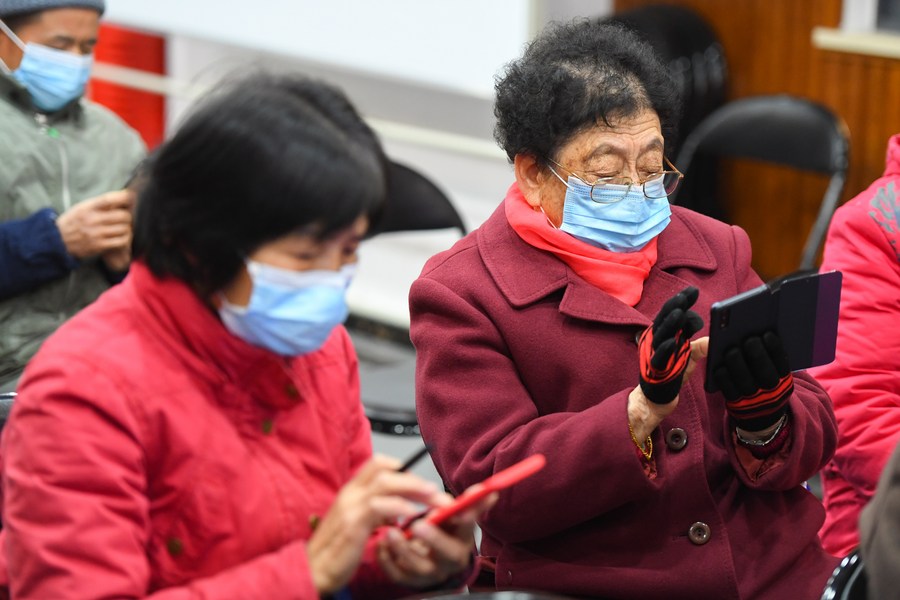 Elders learn to use smartphone at Xiajiachong community in Tianxin District of Changsha City, central China's Hunan Province, Jan. 12, 2021. (Xinhua/Chen Zeguo)
DIVERSIFIED DIGITAL SOCIETY
China is emerging as a large and diversified digital society with the internet further penetrating the underaged and old-age groups, the report says.
It is becoming increasingly evident that the main group driving the growth of internet users is shifting from the youths to the underaged and elderly, it adds.
As of December 2020, netizens aged 60 and above accounted for 11.2 percent of the country's total internet users, up 7.3 percentage points from December 2015, while students made up 21 percent of the total.
China, the world's largest online retail market for an eighth consecutive year, saw its annual online retail sales total 11.76 trillion yuan (about 1.82 trillion U.S. dollars) in 2020, up 10.9 percent year on year, figures from the report show.
About 854 million people, or 86.4 percent of the country's total internet users, use online payment.
In addition, the number of online short video users reached 873 million by the end of last year, surging by 100 million compared with March 2020 and accounting for 88 percent of the internet-using population, according to the report.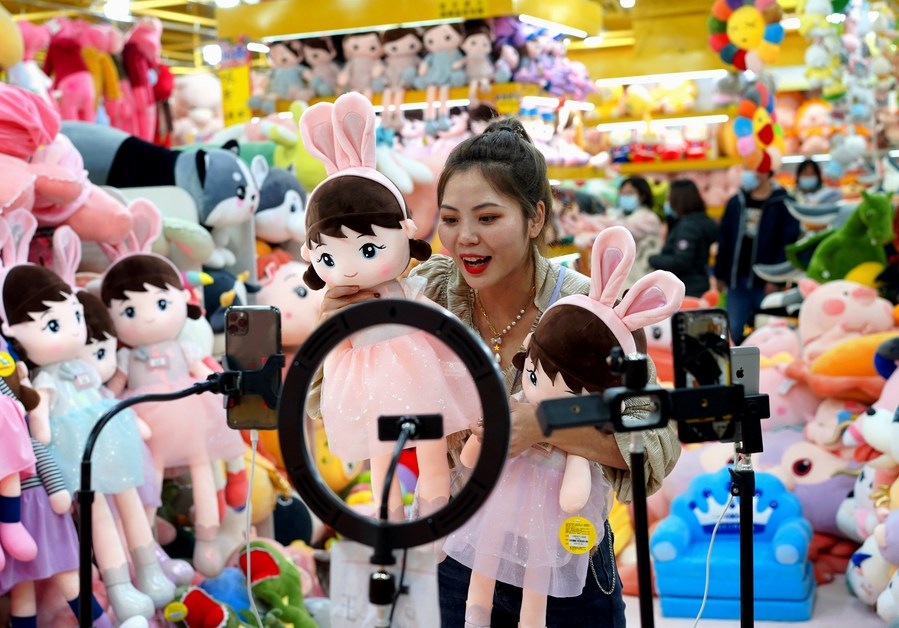 A saleswoman promotes stuffed toys via livestreaming at an international trading center in Baigou New Township, Baoding City of north China's Hebei Province, Feb. 2, 2021. (Photo by Feng Yun/Xinhua)
POWERFUL ANTI-POVERTY TOOL
Mobile phones are evolving into new farm tools and e-commerce has become a part of farm work for China's rural population, as online sales emerge as an important force in the fight against poverty, according to the report.
By the end of 2020, e-commerce had covered all of the country's 832 national-level poverty-stricken counties, reads the report.
Online retail sales in rural areas jumped to 1.79 trillion yuan last year, from 180 billion yuan in 2014, data from the report shows.
New forms of rural online shopping, including livestreaming and e-commerce, not only benefit consumers, but also boost the sales of high-quality agricultural products in rural areas, the report reads.
Amid government efforts to expand rural internet coverage over recent years, residents in 98 percent of China's poor villages had access to the internet through fiber-optic cables by the end of 2020, up from less than 70 percent about five years ago, according to the report.
As of December 2020, around 309 million people, or 31.3 percent of China's online population, live in rural areas, where the internet penetration rate stood at 56 percent.