Graduating in 2018 with a master's degree in environmental science, Luo Yincheng did not seek a "decent" job with an Internet enterprise or a university. Instead, he chose to work in a poor village in southwest China's Yunnan Province.

Luo, a member of the Communist Party of China, is among many college graduates in China who choose to serve the countryside through a national program of selecting excellent college graduates to rural areas for a short term to hone their skills and cultivate young talent.
The graduates work at the grassroots level to accumulate experience for some time, before being selected to different job positions at various levels.
However, when Luo made the decision two years ago, he had no idea what true poverty was.
On Feb. 25, 2019, he journeyed to the outlying Huangbanping Village in Ninglang Yi Autonomous County, over 2,800 km away from Tianjin, where he took his master's degree at the Tianjin University.
This was also when he began keeping a diary on his poverty-relief mission.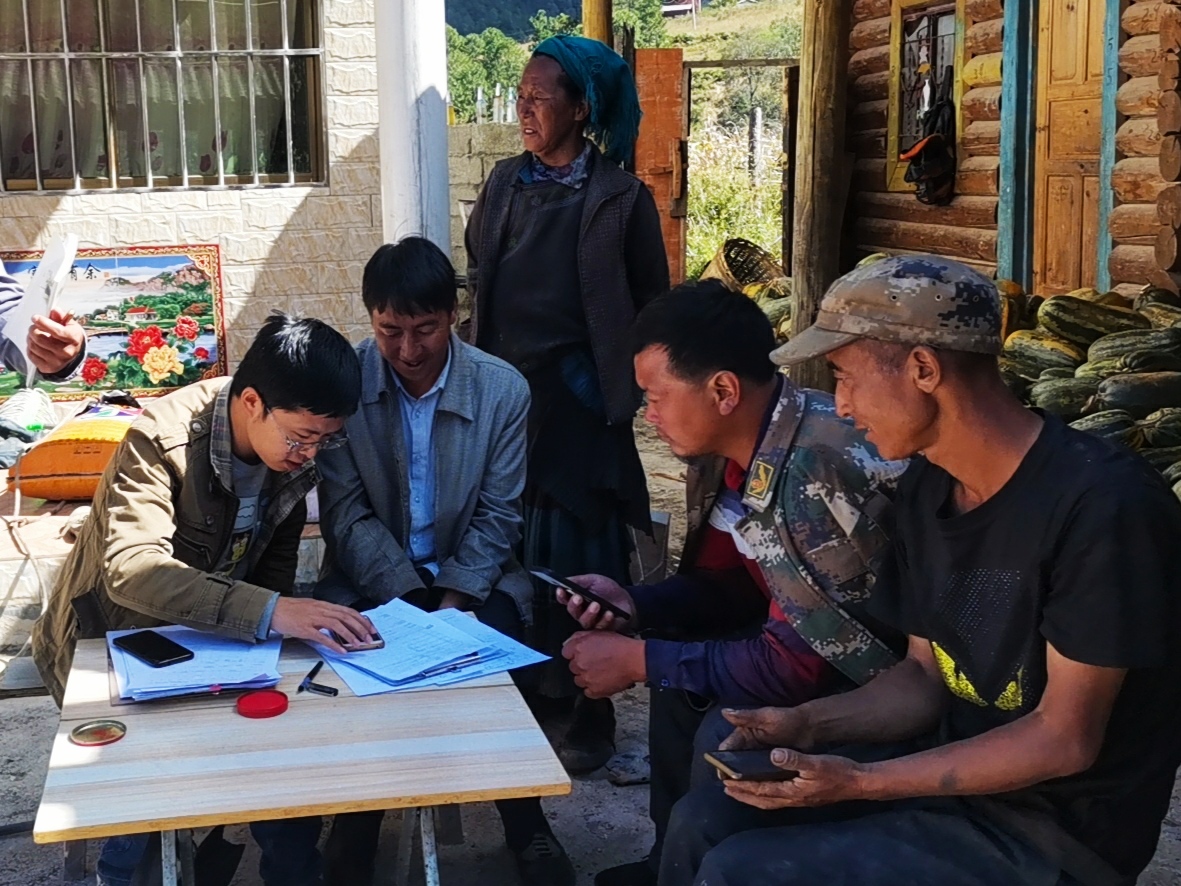 Luo Yincheng, a grassroots official from Huangbanping Village, Ninglang Yi Autonomous County, southwest China's Yunnan Province, is conducting a household survey on October 20, 2019. (Photo provided to Xinhua)
FIRST IMPRESSION
Luo took a car to the village from Lijiang, about 120 km away. "The narrow mountain road was full of hairpin turns, with a steep cliff on one side and a valley down below," recalled Luo. "On the 20-km road crossing the Jinsha River, we descended more than 1,000 meters. My ears ached just like when flying." He vomited twice on the way.
Though a native of Yunnan Province, the then 26-year-old was astonished at what he saw. Most villagers lived in the valleys stuck between two craggy mountains, with little arable land, drinking water and access to the outside world.
The bunkhouse made of logs cut a couple of miles away in the forest was far from the modern concept of home. The men here have a year-round tan while women wear hats the size of kites to protect them from the burning sun.
The tap water was too muddy and had to be left for a night before being boiled. His room had no lock and there was a long crack on the wall stretching up to the ceiling. When he woke up, he was often startled by the ants and spiders on his pillow.
The reality was cruel. Among the 3,037 residents of the village's 739 households, 1,786 lived under the national poverty line. They also had to battle with frequent floods and mudslides.
"I often had to drive an hour and walk another hour to reach the farthest villagers," wrote Luo in one diary entry.
"I couldn't understand the local language, nor could they understand Mandarin. I had to invite a translator with me at work. I later learned a few local words as a way to pull us closer," he told Xinhua.
It took Luo over two months to visit every household and gain the trust of local residents. "They knew I was trying to help," said Luo.
Luo Yincheng, a grassroots official from Huangbanping Village, Ninglang Yi Autonomous County, southwest China's Yunnan Province, is giving lessons to a group of students on May 13, 2020. (Photo provided to Xinhua)
POWER OF KNOWLEDGE
"In the short term, poverty can be alleviated with a new house, in the medium term by boosting industries, and in the long term through education." This is Luo's reflection on poverty reduction from his own experience.
Fewer than five people in the village went to university over the past decades, and most began working at construction sites or stores after graduating from middle school.
Luo has mobilized all local officials to bring those students who had dropped out back to school. Over the past two years, a total of 229 students have returned to class.
He also organizes various activities such as book corners and extracurricular classes for students in the village.
"The children were astonished when they saw pictures of skyscrapers in Beijing. The tallest building they've ever seen is a six-story house in the county seat," Luo said. "A child asked me questions about the launch of a rocket, and some told me that they wanted to be police officers or teachers when they grow up."
SHAKE OFF POVERTY
The rolling mountains not only limited their contact with the outside world but also blocked their path to prosperity. Residents here used to rely on middlemen to sell their produce such as honey and free-range chicken, which were often sold at low prices.
Luo and other village cadres therefore rented a pickup and sold their products in the county. Surprisingly their first attempt brought back more than 10,000 yuan (about 1,547 U.S. dollars), which quickly won over the villagers, causing many to follow suit.
"With the help of the government, people in poverty should strive to take a step forward, embarking on the road free from destitution," wrote Luo in a diary entry.
In November last year, Ninglang, which had been plagued by poverty for thousands of years, became one of the last nine counties in Yunnan to withdraw from the poverty list.
As a grassroots official, Luo witnessed the transformation of the village in his 692 diary entries. "Modern houses replaced wretched huts, muddy roads and the wooden bridge are now made of cement and concrete. Internet coverage is now complete, tap water has become clean, and the power supply is stable," he wrote. "Every inch of the village is a testimony to progress. Most of all, the villagers' mindset has also changed. They're more motivated."
"Shaking off poverty is only the beginning, the new mission of rural vitalization is our next goal," he said.