One of the world's most important bilateral relations is at a critical crossroads, with the decision likely to shape the global political and economic landscape in the coming years.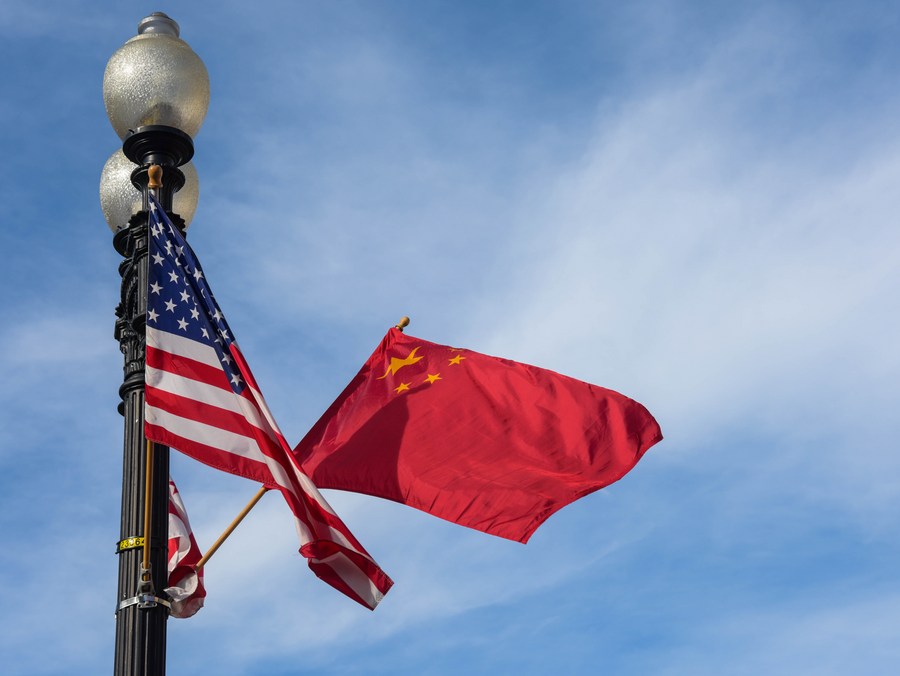 File photo of the national flags of China (R) and the United States.(Xinhua/Bao Dandan)
After the end of the four-year Trump administration, during which Sino-U.S. relations ran into the most difficult period since their establishment of diplomatic relations in the 1970s, a window of opportunities now arises to bring rationality back to bilateral relations.
Could the United States tolerate and cooperate with an expanding economy nearing its size?
China sent a clear message at the beginning of this year, which marks the 50th anniversary of Dr. Henry Kissinger's ice-breaking secret trip to Beijing. Chinese State Councilor and Foreign Minister Wang Yi called on the new U.S. administration to "restore normalcy to the bilateral relations and restart cooperation" in an interview.
But whether China-U.S. relations could return on track depends on the new U.S. administration. It must respect the red lines in bilateral relations and seize fresh opportunities to cooperate in many fields, such as battling climate change.
To some extent, the relations between the world's top two economies are analogous to the ancient Chinese philosophical ideas of "Yin Yang." The concept of dualism describes how forces in seemingly stark difference may actually be interconnected and interdependent.
That paradoxical relationship, deeply rooted in the Chinese culture and embodied in diplomatic rhetoric such as the "cooperative competition" between China and the United States proposed by Chinese former Vice Foreign Minister Fu Ying last year, is a vision with fundamental differences compared with the Huntingtonian "clash of civilizations."
With Sino-U.S. relations reaching a place with new possibilities, at least some notes are relevant. Consensus could first be built upon broad principles such as tough rhetoric is no substitute for a clear vision of Sino-U.S. relations and there is no question that cooperation is conducive to the two major countries and the world.
Washington should also be aware that it would get nowhere if it makes changing the Chinese government system the ultimate goal in formulating its policy toward China. The U.S. government must face and acknowledge that the Chinese system has a legitimate basis for existence and is supported by the Chinese people. Blatant attacks on the system will be inevitably counterproductive.
Examining China-U.S. relations requires a comprehensive look at history and reality.
Chen Wenxin, deputy director of the Institute of American Studies, China Institutes of Contemporary International Relations, believes that after the dialogue "pause button" was pressed between the two countries, the bilateral relationship needs a reset.
"Biden's presidency might provide a fresh opportunity to rebuild Sino-U.S. relations, which need to be 'normalized' again," Chen said. "But the control of differences and respecting each other's core interests are prerequisites."
The last time Sino-U.S. relations underwent "normalization," the United States pledged to respect the "one-China principle," now the international consensus and political foundation of China's diplomatic relations with other countries, and terminated its official ties with Taiwan.
The Chinese island remains a sensitive topic to be handled with care in China-U.S. relations. Although Chinese officials have repeatedly warned that the U.S. should not make any attempt to challenge China's resolve on the Taiwan question, some U.S. politicians have recklessly attempted to cross the dangerous red line on national sovereignty and territorial integrity.
China hawks such as Mike Pompeo, who moved to lift restrictions on official contacts with China's Taiwan in his last days of office as the U.S. secretary of state, would only plunge Sino-U.S. relations into a vicious cycle of attacks and retaliation.
The incoming U.S. administration, whose priority is unity and healing a divided nation, should be respectful of China's sense of national unity. It should refrain from challenging China on issues like Taiwan or intervening in territorial disputes in the South China Sea. Such provocations will jeopardize the trust, peace, and prosperity forged by the two countries over the past decades.
Half a century since China and the United States resumed engagement, Beijing and Washington now have a massive interdependence. It makes the unrealistic "decoupling" with China nothing but giving up on future development opportunities.
The trade volume had grown from almost zero to 626 billion U.S. dollars in 2020, and more than 72,500 U.S. companies have invested and are running businesses in China. With annual sales revenues of American companies in China exceeding 700 billion dollars, stable economic and trade relations are a prominent area of mutual benefit.
Economic exchanges can produce mutual welfare gains, playing a positive role in stabilizing deterrence. But it could also be used as a strategic weapon in a war where there are no winners.
China, the country currently keeping the entire world afloat economically, and the United States, whose incoming administration is eager to escape from the inherited economic crisis with a trillion-dollar rescue package, have huge interwoven interests.
Businesses caught in the crosshairs of the Sino-U.S. trade tensions are the most vocal. In a reply letter to the Starbucks Corporation's chairman emeritus, Chinese President Xi Jinping has encouraged Howard Schultz and the company to continue to play a positive role in advancing China-U.S. economic and trade cooperation and bilateral ties.
"Without access to China, and its growing trade partners in Asia, massive American companies will be severely affected, resulting in major long-term job losses," said Einar Tangen, a Beijing-based U.S. commentator on current affairs. He added that it would be essential for both countries to focus on areas of mutual interest. "This will establish areas where cooperation can overcome the current trust deficit."
A string of protests and riots, driven by economic woes and inequalities in the United States, have demonstrated that scapegoating China will not make the divided country great again.
Both governments have heavy domestic agendas. A big flaw in U.S. policy toward China is its focus on suppression and sanctions rather than improving its own competitiveness.
Zhong Feiteng, head of the Department of Great Power Relations Studies of the National Institute of International Strategy at the Chinese Academy of Social Sciences, said that the future relations of the two countries hinge on their domestic issues such as middle-class development.
"To grow the middle class will be equally important for both China and the United States and have a great impact on their competition in the future," he said. He added that a middle-class society based on the realization of the Chinese dream will create an attractive Chinese lifestyle, which will greatly influence the perception of China worldwide; and to reinvigorate the U.S. middle class will help create a new society where the American Dream is easier to achieve.
On global issues such as climate change, COVID-19 responses, economic stability, digital security, and artificial intelligence governance, multilateralism will continue to offer hope for humanity's progress if China and the United States can work together with other countries to address these challenges.
The incoming U.S. administration, one of whose priorities is getting the country back in the Paris Agreement to slow climate change, has made its climate cooperation with China, a strong advocate of that global pact, more attainable.
Cooperation in climate change is one of the most important and long-term China-U.S. cooperation goals. It is a matter of life and death for the global future that transcends borders and ideological differences. The issue offers an opportunity for cooperation since both countries agree on the urgency of climate change and attach great importance to addressing climate change.
The convergence of interests between the two countries, whose combined emission accounts for around 40 percent of the world's total, in building a greener world could stimulate healthy competition in clean energy technologies.
The world needs China and the United States to work together to minimize the dangers of global warming, and to do so quickly, especially given that the ongoing pandemic has taken the momentum out of the green drive.