The Yangtze has fed people living along its banks with a wealth of natural resources for thousands of years. One of the cradles of Chinese civilization, it is the nation's mother river.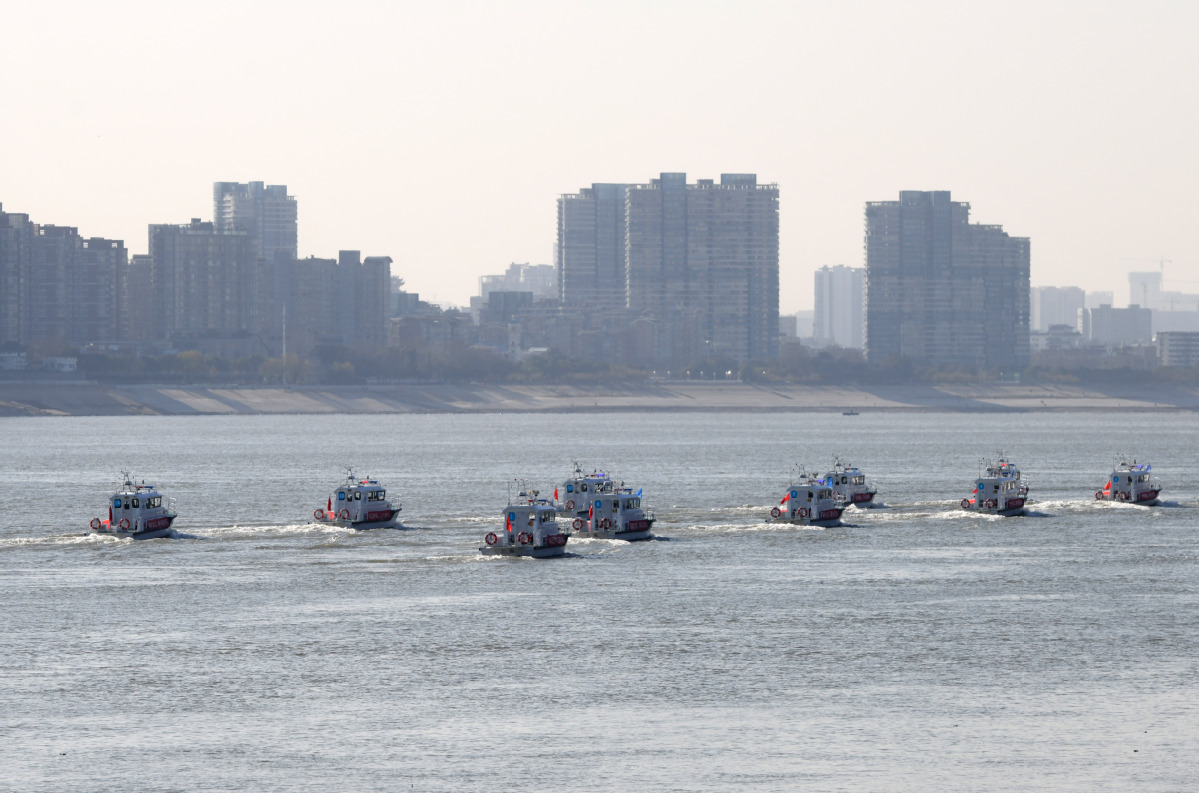 Patrol boat crews check the Yangtze River in Wuhan, Hubei province, last month after the introduction of a 10-year fishing ban on the waterway. [Photo/Xinhua]
Hailed as a major economic engine, the Yangtze River Economic Belt, which comprises nine provinces and two municipalities, accounts for more than 40 percent of the country's population and GDP.
However, economic development has resulted in conflict between progress and conservation. Environmental issues such as overfishing, water pollution and soil erosion have affected the river and residents.
In recent years, the Yangtze has started to witness a green renaissance.
The turning point came at a symposium in Chongqing on Jan 5, 2016, when President Xi Jinping said a key strategy for the country was to boost green growth in the Yangtze River Economic Belt.
Xi said the river's status meant that priority for progress made along the waterway must be given to ecological development to respect natural, economic and social rules.
He said restoring the environment along the Yangtze should be a major long-term priority, adding that protecting the river requires coordination and avoiding overexploitation.
In November, another symposium chaired by Xi on comprehensively advancing development of the Yangtze River Economic Belt was held in Nanjing, Jiangsu province. This gathering highlighted high-quality development, green growth, opening-up and self-innovation.
During the meeting, Xi called for a comprehensive improvement in the efficient use of resources and for accelerated green and low-carbon development.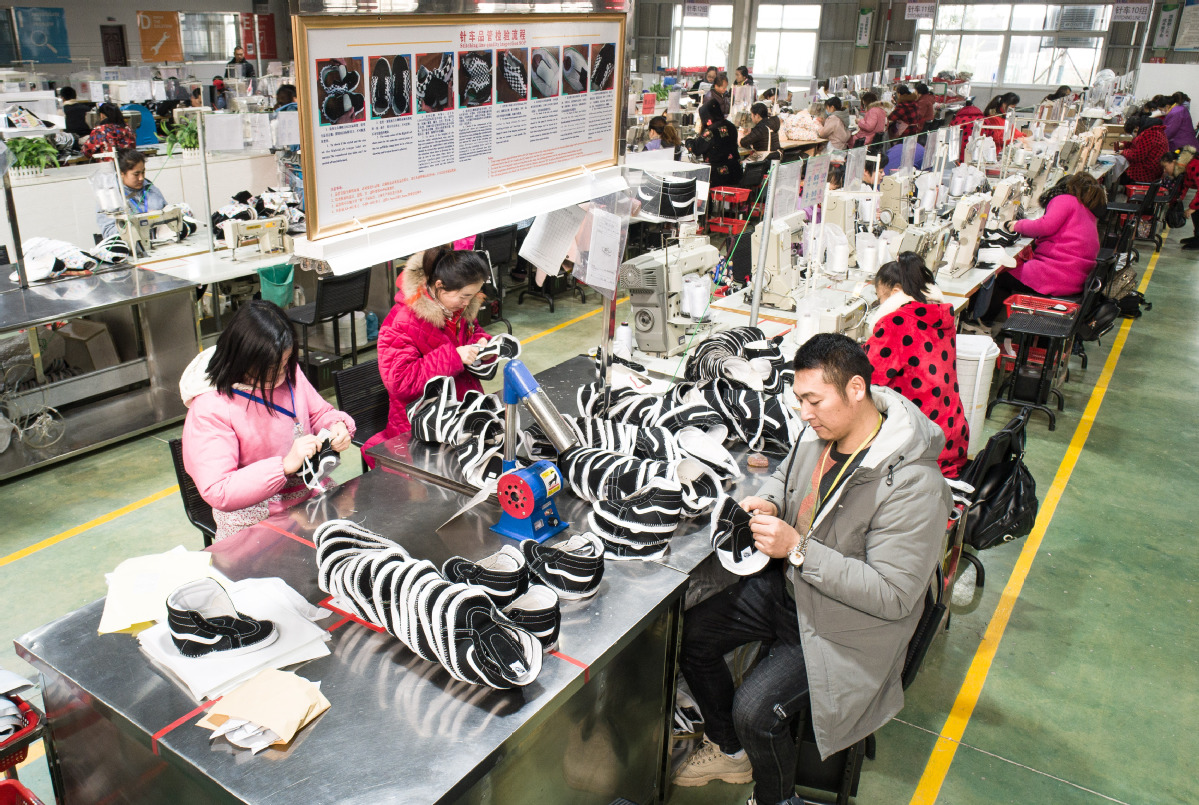 Xu Baoan, right, a former fisherman, now works at a shoe factory in Honghu, Hubei. [Photo/Xinhua]
In spring, Tongluo Flower Valley in the Nanan district of Chongqing became a popular destination for local people and a scenic spot for cruises along the Yangtze.
This newly opened vertical garden built on a hillside covers nearly 13 hectares and features some 120 types of trees and flowers, along with several pavilions. Visitors enjoy the scenery, drink tea, have meals and even stay at a cave-shaped hotel.
However, the site used to be a waste area for Fangniu village and later became a large, foul-smelling dumping ground for construction companies.
Village official Tang Hongdong said, "This illegal dumping ground seriously affected the environment and was also a threat to the Yangtze River."
On rainy days, waste and rocks from the site washed into the river, polluting the water, he added.
In January 2016, after an inspection tour to the riverside city of Chongqing, Xi said the environmental quality of the Yangtze "can only be allowed to become better, and can never be allowed to deteriorate".
The authorities in Chongqing quickly started improvement work along the Yangtze and Jialing rivers, repairing waterfronts, optimizing riverside functions, creating water-friendly spaces, and protecting historical and cultural resources.
As part of the program, Fangniu village worked with a local landscaping company to turn the dumping ground into an ecological park.
Zhang Shunyin, 65, owner of the company and a local villager, said, "I grew up by the river and I had to do something for the younger generation."
In 2017, work began on the Tongluo Flower Valley Ecological Park.
In the early stages, more than 300 trucks were used to remove waste from the site, home to over 50,000 cubic meters of dirt and stones. Because the hillside was so steep, the vehicles could not enter the construction site, so the waste had to be carried entirely by laborers, Zhang said
"But this failed to shake the determination to make our home greener and more beautiful," he added.
His company has invested more than 90 million yuan ($13.74 million) in the renovation project, for which dozens of local villagers have been employed.
"I hope that people on the vessels that pass by can enjoy the beautiful scenery in the river valley," Zhang added.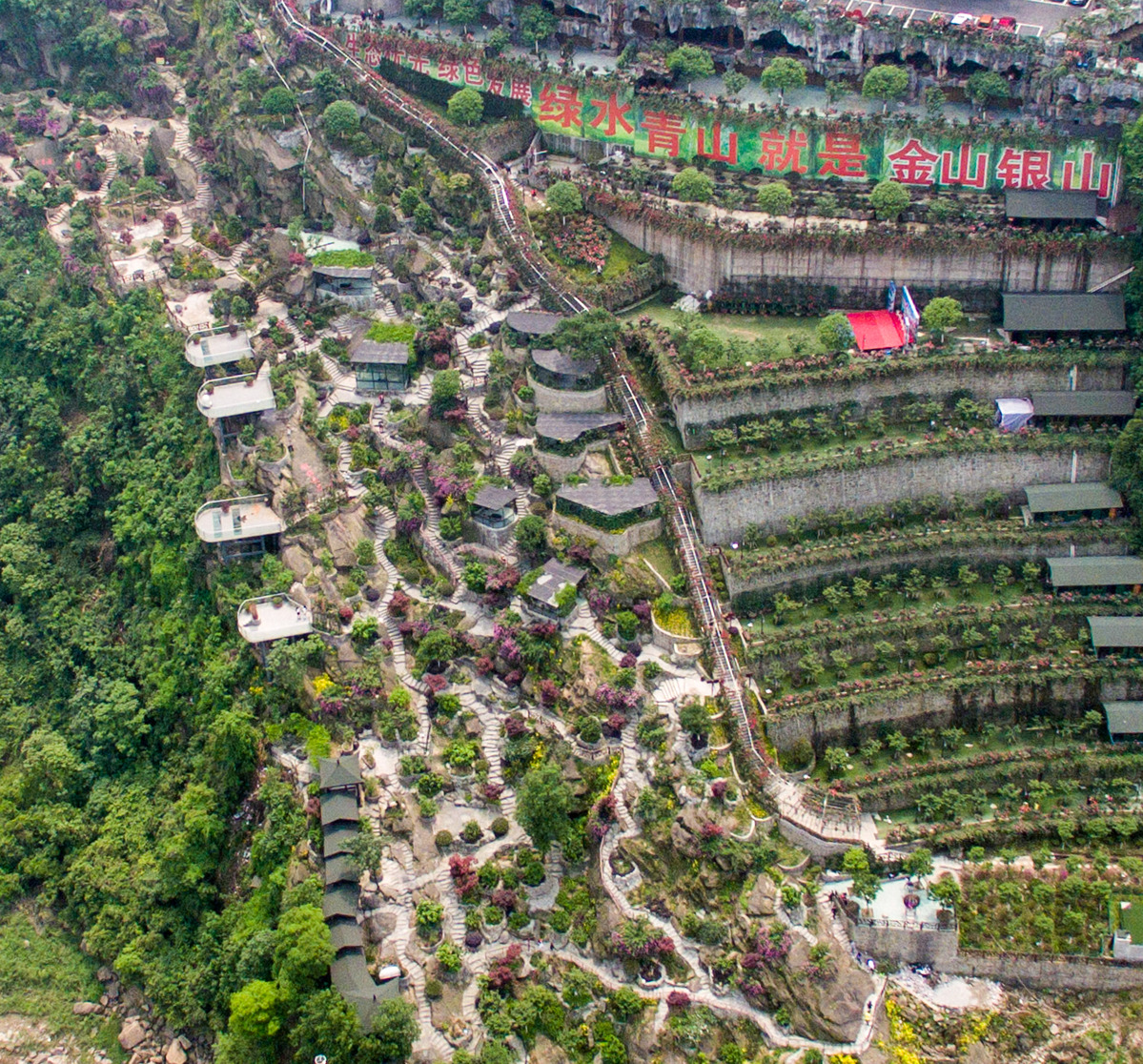 Tongluo Flower Valley, once a waste ground in Chongqing, has been transformed into a vertical garden. [Photo/Xinhua]
Factories close
In Wuhan, Hubei province, in 2018, Xi reiterated the importance of sustainable development for the Yangtze River Economic Belt.
He said local governments should overcome inertia and focus on fostering high-quality development.
"The Yangtze River is China's mother river, and we must protect it. We must move all polluting enterprises from along the Yangtze with resolve … to root out hidden dangers of pollution," he stressed.
Efforts should be made to get rid of old growth engines, cultivate new ones and establish a modern system for the economic belt, he added.
Fruit store owner Bi Kaiyun worked at the Tiantian Chemical Plant on the southern bank of the Yangtze in Yichang, Hubei, for 16 years until the factory was demolished in April 2018.
The company was one of the city's major taxpayers, contributing 28 million yuan ($4.4 million) annually to local coffers before it was closed.
Bi said, "It was hard to start a new career in middle age, but it was the right thing to do for the sake of a better environment."
He said that when the factory was shut down, people living in neighboring areas began to open their windows, dry clothes on balconies and stroll along the river bank.
"Life became clean and clear again. Now, I can wear light-colored clothes at my store and don't have to worry about getting stains and dirt from machinery."
After the chemical plant was demolished, a new one with high-standard pollution treatment facilities was built away from the river in Zhijiang county, Yichang.
In 2017, the Yichang government issued a document on reducing pollution and upgrading the chemical industry, with the aim of shutting down, relocating or renovating 134 chemical companies by last year.
Closure of the chemical industry resulted in Yichang's GDP growth dropping to 2.4 percent from 10.2 percent, but it soon started to bounce back as factories were upgraded, and by 2019 had reached 8.1 percent.
Yichang is not the only city tackling environmental issues by upgrading industry and relocating factories.
All cities along the river are following suit, with the Yangtze River Protection Law, which bans the building and expansion of chemical factories within 1 kilometer of the waterway and its tributaries, taking effect on March 1.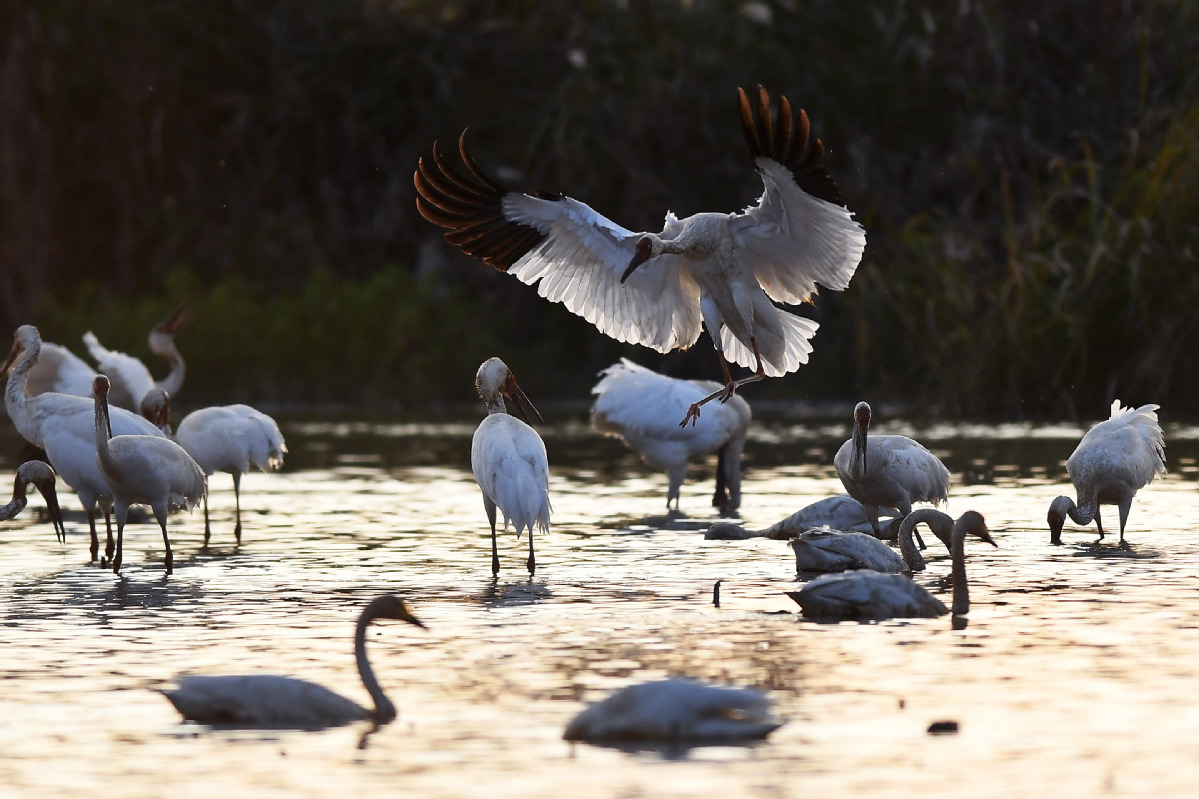 Migratory birds arrive at Poyang Lake, Jiangxi province, in winter. [Photo/Xinhua]
Wildlife protection
For the past four years, Zhou Haiyan, a journalist turned conservationist in Nanchang, Jiangxi province, has been expanding a lotus field to accommodate migratory Siberian white cranes. The species is listed by the International Union for Conservation of Nature as critically endangered.
These birds, which breed in the Yakutia region of Russia, spend winter in the Yangtze River Valley, especially the wetlands around Poyang Lake-one of the river's main bodies of water.
In 2017, Zhou and a group of volunteers rented the 200,000-square-meter lotus field south of the lake near Nanchang and adapted it to form a suitable conservation area for the cranes.
"With the support of the government, the conservation area more than tripled in size last year, during which we recorded more than 2,800 white cranes," Zhou said.
This area is just one of many small wetlands on the Yangtze and Poyang Lake that the Jiangxi government has tried to protect and restore in recent years. The authorities have allocated 50 million yuan to compensate farmers whose produce has been eaten by birds.
Qian Fawen, an ornithologist with the National Forestry and Grassland Administration, told Jiangxi Daily that last month Poyang Lake saw the highest number of migratory birds for a decade.
"The Yangtze fishing ban and wide-ranging conservation work have increased the food supply for migratory birds, while demonstrating that the environment has improved," Qian said.
While Zhou's focus is on the Siberian white crane, in Shanghai, conservationist Liu Jian is concerned about another endangered species-the Chinese sturgeon.
The fish, which dates to prehistoric times, lives mainly in the Yangtze, particularly its estuary. On reaching maturity, it swims more than 1,000 km upstream to breed, with baby sturgeon swimming to the river mouth.
Liu, director of the Shanghai Aquatic Wildlife Conservation and Research Center, said: "The center has seen baby sturgeon swimming to the estuary in only two of the past seven years of monitoring. Protecting the fish requires efforts from all provinces along the Yangtze."
In May, Shanghai legislators passed a new law protecting the Chinese sturgeon, emphasizing regional cooperation and ordering an annual report on the status of the species.
A cross-regional system is being established to arrange protection and artificial propagation for the diminishing sturgeon population.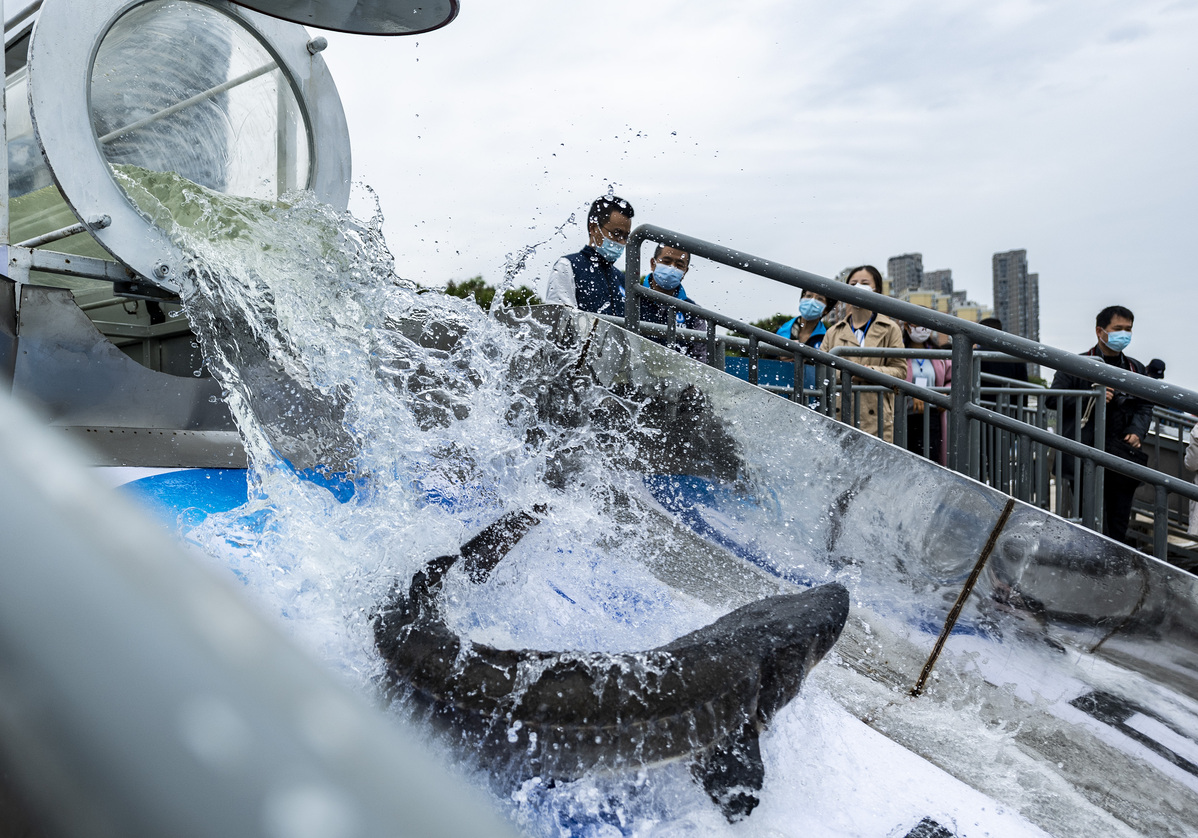 Thousands of Chinese sturgeon are released into the Yangtze River in Yichang, Hubei. [Photo/Xinhua]
Fishing ban
Shi Hongwei, a former fisherman in Nantong, Jiangsu province, patrols more than 100 km along the banks of the Yangtze on his electric scooter every day.
The 50-year-old has always lived on Kaisha Island in the city's Tongzhou district. His ancestors were fishermen and Shi never imagined that one day he would monitor the river to help enforce a fishing ban.
"I cannot recall when I started to fish in the river," said Shi, who worked in the industry for 31 years. "I watched my parents catch fish on their boat every day and learned how to do this when I was very young."
He cannot remember how many fish he used to catch, but said the many species taken from the river helped him support his family, raise his children and have a decent standard of living.
"I could catch more than 50 kilograms of long-tailed anchovy in a single net," he said proudly. At one time, this species sold for more than 10,000 yuan a kg.
However, things began to change about 20 years ago, when Shi was catching considerably fewer fish in the Yangtze.
"Nine out of 10 fishing nets contained nothing but disappointment when they were pulled out of the river. I realized that something must be done and that the Yangtze needed time to recover," he said.
Last year, the authorities issued a regulation to protect the river, barring all fishing along the waterway for 10 years.
Shi, who received compensation of more than 190,000 yuan for his fishing boat and equipment, applied to patrol the Yangtze.
All 400 fishermen in the city have moved ashore and their 170 boats have been dismantled.
To help them adapt to new lives, the local government has offered to train them as nurses for the elderly and as bakers and chefs. Nearly all the fishermen were covered by the local social security system.
Shi said many of them have gone to big cities to work, and that he seldom catches people fishing illegally in the river.
"I'm proud to patrol and protect the Yangtze and hope that my children can also protect, and not harm, the river. I hope that one day I can see as many fish in the Yangtze as I did years ago," he added.