Xihaigu, an arid land in northwest China's Ningxia Hui Autonomous Region, was one of the country's most impoverished areas until recent years.
Now the whole area has bid farewell to extreme poverty, with all the nine counties and districts in the area delisted from the national poverty list.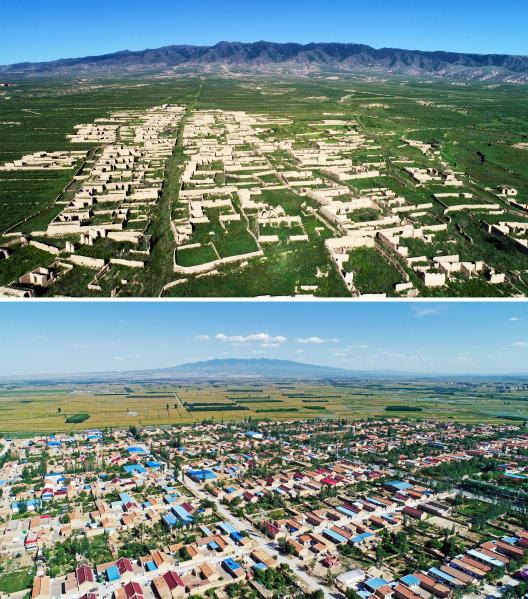 In this combo aerial photo taken on Sept. 8, 2018, the upper part shows a view of a revegetated area where former residents were relocated to another settlement; the lower part shows a newly built settlement for relocated villagers, both in Hongsipu District of Wuzhong City, northwest China's Ningxia Hui Autonomous Region. [Photo/Xinhua]
Xihaigu's triumph over destitution, after reeling under poverty for centuries and carrying the tag of the most uninhabitable area on earth, offers a window into China's achievements in its war against poverty.
Xihaigu was labeled the "most unfit place for human settlement" by the United Nations in the 1970s due to land reclamation, drought and fragile ecological environments. But, through the government and people's relentless efforts, the region has shaken off all such tags.
In the 1980s, when China implemented its first large-scale program for development-oriented poverty relief in the northwestern regions, Xihaigu was included.
Since then, technology, fundings, professional personnel and consistent policy supports have helped sustained development in the region.
Pooling their wisdom, people in Xihaigu and aid workers succeeded in realizing both social development and ecological rehabilitation.