The further opening up of China's services market will give strong impetus to China's consumer spending and create more room for investment from foreign businesses in the next five years, according to a senior economist.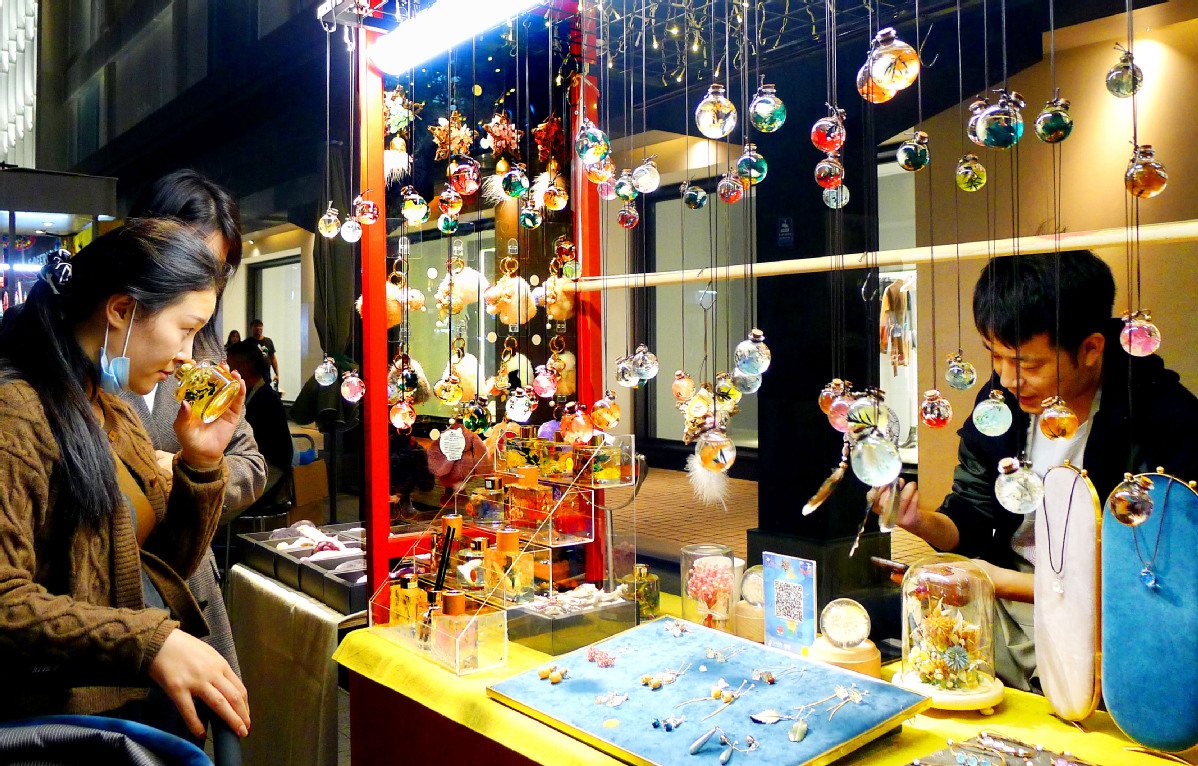 A tourist tests perfume products at a stand of an evening market in Suzhou, Jiangsu province. [Photo/China Daily]
Chi Fulin, president of the China Institute for Reform and Development, said greater strides in opening-up will be a crucial measure in unleashing the potential of China's domestic consumption, especially in the services sector, during the 14th Five-Year Plan period (2021-25).
The period is expected to see heavy consumer spending on services, especially healthcare, tourism, culture and education, he said, adding the share of services in the total GDP could increase to 60 percent by 2025, compared with 53.9 percent last year.
"The upgrade in consumption structure will give rise to stronger demand for high-quality services closely related to consumers' daily lives, which means furthering opening-up in those sectors is inevitable," he said.
Under the blueprint for social and economic development proposed by the Communist Party of China Central Committee for the next five years, the country will widen market access to consumption in services and open up the sector even wider to foreign investment.
Chi projected that China's consumer spending on services could rise by at least 1 percentage point annually in the next five years, and spending on services could account for 50 to 52 percent of the total consumption by 2025.
"There is still immense potential from the adjustment in China's consumption structure, and we believe services will be a key driver of growth in the near future," he said.
Another key driver of domestic consumption and economic growth is China's urbanization, which could give rise to stronger demand for production materials such as steel and cement, he said.
China's urban population accounted for 60.6 percent of the total population at the end of last year, and Chi said it is expected to hit 66 percent by 2025 through increased urbanization and development of city clusters.
Meanwhile, attaining a major breakthrough in the systemic opening-up of the services sector is a must as China strives to develop an open economic system at a higher level, he said.
Chi highlighted the need to step up alignment in standards, rules and management in the services trade with international norms, especially in the healthcare and education sectors.
"We need to break away from various market and administrative monopolies in the services sector as early as possible. By doing so, we can create an enabling market environment to energize private businesses and expand the room for foreign businesses to increase their investment," he said.
Chi gave the example of the Guangdong-Hong Kong-Macao Greater Bay Area, saying that further integration in trade in services in the region will hinge on more synergizing in standards of accounting, services, management and commercial laws.
From 2014 to 2019, China's trade in services grew at an average annual rate of 7.8 percent-2.2 times that of trade in goods and 1.9 times that of the growth of its total foreign trade.
The development of China's trade in services will also create immense room for win-win cooperation between different countries and regions and serve as an important engine for bilateral and multilateral trade, he said.
For instance, there is still huge potential for the growth of China-EU services trade, which accounted for only about 12.6 percent of their total trade volume in 2018, he said.
"If the proportion of China-EU services trade increases to the global average level of 23.8 percent, their services trade volume will reach US$167.8 billion, and if it reaches 30 percent, the volume will shoot up to US$211.5 billion," he said.
"China, with a population of 1.4 billion people, will continue to be a huge market for the world, shared by the world, and a market that benefits everybody," he said.