.
At the exhibition booth for products from Kazakhstan, Makhanbet explains about the camel milk powder and mare milk powder that his company is selling at the third China International Import Expo (CIIE) in Shanghai.
"The camel milk is easy to digest, nutritious, and rich in calcium," Makhanbet told a professional buyer.
Makhanbet, 26, is an agent of Eurasia Investment Co., Ltd from Kazakhstan. This year, the company has sold about four tonnes of camel milk to China and expects to sell more.
"The exhibition is quite important for us," said Meruyert Rakhimberdiyeva, the company's international exports manager.
Scores of the Central Asian country's enterprises are participating in this year's CIIE, bringing with them milk products, frozen foods, beverages, groceries and sweets.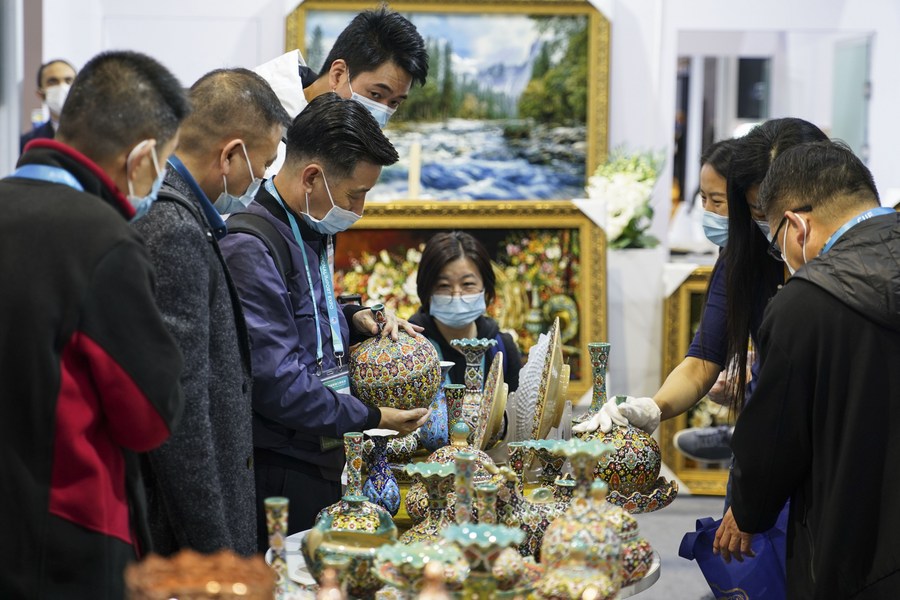 People visit the booth of Iran at the Consumer Goods exhibition area during the third China International Import Expo (CIIE) in Shanghai, east China, Nov. 8, 2020. [Photo/Xinhua]

The CIIE is providing impetus to aid the economic recovery of countries along the Belt and Road (B&R), presenting opportunities for enterprises from these areas at a time when the COVID-19 pandemic is adding to uncertainties and challenges.
China is the first major economy to return to growth after the economic fallout of the COVID-19 epidemic, with its economy expanding 0.7 percent year on year in the first nine months.
In the same period, the country's foreign trade in goods totaled 23.12 trillion yuan (about 3.5 trillion U.S. dollars), up 0.7 percent year on year, and paid-in foreign investment rose 5.2 percent from a year earlier.
China has now become the largest trading partner of more than 120 countries and regions. It has signed 200 cooperation documents with 138 countries and 30 international organizations, and carried out more than 2,000 cooperation projects within the framework of the Belt and Road Initiative.
China also aims to promote high-quality development in the joint construction of the Belt and Road in the next five years and beyond, according to the central authorities' recent decision on formulating the 2021-2025 plan for national economic and social development.
Against this backdrop, many enterprises from the B&R partner countries have come to the national-level expo in Shanghai to seek more potential business, trying to rise above the impact of COVID-19.
More than 500 enterprises from 47 B&R countries have participated in this year's CIIE, with an exhibition area of about 40,000 square meters, according to the expo organizer.