Lush forest stretching to the boundless sky, lucid lakes reflecting clouds, and wild animals leisurely drinking in fresh springs — these are not images from a fairy tale or a landscape painting, but real sceneries in Arxan, a city in northern China's Inner Mongolia autonomous region.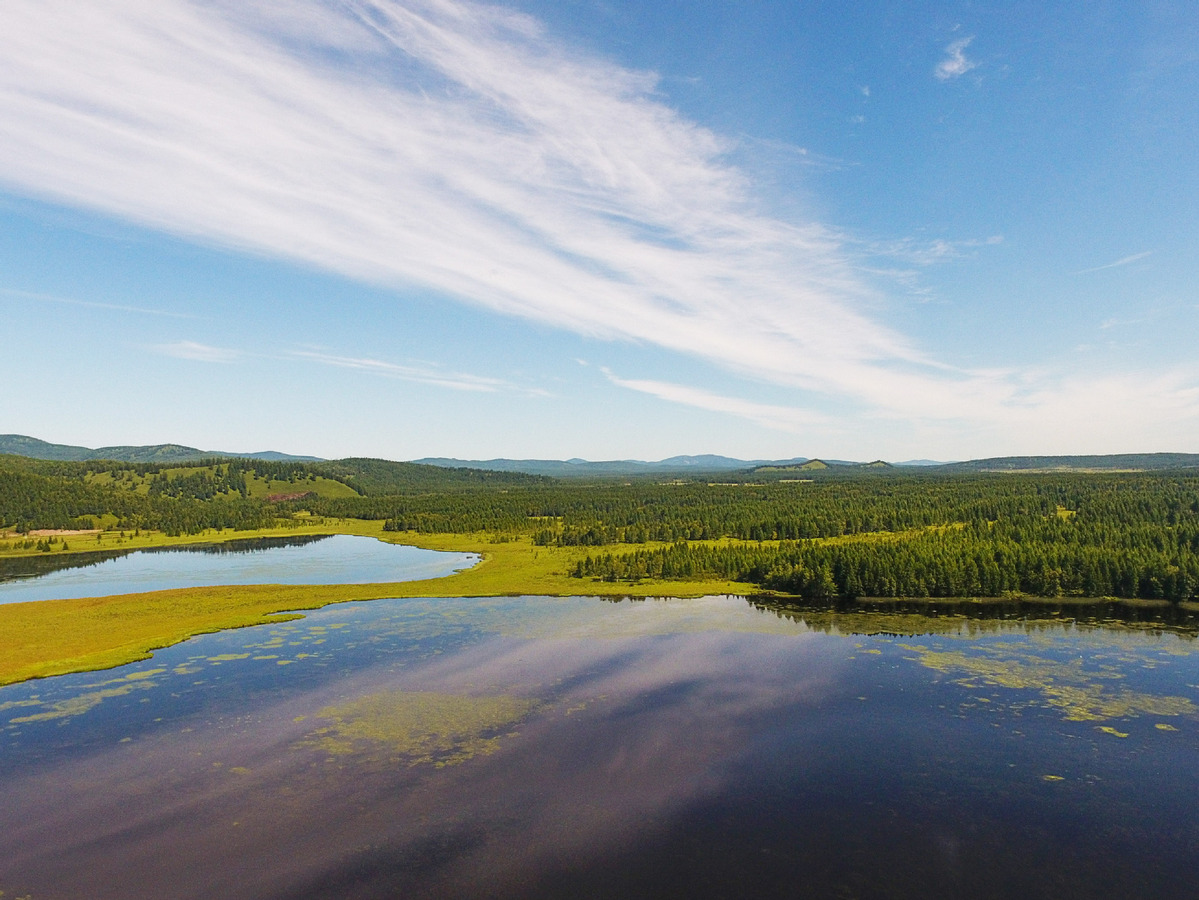 Aerial photo taken on Aug 14, 2019 shows the scenery of Dujuan Lake at Arxan National Forest Park in Arxan, north China's Inner Mongolia autonomous region. [Photo/Xinhua]
Tourists here often fall in love with the picturesque views at first sight, but few people knew about Arxan just nine years ago, when it was designated as a national-level poverty-stricken county.
Thanks to targeted poverty relief measures, a large majority of registered poor residents in Arxan had cast off poverty by April 2019.
This result did not come easily. A census for families in poverty took place in 2014 for the city, registering 1,441 people from 588 families as living in poverty.
By developing industries and businesses that leverage local strengths, including livestock breeding, planting, cooperation between farmers and tourist attractions, Arxan has blazed a new trail in poverty alleviation and economic development.
One key to fighting poverty in Arxan lies in tourism. President Xi Jinping visited Arxan in 2014 and praised its beautiful scenery. He also stressed the importance of protecting local ecology.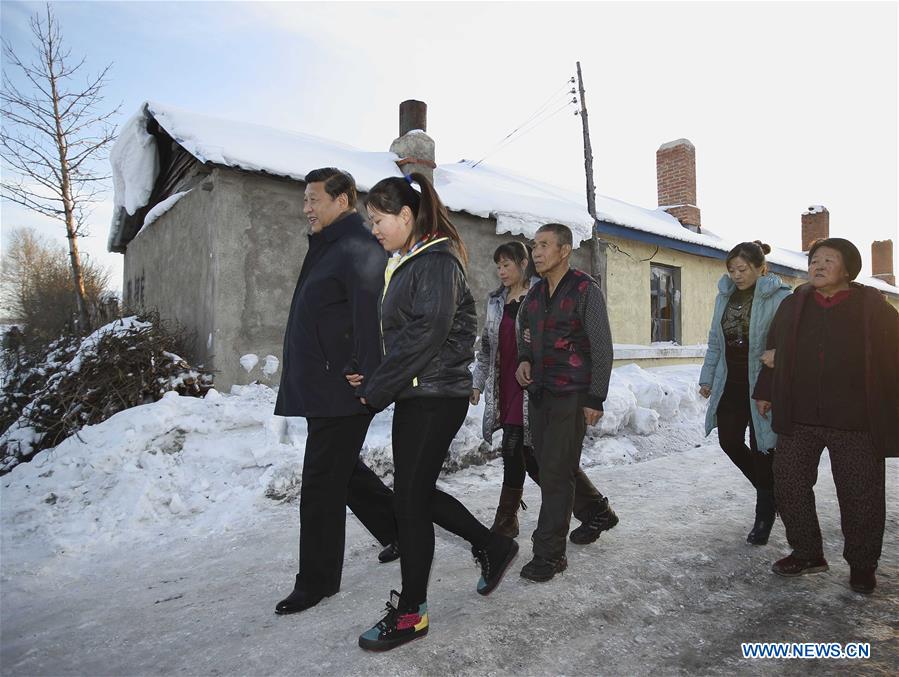 President Xi Jinping (1st L) visits a family in Arxan city, north China's Inner Mongolia autonomous region, on Jan 26, 2014. [Photo/Xinhua]
The local government has abided by the principles of protecting the environment and sustainable development. Thanks to the natural sceneries and well-protected environment, the beauty of Arxan began to attract more and more tourists, which in turn promoted related industries in tourist service.
Yu Jiujiang, a 57-year old resident in Bailang, Arxan, was a lumberjack for years. But his job changed to protecting the forest after a natural forest protection project began in the town. Later Yu started a homestay business and became well-off with profits from tourism.

"In the winter, tourists come to Arxan to appreciate the attractive snow sceneries. I can drive horse-drawn wagons to take tourists to travel among the snowy forest," Yu said. He raised a few horses to pull the sledges that can take visitors to look around and have them play on ice and snow. To provide better tourist services, Yu also started treating his guests to meals after the tours.
As tourism here flourished and Yu's income increased, he established a tourism cooperative comprised of seven local residents. The cooperative could earn up to 3,000 to 4,000 yuan a day when business is good, he said.
Bailang means "abundance" in Mongolian, and the town has rich resources and favorable conditions such as wild Chinese herbal medicine and high-quality mineral spring, which is perfect for raising deer.
According to Xu Guoqiang, vice Party secretary of Bailang, the local government has built a deer breeding park which can gather deer from farmers and poor households. The farmers can receive dividends from the park's revenue, which mainly come from entrance tickets and deer-related products.
Chen Liangcen, a registered poor resident in Bailang, works at sanitation services, a job provided by the local government. Apart from that, he has bought five deer and raised them at the deer park, benefitting from the local poverty-reduction micro-lending program. He shook off poverty in 2017 and the deer breeding earns him 4,000 yuan every year.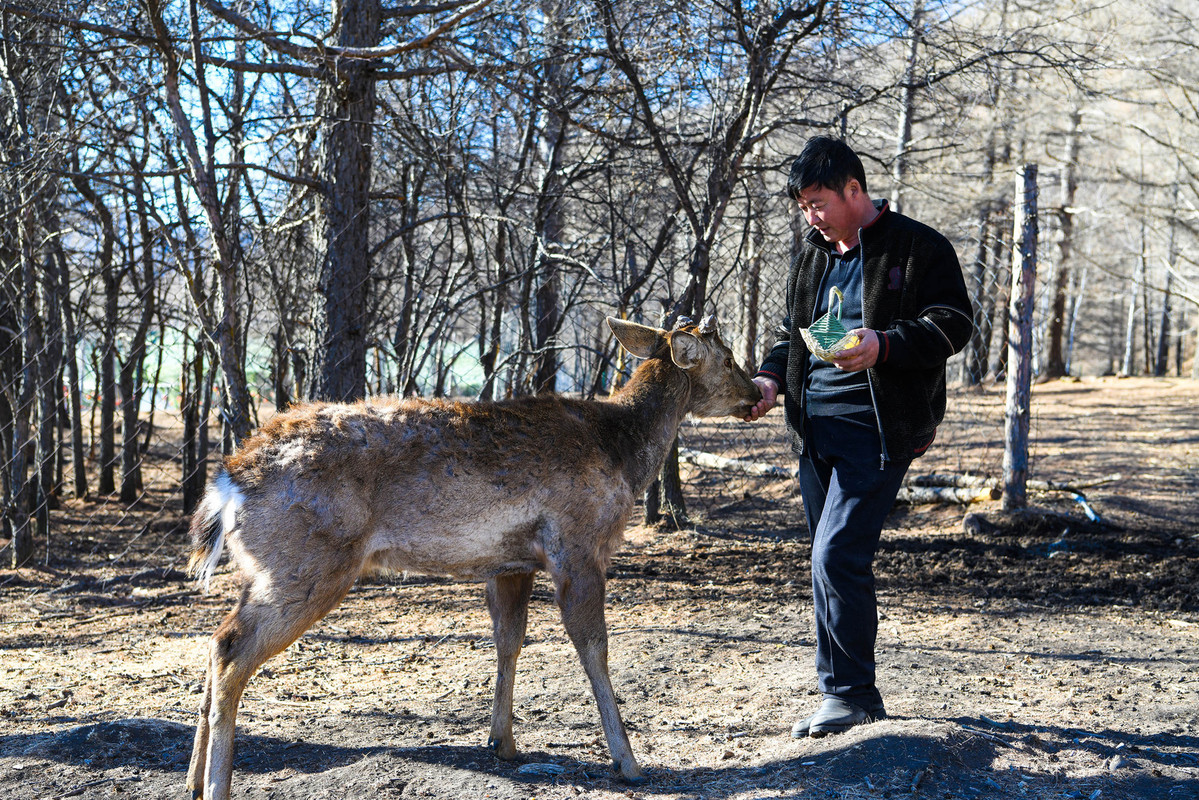 A tourist feeds a deer in Bailang, Inner Mongolia autonomous region, in April 2019. [Photo/Xinhua]
Flourishing eco-tourism and agriculture have brought people there moderately prosperous lives. According to official data, the number of tourists Arxan received in 2018 tripled compared to that of 2013, while tourism revenue in 2019 totaled 6 billion yuan, nearly quadrupling that of 2013.
Now the whole town has developed its own featured tourist industry. Houses of five distinct styles in Bailang tourist resort are under construction for tourists to experience folk life there during different historical periods. Those registered as poor would serve as stewards to provide catering, hospitality, and other services. Shao Kongsheng, Party secretary at the tourist resort, said these measures will add more jobs and increase funds for pushing forward poverty reduction work.
Arxan boasts not only natural resources but also rich cultural heritages such as birch bark paintings, wooden artworks, and local specialties. These have not only continued to attract tourists, but also provided more jobs and improved the residents' income.
Birch bark painting was listed as a regional intangible cultural heritage in 2017. Approved by the local government, a company featuring forest culture was founded to help impoverish people to shake off poverty. The company has benefited over 100 people in the forms of bonuses and technical training since 2017. "As living standard is improving, people's increasing need for art appreciation should be satisfied," said Xie Caiyun, a person in charge at the company. "Our goal is to tell cultural stories, protect the heritage, and bring profit for our people."