Autumn in Beijing has long been considered the best time of year in the city, with cooler weather and golden falling leaves triggering a wealth of literary inspiration.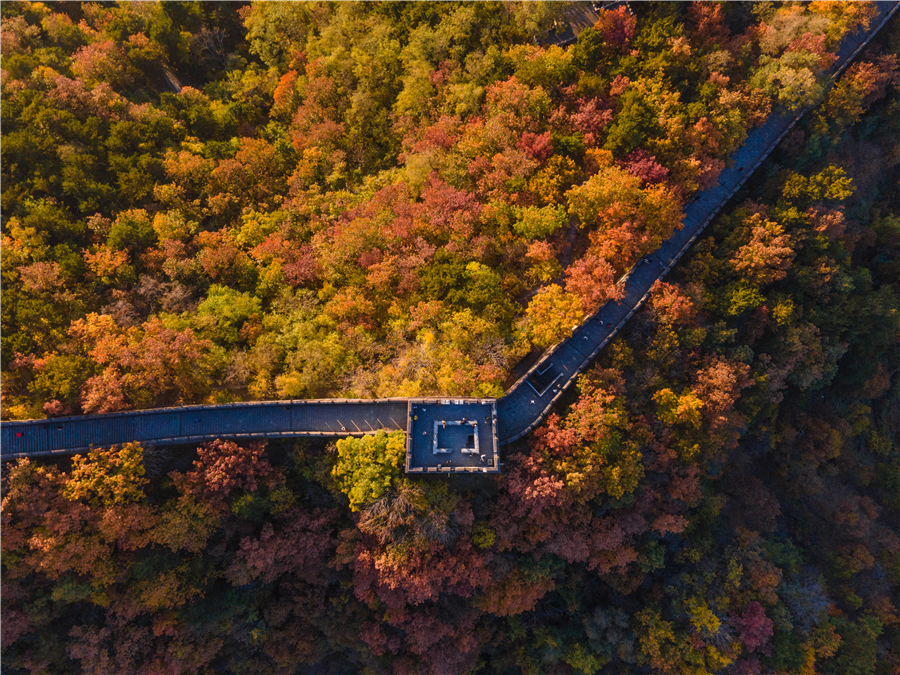 An autumnal view of the Mutianyu section of the Great Wall in Huairou, Beijing. [Photo/China Daily]
In an essay, the writer Yu Dafu (1896-1945) said that when he was in southern parts of the country, the arrival of autumn "served as a reminder of Tao Ran Ting (park) in Peiping (a former name for Beijing) with its reed catkins".
It also prompted memories of "Diaoyutai (scenic area) with its shady willow trees, the Western Hills with their chirping insects, Yuquanshan peak on a moonlit evening and Tanzhesi Temple with its reverberating bell."
Yu said he often longed to travel more than 1,000 kilometers from his home in Hangzhou, Zhejiang province, to Beijing in the hope of enjoying autumn in the capital.
For decades, the Fragrant Hills, which rise to the west of Beijing, have attracted a large number of visitors in autumn eager to see the trees bedecked with golden leaves.
However, as the area became increasingly popular, many people felt it was hard to fully enjoy the scenery due to the large crowds.
As a result, for the past five years, the municipal government has worked to make areas of the city more colorful.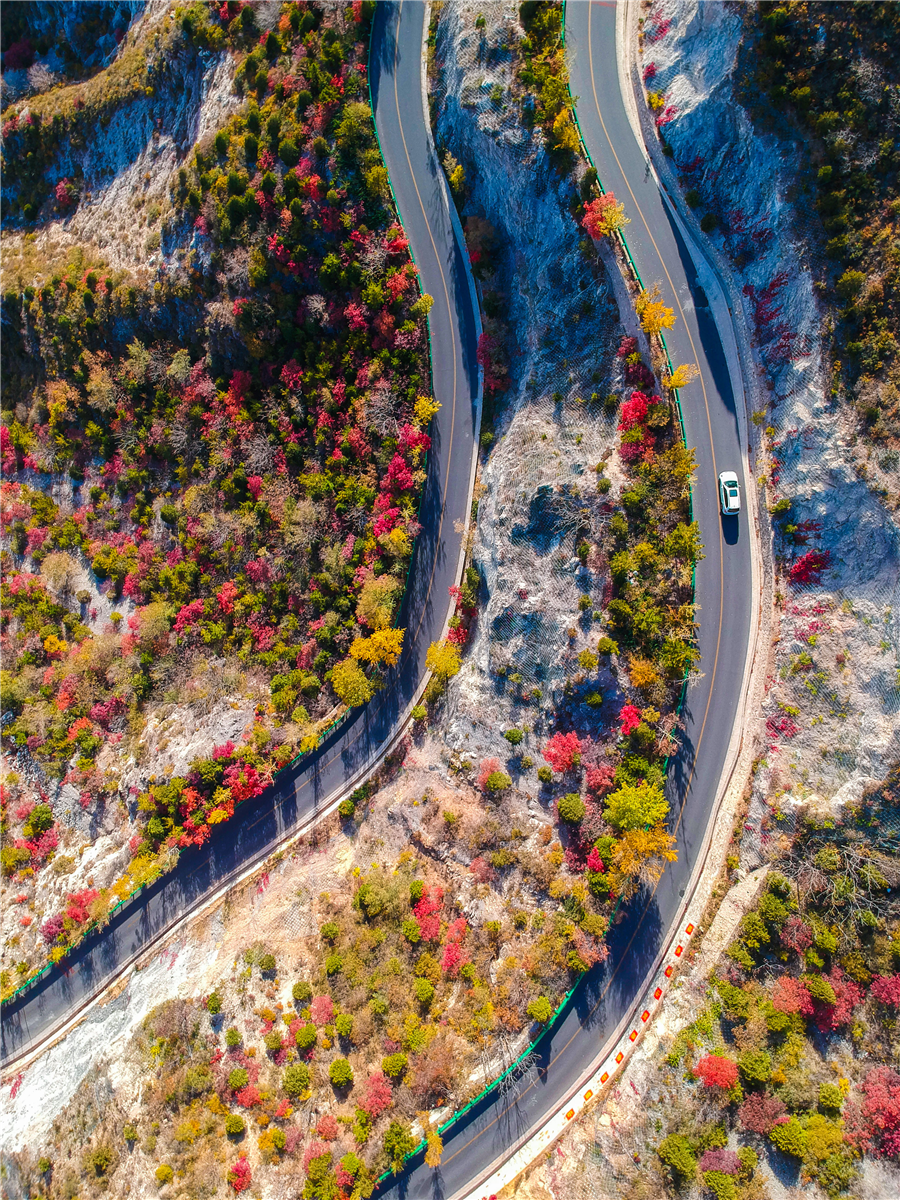 A drone captures autumn at the Yudushan scenic spot in Yanqing, northwest Beijing. [Photo provide to China Daily]
Zhang Bo, senior engineer at the Beijing Gardening and Greening Bureau, who has worked in plant cultivation for 17 years, said, "Through our research into plants and cultivation, we want to achieve the goal of citizens being able to see red leaves on every mountain and enjoy colorful leaves in every part of the city, including streets, parks, campuses and other public areas."
In 2015, a project was launched in the capital to extend greenery and provide more colorful plants in autumn and winter.
"After five years, we have seen some success," Zhang said.
Xie Zijia, a 35-year-old artist who has lived in Beijing since 2004, said: "Autumn in the city used to seem short, cool and gray. In the past, there were not that many attractive places where I could sketch outdoors when it turned cold.
"It's totally different now. Last week, I went to sketch at Ditan Park and Baiwang Mountain. I can now also enjoy various types of pretty trees, bushes and flowers when I sketch in a small park near my home."
Avid traveler Jin Xian, 60, who lives in Beijing and has visited many countries, said the city is her favorite, especially in autumn.
"In the past, I used to sense the difference between European cities and those in China, as when I traveled in Europe, the streets were landscaped and there were plants outside the houses.
"However, in recent years, Beijing has become much prettier. There are more 'pocket gardens'in the downtown area and an increasing number of plants in the city, including those in my residential community. They have brought color and romance to our lives."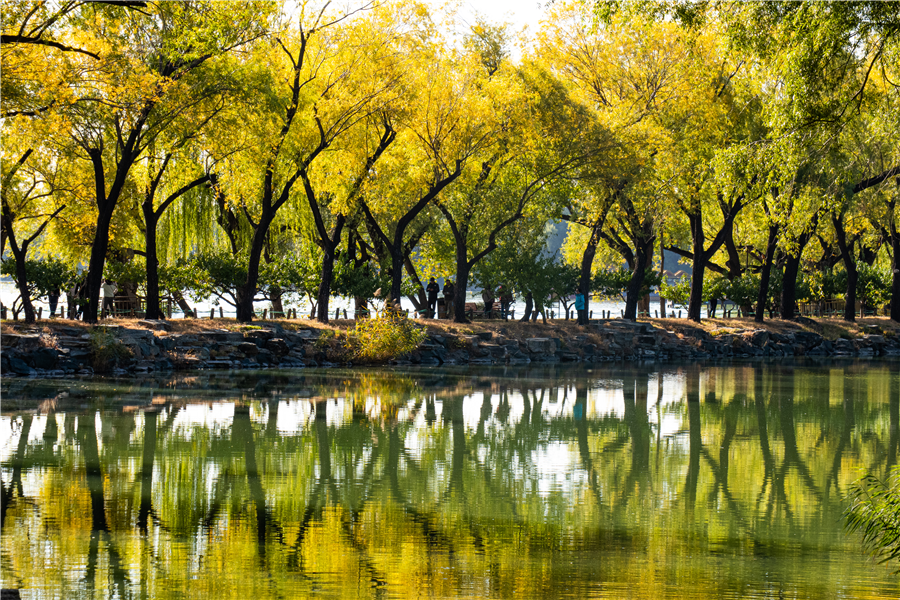 Autumn at the Summer Palace in Beijing. [Photo/China Daily]
List published
The Beijing Gardening and Greening Bureau recently published a list of 19 parks and scenic sites it recommends to enjoy the colors of autumn.
Fragrant Hills, Ditan Park and Jinhaihu Lake have long been traditional spots for seasonal sightseeing. In addition, the bureau now recommends Xishan National Forest Park in the western suburbs, Olympic Forest Park in the north of the city and Central Green Forest Park in eastern Beijing.
Xishan National Forest Park boasts a vast area of trees, most of which have dark red leaves in autumn.
From late October to late November at Olympic Forest Park, a range of trees, including purpleblow maple, Chinese ash, golden rains and smoke trees, add to the colors of autumn, along with a range of flowers.
The bureau said that this autumn, visitors can see some 100,000 trees with colorful leaves in the park, which is located just to the north and south of the North Fifth Ring Road.
To allow more visitors to witness the beauty of autumn in Beijing, the bureau will slow work to clear the falling leaves.
Zhang Bo, senior engineer at the bureau, said the work to prolong greenery in the city and introduce more colorful plants is the biggest science and technology project of its kind.
"Beijing has about 1,700 types of plants growing naturally. However, only 100 to 200 varieties have been widely used in the past," he said. "These plants can make the city green, but are not sufficient to make it more colorful."
During the past five years, the bureau has selected 85 types of plant from the 1,700 and the work to plant them in the city has been stepped up, Zhang said.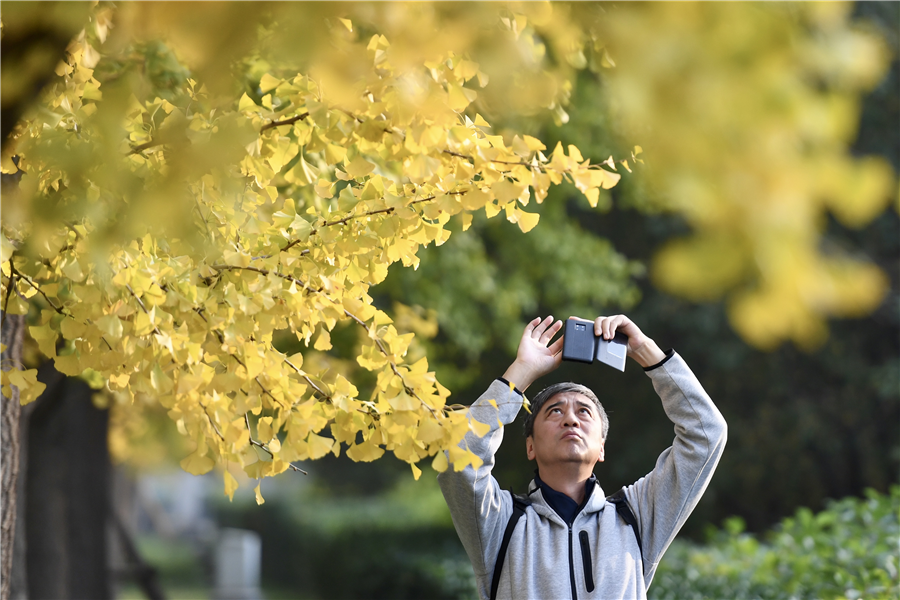 A resident photographs ginkgo trees in Beichen Road, Beijing. [Photo/China Daily]
"We studied the 85 types to see where and how to plant them," he said. "We brought plants with natural beauty from the mountains to nursery gardens and then to streets in the city."
For example, in 2015, experts chose a type of sedge from the southwestern district of Fangshan and started to grow it on a larger scale elsewhere in the city.
In recent years the sedge has been grown on a total area of between 10 million and 20 million square meters, Zhang said.
"It turns yellow in autumn and because it is locally grown, the cost of planting it is much lower than putting down grass. By using our research and different techniques, we can produce shrubs on land in the city that are yellow, green and even blue, instead of being merely green," he said.
Jinghuang Chinese ash trees are commonly seen in Beijing. Their leaves turn golden in the autumn sunshine, while the leaves of another type of Chinese ash remain green, even in late November.
"We are making all the necessary improvements and adjustments to enable these trees to be prettier and stay green longer," Zhang added.
The bureau has also worked to diversify the type of plants in a particular area. In the past, there used to be some 10 plants in one place, displaying green leaves. Now, a more comprehensive and scientifically designed system and structure is being used to grow plants in a single location.
Wang Lu, who lives near Lianhuachi Forest Park in Fengtai district, said that since the venue was upgraded, more young people are visiting it during weekends.
The number of plants grown in the park has risen to about 80.
Zhang said: "Growing trees is not enough. We plant grasses and flowers under the trees, and also ask visitors not to clear away weeds, in order to include them in our ecosystems.
"Gardens and parks should not only be green and colorful, they should also work."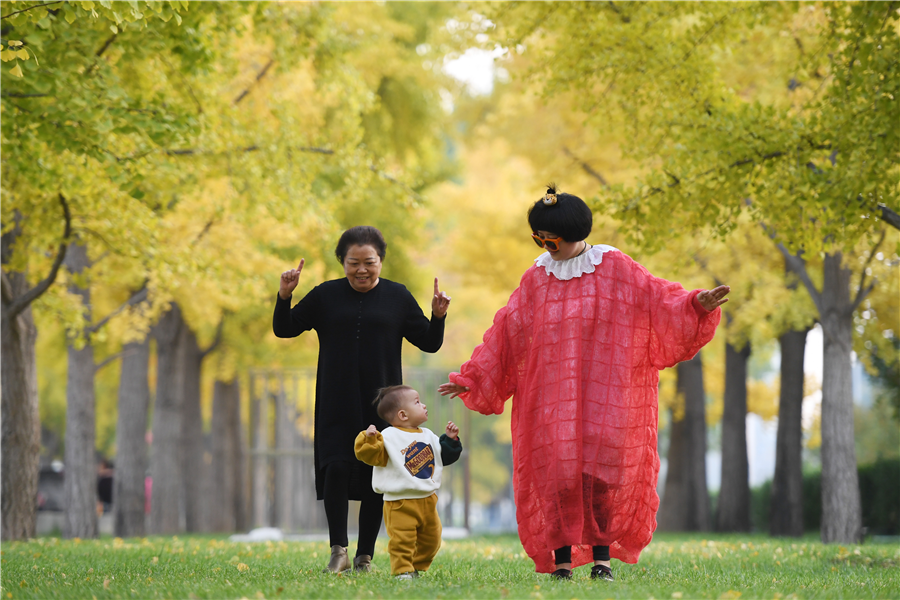 A family enjoys the ginkgo trees in downtown Beijing. [Photo/China Daily]
Weekend visit
Gao Feng, 39, who has two children, likes to go camping with them on weekends.
The family recently visited Xishan Forest Park, where the children selected many different-colored leaves to use as bookmarks.
Gao said: "This short trip was educational. Ten years ago, I went to Australia many times for business, and the parks there always attracted me because of the signboards, artwork and even children's games that were used to educate visitors about the local plants, animals and the environment.
"I used to hope that we could have something similar in Beijing, and now that we have, it's even better."
During their trip, Gao's children were given a quick tour of the park to learn about local conditions. They were told about different types of tree bark and listened to stories about the forest.
"They even saw 'insect hotels' in the forest, which was interesting," Gao said. "I'm glad the city has realized that educating people about nature is necessary and important, and is now doing so in a smart and interesting way."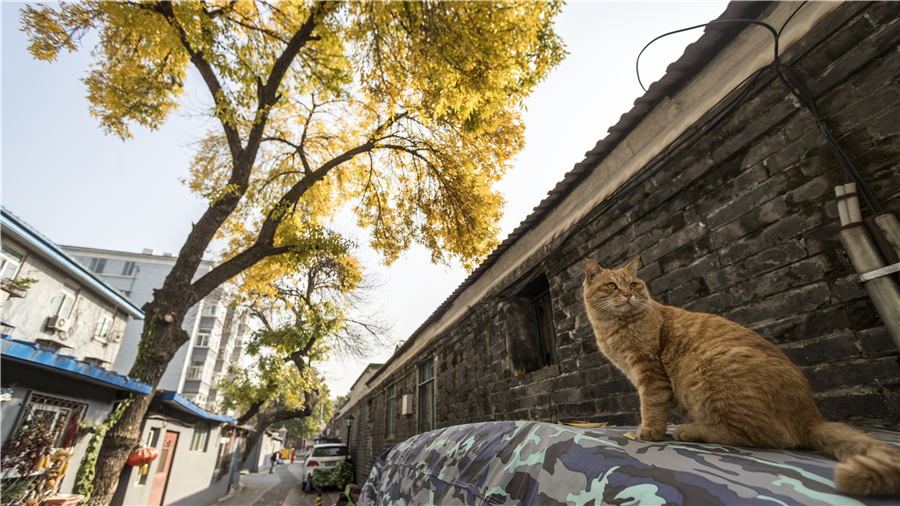 Trees start to shed their leaves in Yannian hutong in downtown Beijing. [Photo/China Daily]
Countless words have been used by Chinese writers and poets to describe the beauty of autumn in Beijing.
The novelist Shi Tiesheng wrote about the daisies in Beihai Park; writer, essayist, poet and literary critic Lu Xun was inspired by the full moon near the Forbidden City; writer and translator San Mao described drinking beer and boating on Houhai Lake; while novelist and short story writer Mo Yan has written about clouds and birds seen in hutong (alleyways).
As China's capital, Beijing has deep cultural traditions, while also being home to advanced technology and modern facilities.
Its residents and visitors now have many more areas in which to enjoy blue-sky autumn days than they did in the past.
Zhang said: "After years of effort, we now have colorful plants in three seasons-spring, summer and autumn. In 10 to 20 years, Beijing will have colorful plants for the whole year. It's our job to make life more colorful for everyone in this city."