At 7 am, 68 teachers board four white buses in Longcheng, a town in Gansu province, for a drive through the mountains to 12 village schools.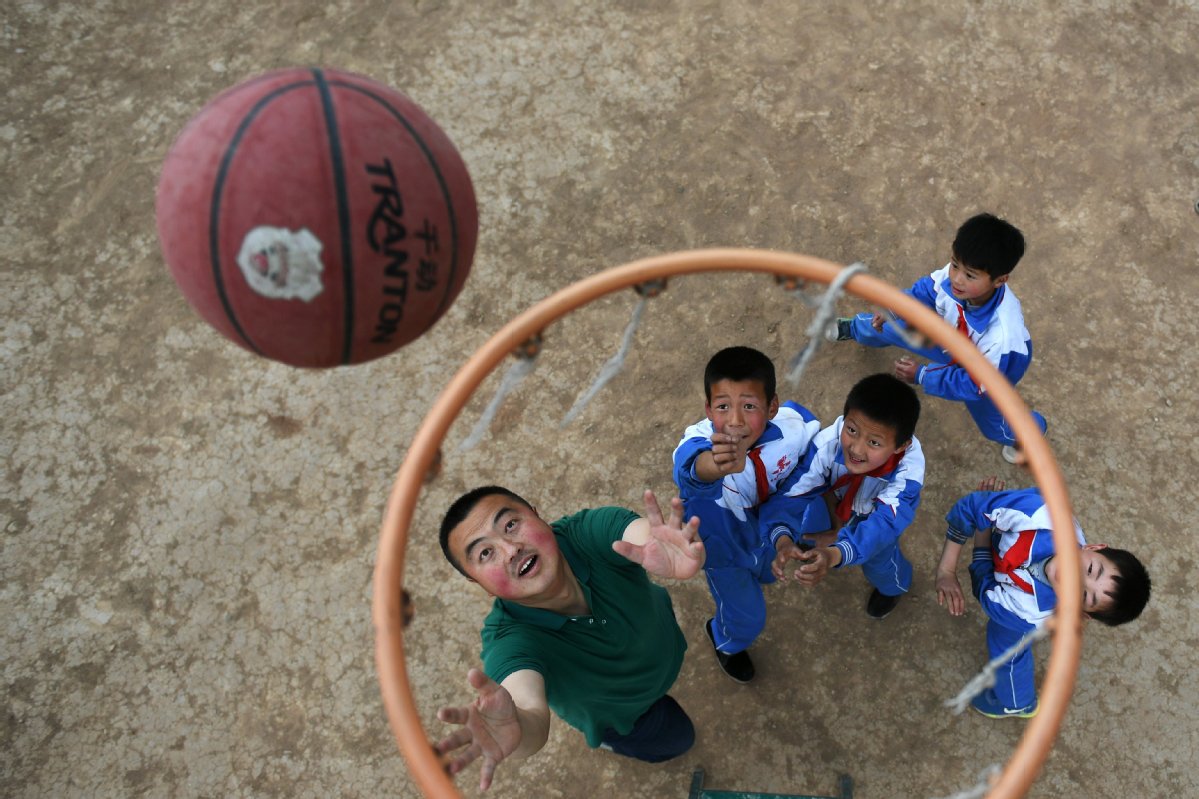 Wang Wanjun gives a Chinese lesson at Shanwang Primary School in Longcheng, Gansu province. [Photo/China Daily]
After classes, they take the vehicles for the return journey to the town in Qin'an county, where they arrive at about 5:30 pm.

Just seven years ago, Hong Xiaojuan, one of the teachers, was sleeping on a bed made from planks in a cramped, mice-infested dormitory at a school in the village of Zhangwan.
"It's hard to imagine how I got through those tough times," she said.
Now married, the math teacher, 31, and her husband moved in 2016 into a free two-bedroom apartment provided by the local government at an educational park in the town.
Wang Xusheng, president of the park, said, "Dirt-walled faculty housing in rural areas that lets in the rain and the wind scared a number of teachers away in the past.
"Imagine just how frightened a young female teacher would have been living alone on an isolated rural campus at night after school. The free residences in the town have seen the emergence of many qualified teachers for rural pupils."
Before the educational park was built, Hong used to ask one or two students to accompany her to her rural residence at night.
Many schools in rural areas only have basic classes such as Chinese and mathematics, and in some cases English. But the new plan has resulted in 12 music, physical education and art teachers arriving at the village schools twice a week, on Tuesdays and Thursdays.
Zhang Wubin, a PE teacher who travels by bus and teaches at four village schools, has been impressed by a major change in one of his students. When PE lessons began at the school, the boy, who was always quiet and performed poorly in lessons, showed he had a talent for athletics.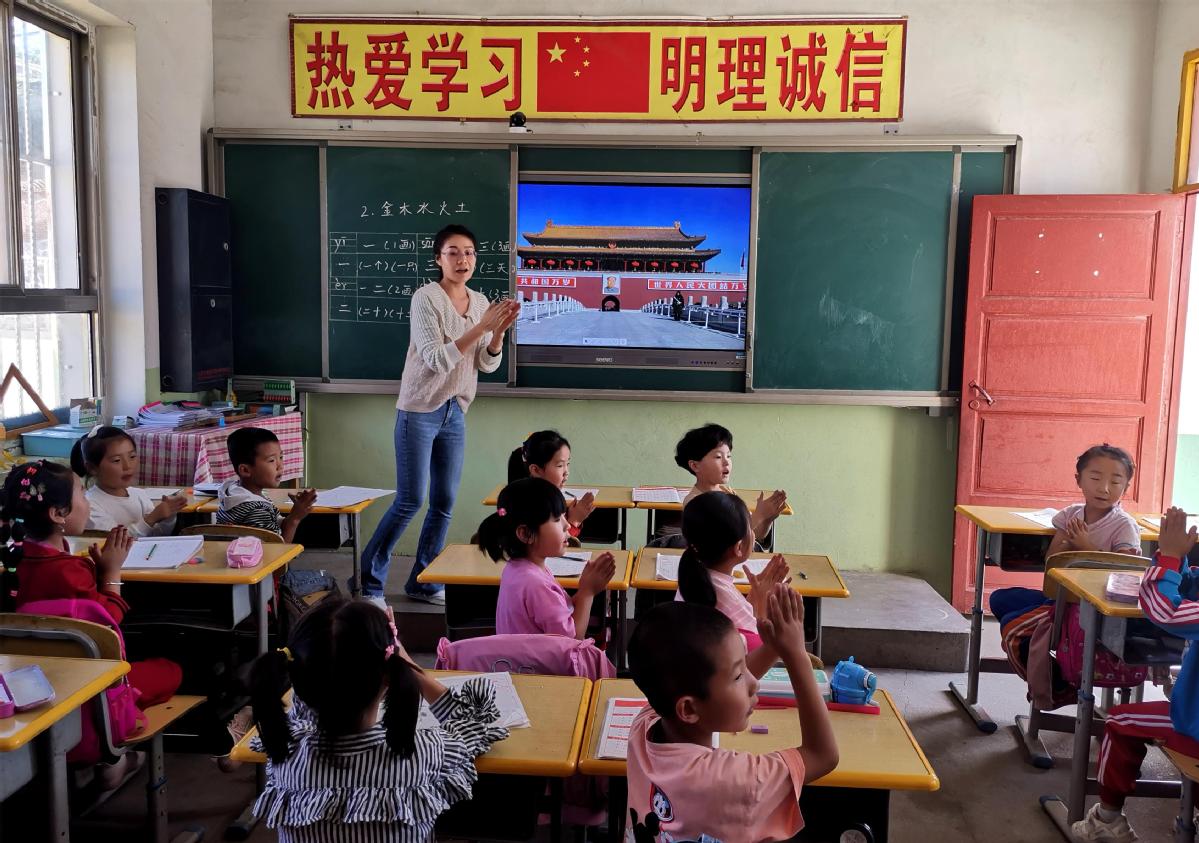 Wang Wanjun gives a Chinese lesson at Shanwang Primary School in Longcheng, Gansu province. [Photo/China Daily]
The pupil's confidence has grown and he has led the school team in a kung fu demonstration watched by hundreds of villagers.

Zhang said, "The lack of PE classes may have deprived some rural kids of the opportunity to show their athletic prowess."
He added that village pupils now embrace outdoor activities enthusiastically, but before he arrived to take the classes, the sports grounds and equipment lay idle, covered in dust.
Wang Fengfeng, a music teacher, has been warmly welcomed by his village pupils.
"Unlike their urban peers, rural children have found that the school courses are their only chance to get a feeling for the arts. Art and music relieve them of stress and boredom after they have studied for a long time."
Wang Liwei, a former researcher at the 21st Century Education Research Institute, said poor personal hygiene, along with the failure of parents to sufficiently supervise the television programs their children watch and the electronic products they use, is "depriving rural children of good health".
"It is important for rural kids to take art, music and PE lessons, especially PE," she added.
A survey of 253 schools in poorer areas of Gansu and Shaanxi provinces by the Rural Education Action Program, launched in 2012 by Stanford University in the United States, found that 24 percent of children in fourth and fifth grades in these areas have myopia. Many also have parasitic roundworms.
As more and better teachers travel to village schools by bus, the number of pupils has risen. For example, at Zhaoshan village school, 12 kilometers and a 30-minute drive from Longcheng, the number of pupils has risen to 40 this year, from just four in 2016.
Wang Yaping, a mother of two, moved from the village to the town in 2011 so that her children could go to kindergarten. Her husband was working in a big city, and there is no kindergarten in the village.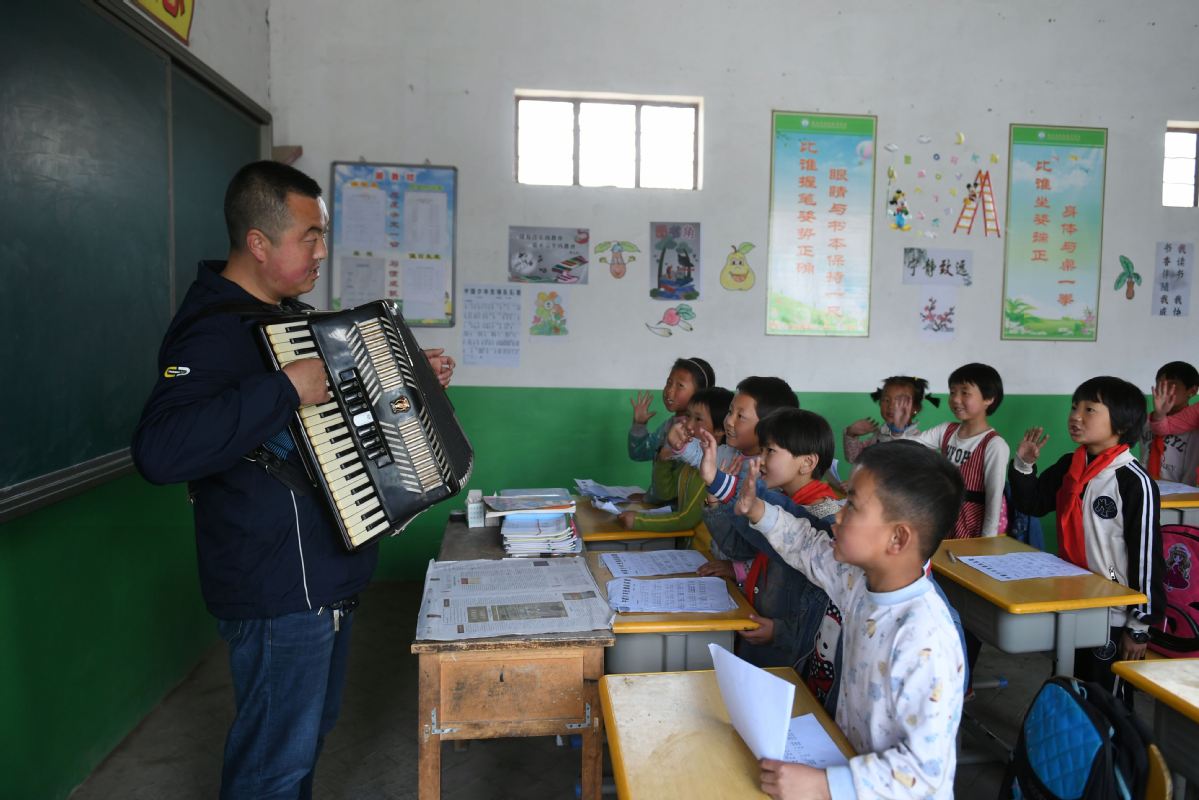 Music teacher Wang Fengfeng gives a lesson at a village school in Shangyuan, Longcheng. [Photo/Xinhua]

However, when her elder child reached primary school age in 2015, she decided to move back to the village, and is happy she did so.
"The teachers in the villages are as good as those in the town now, so there is no need for me to continue renting an apartment there," she said.
Wang Yaping added that more villagers are returning from the town with their children as the quality and number of rural teachers rise.
Longcheng, the most remote of the 17 towns in the county, used to lag behind in education, but still ranked sixth for student performance in middle school entrance exams this year.
Wang Xusheng, the educational park president, said the severe lack of teachers has badly affected many rural schools.
It is not unusual for a teacher to provide instruction on a number of subjects for pupils in different grades. At Shanwang village school, the largest of the 12 to which the teachers travel, five are responsible for classes for 70 students from four grades.
Nine-year free compulsory schooling from elementary to middle school started in rural areas in the west of the country in 2006 before being introduced nationwide two years later. Tuition, which used to be a headache for rural families, is no longer a problem in many cases.