White clouds and green mountains, neat and beautiful dwellings, clean and tidy streets lining up in a picturesque manner -- these are all mixed together to render a sense of peace and belonging for people in Huamao village, a small town in southwest China's Guizhou province.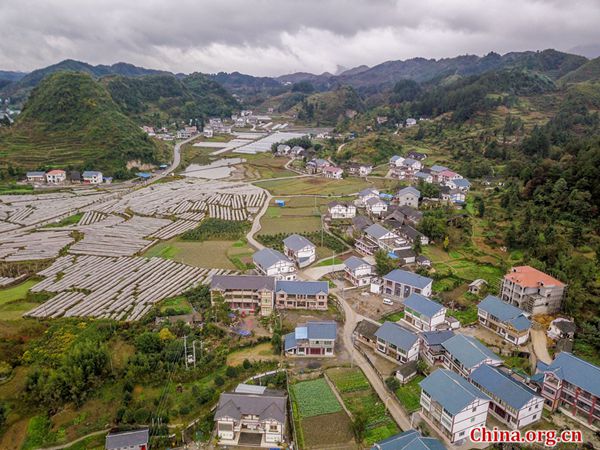 The once poverty-stricken village is located in the remote and mountainous Guizhou, formerly one of China's poorest and least developed provinces. The village was called "Huangmaotian" in the past, meaning a desolate and barren place.
Over the years, the local government and villagers made tireless efforts in exploring cultural and rural tourism and developing efficient modern agriculture. They turned the barren land into a symbol of prosperity and gave it a new name, "Huamao" (meaning flowers blooming).
Returning to the hometown
Pan Kegang, First Secretary of Huamao, recalled that nearly half of the villagers used to leave the village to look for jobs due to the lack of transportation and difficulties in accessing drinking water and medical care in Huamao. "We only had 4,000 villagers and about 2,000 of them left, making Huamao a 'left-behind' village where only the elderly and children lived," he said.
Zhang Shengdi is one of the 2,000 natives who left Huamao for work. She found success in the brewery industry and established her own company in Maotai town, Guizhou province.
In 2015, Zhang learned from the news of President Xi Jinping's visit to her hometown. During the visit, President Xi said of Huamao village, "No wonder so many people come here. Their homesickness is relieved here."
Zhang said the president's words made her feel quite nostalgic for the place where she grew up, and she finally decided to go back. "I should do something for my fellow villagers," the 46-year-old entrepreneur said.
Making paper by boiling the bark of mulberry trees is an old tradition in the village. Zhang returned and started a papermaking workshop using this ancient method. Zhang said she believes the root cause for poverty lies in the lack of culture, and that she hopes to revive the traditional crafts as part of the efforts to reduce poverty.
She set up a cultural brand called Huamao Renjia, which means "households of Huamao." Twelve local villagers are now working in Zhang's workshop, which receives more than half a million tourists every year. As cultural tourism prospers, more migrant workers are returning to Huamao village. For Zhang, her dream of helping Huamao village to end poverty through reviving traditional culture appears to be coming true.