.At least three foreign automakers have announced plans so far this year to invest in China's new energy vehicle (NEV) industry, a move demonstrating their commitment to the Chinese market and their ambition to explore the burgeoning sector.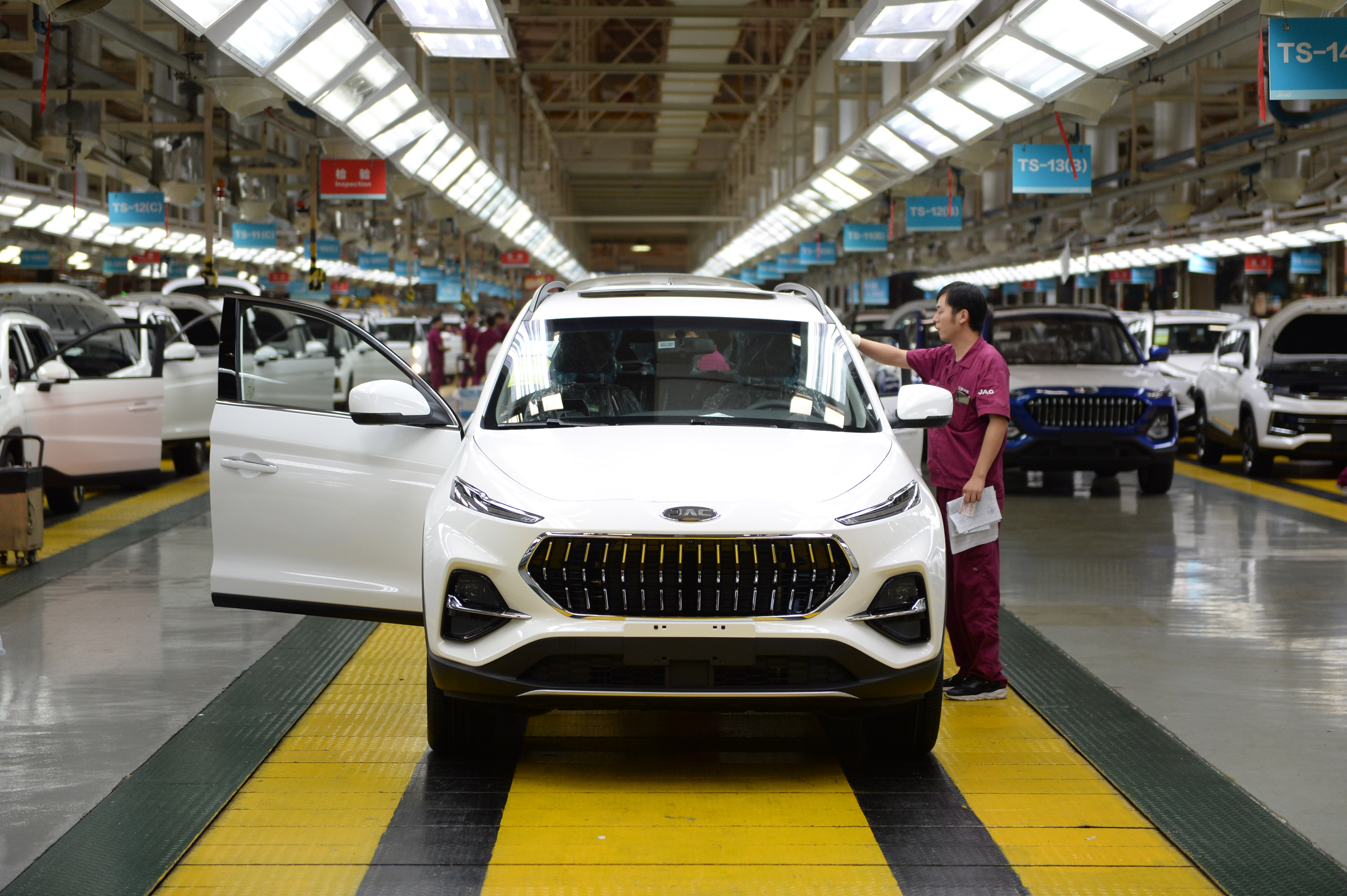 A worker exams a newly assembled car at the passenger vehicle assembly plant of Anhui Jianghuai Automobile Group Corp., Ltd. in Hefei, east China's Anhui province, June 19, 2020. [Photo/Xinhua]
In April this year, Toyota Motor Corp. and China's leading NEV manufacturer BYD forged a 50-50 joint venture to jointly develop car batteries and electric vehicles.
In late May, German carmaker Volkswagen announced that it would invest around 2.1 billion euros (about 2.3 billion U.S. dollars) in electric mobility in China, of which 1 billion euros will be used to raise Volkswagen's stake in the e-mobility joint venture with Chinese JAC Motors from 50 percent to 75 percent and to acquire a 50 percent stake in JAC's parent company JAG.
In another deal, Volkswagen will pump the remaining 1.1 billion euros into Gotion High-tech Co., Ltd., a Hefei-based manufacturer of electric batteries, becoming the latter's largest shareholder. Both parties agreed to cooperate in the field of electric vehicle batteries, and Gotion will become a certified supplier of Volkswagen.
It was the first time for Volkswagen, in its nearly 40 years of operation in China, to join the strategic development of a Chinese automaker and become a shareholder of a private enterprise. It is living proof of China's strong determination of reform and opening-up, said Stephan Wollenstein, CEO of Volkswagen Group China. He added that by opening up the market, China has brought new business opportunities to Volkswagen.
Additionally, this year Volkswagen plans to invest another 4 billion euros in China. According to its development plan, Volkswagen expects to deliver around 1.5 million NEVs to Chinese customers by 2025.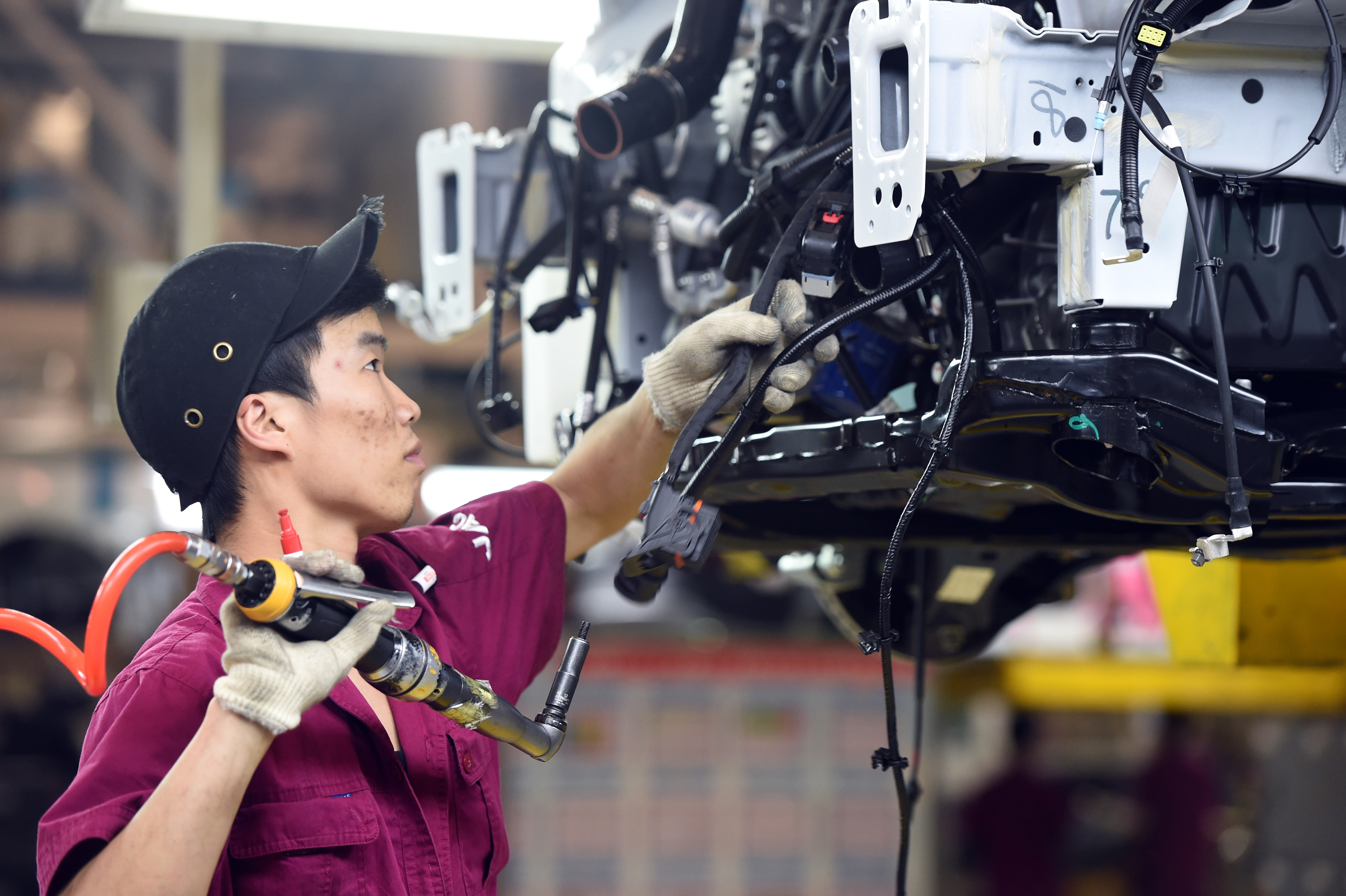 A man works on the production line at the passenger vehicle assembly plant of Anhui Jianghuai Automobile Group Corp., Ltd. in Hefei, east China's Anhui province, June 19, 2020. [Photo/Xinhua]
Foreign automakers usually prefer to set up an individual company or cooperate with Chinese partners in the form of a joint venture. Volkswagen yet decided to invest in JAG and Gotion, both based in the city of Hefei in eastern China's Anhui province, and this shows Volkswagen's determination to localize the industrial chain, said Cui Dongshu, secretary general of the China Passenger Car Association.
After Volkswagen announced its ambitious involvement in China's NEV sector, BMW followed suit by inking a contract with the leading charging station provider State Grid EV Service Company, in a bid to promote e-mobility in China.
Foreign automakers have not just focused on one aspect of the NEV sector, but have set their sights on the overall industrial spectacle including battery R&D, vehicle production and charging facilities construction.
Since China has the largest auto market in the world with enormous growth potential, it is crucial for German carmakers to cooperate with Chinese companies and consolidate their position in China, Ferdinand Dudenhoeffer, founding director of the Center for Automotive Research at the University Duisburg-Essen, said in an interview with Xinhua.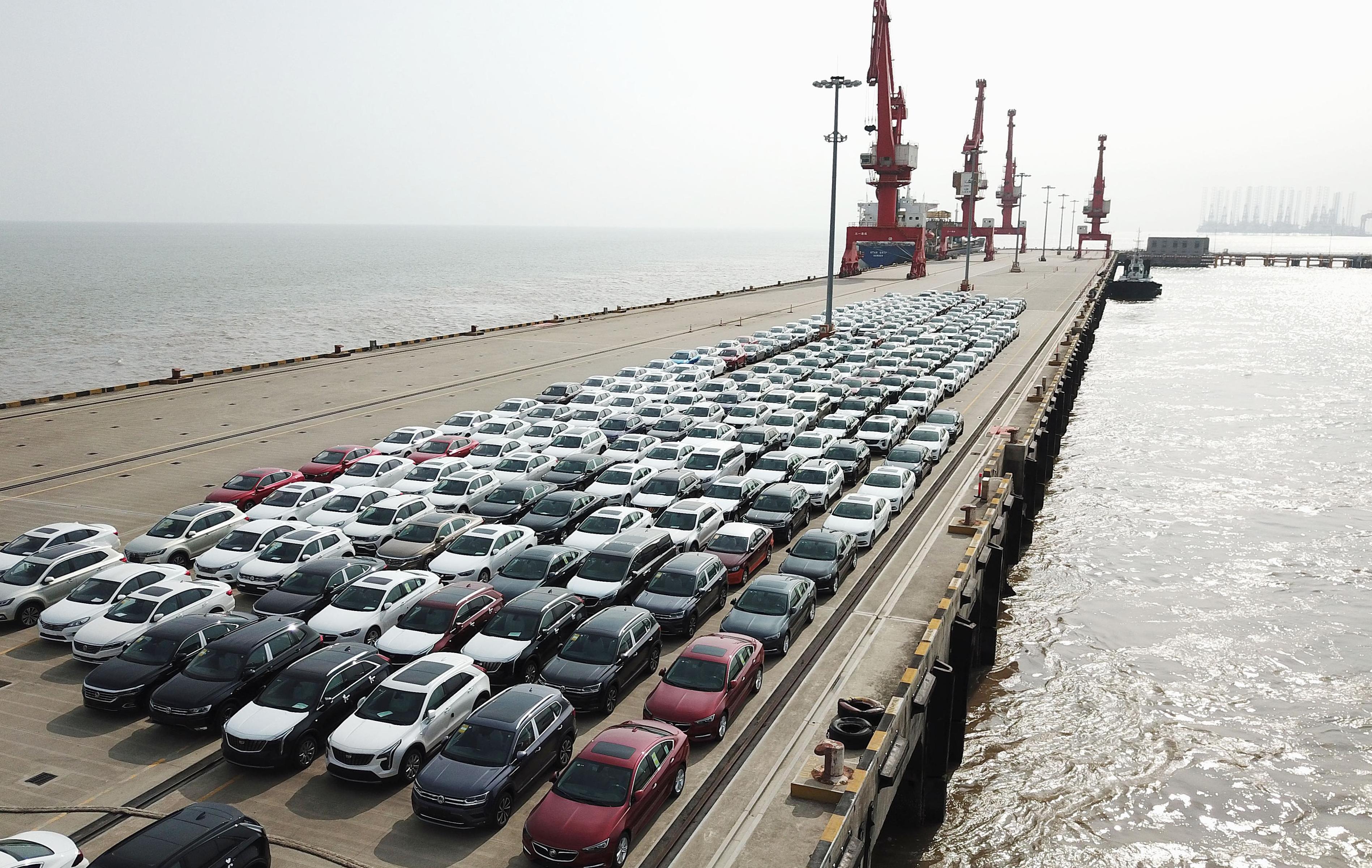 Aerial photo taken on June 27, 2019 shows new cars waiting for shipment at a port in the Lingang area in Shanghai, east China. [Photo/Xinhua]
In this year's government work report, China highlighted the importance of new infrastructure construction. The country has vowed to expand 5G applications and build more charging facilities to promote the wider use of NEVs.
Cities across China have adopted various policies to subsidize the construction and use of charging stations. Beijing announced to build at least 50,000 new charging posts and about 100 battery-changing stations by 2022. Besides, NEV users would be granted subsidies for electricity fees in Shanghai, Hefei, and several other cities.
China has listed the industry of charging posts as one of its "new infrastructures" and a further boom in this sector is in the offing.
By the end of April, the number of charging posts across the country registered a year-on-year growth of 35 percent to around 1.29 million, which is 20,000 higher from the end of March, according to Electric Vehicle Charging Infrastructure Promotion Alliance.
On the other hand, the number of NEVs in China had reached 3.81 million by the end of 2019, a growth of over 1 million in two consecutive years, said the Ministry of Public Security.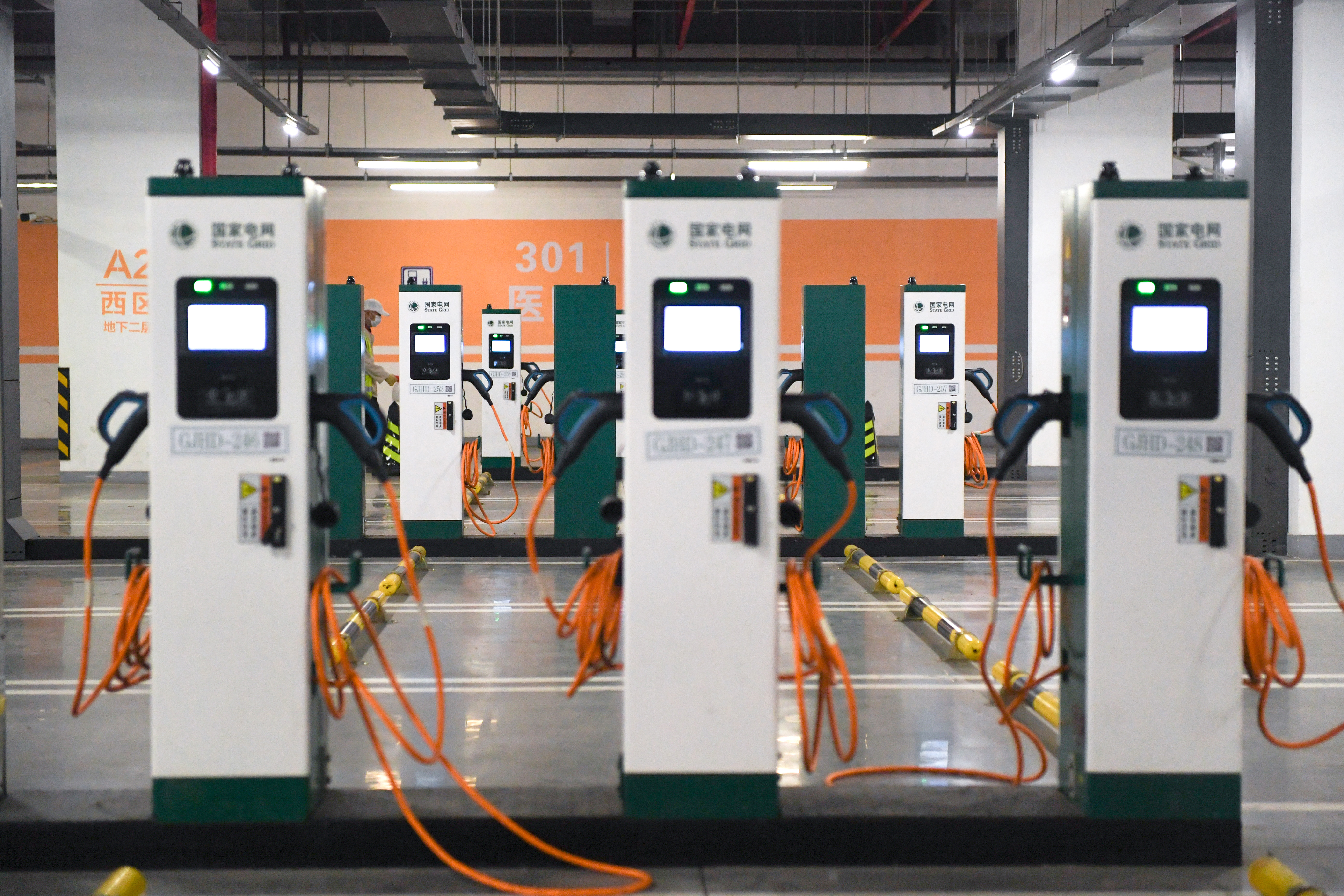 Photo taken on May 16, 2020 shows charging points at a newly-opened electric vehicle charging station in the underground parking lot of the Wukesong sports center in Beijing, capital of China. [Photo/Xinhua]
According to the latest statistics by the China Association of Automobile Manufacturers, the country's production and sale of NEVs rose at a faster rate in May. In May, NEV production and sales increased by 3.5 percent and 12.2 percent month on month to 84,000 and 82,000, respectively.
In five to eight years, NEVs are expected to keep pace with fuel-driven vehicles in terms of competitiveness, said Fang Yunzhou, president of the Hozon New Energy Automobile Co., Ltd., noting that NEV firms should enhance research and development, innovate marketing modes and strengthen cooperation among industrial chains.