.Yangtze River Delta, one of China's most economically invigorating and innovative regions, has pressed the fast-forward button to open to the world as the Chinese government recently drew up a blueprint for further regional integration.
A series of meetings has been held over the past few weeks, following a master plan of the integrated development of the region unveiled on Dec. 1 by China's top authorities, in a bid to speed up the region's opening up.
The implementation of the plan is a major strategic measure to lead high-quality development and improve the planning of further reform and opening up, in a bid to build a strong and vibrant growth pole for development, said Luo Wen, vice head of the National Development and Reform Commission.
The 358,000-square km expanse, about the same size as Germany, encompasses the provinces of Jiangsu, Zhejiang, Anhui, and Shanghai Municipality. It contributes about one-fourth of the country's GDP and one-third of foreign trade and investment.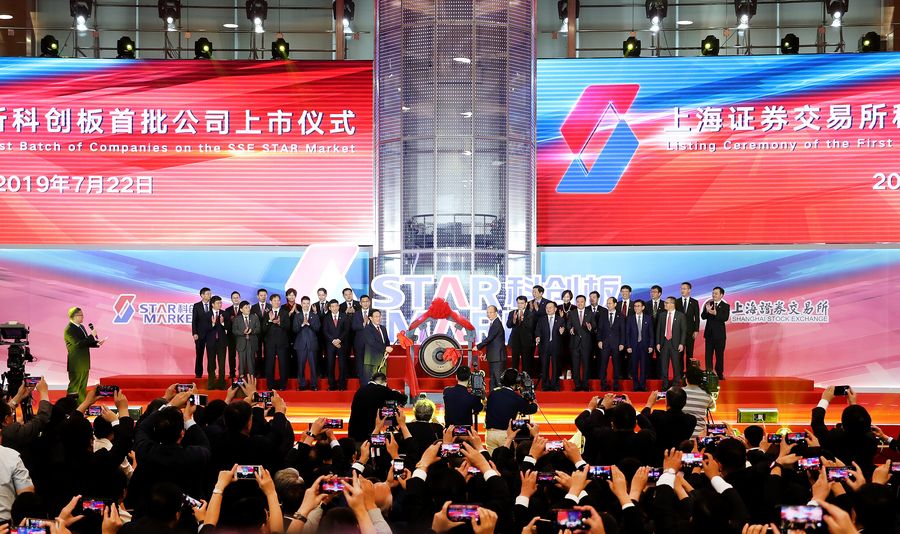 Photo taken on July 22, 2019 shows the debut ceremony of China's sci-tech innovation board (STAR market) at the Shanghai Stock Exchange in Shanghai, east China. [Photo/Xinhua]
As a national strategy, the integrated development of the Yangtze River Delta region coordinates with the development of the Beijing-Tianjin-Hebei region, the Guangdong-Hong Kong-Macao Greater Bay Area, as well as the Belt and Road Initiative, said Zhang Xueliang, a professor at the Shanghai University of Finance and Economics.
All rivers run into the sea
Located at the Yangtze estuary with criss-crossing rivers, the region, led by Shanghai, has witnessed its residents enjoy geographical proximity and cultural affinity, as well as long-term exchanges with the outside world for a long time.
The Old Bund of Ningbo in Zhejiang was opened to trade in the 1840s, with immigrants from Britain, the United States, France and other countries settling there more than a century ago.
Today, the Ningbo Zhoushan Port has become the largest port in the world in terms of cargo tonnage, linking the Yangtze River Economic Belt with the 21st Century Maritime Silk Road. It handled over 1 billion tonnes of cargo in 2018.
Aerial photo taken on June 13, 2018 shows a cargo vessel at Chuanshan port zone of Ningbo Zhoushan Port, east China's Zhejiang Province. [Photo/Xinhua]
Less than 200 km southwest of Ningbo is the country's small commodity hub of Yiwu, home to 15,000 foreign merchants from over 100 countries.
Dubbed as the "World's Supermarket," it receives more than 550,000 overseas buyers and sells commodities to more than 210 countries and regions every year.
Gopher Chocolate, a Zhejiang-based enterprise, is just about to open a store in the Shanghai Hongqiao World Center, the first in the city.
At a local administrative approval service center in Zhejiang, Mo Xuefeng, general manager of Gopher Chocolate (Shanghai) Co., Ltd., received his business license, together with a license for food production and trading, both issued by market regulation authorities in Shanghai.
"With more relaxed administrative barriers, I saved a lot of legwork," Mo said.
Foreign businesses also enjoyed the convenience brought by regional integration.
Air Products, a U.S.-based industrial gases manufacturer rooted in the Yangtze River Delta region for more than two decades, is pleasantly surprised to find that governments within the region are competing with each other to improve the business environment and provide better administrative services.
Feng Yan, vice president of the company's subsidiary in China, used to feel that each local government in the Yangtze River Delta had its own policies.
"But now they learn from each other and reached out to us first," Feng said.
A parlor for the world
With a lower threshold for market access, free flow of talent and more business-friendly measures, the Yangtze River Delta region is turning into a meeting hall for global investors.
"Obviously, it's one of the most important partners for Czech companies and for the Czech Republic," said Richard Krpac, consul general of the Czech Republic in Shanghai, who also noted that more than 100 Czech companies have already invested in the region.
By hosting more than 130 international conferences last year, the region topped the list among China's three major city clusters, data from the International Congress and Convention Association showed.
Shanghai and Hangzhou became the 2nd and 3rd hottest destination cities in China for international conferences, with 82 and 28 meetings held in 2018 respectively.
Li Wei, vice director of the Yangtze River Delta and Yangtze River Economic Belt Research Center under the Shanghai Academy of Social Sciences, said the region is quickening its pace of being a functional platform for the interconnection and integration of global elements and resources.
"We saw a lot of new products, technologies and services make their debuts in Shanghai at the China International Import Expo (CIIE)," Li said, noting that the CIIE has become a platform to promote global multilateral trade.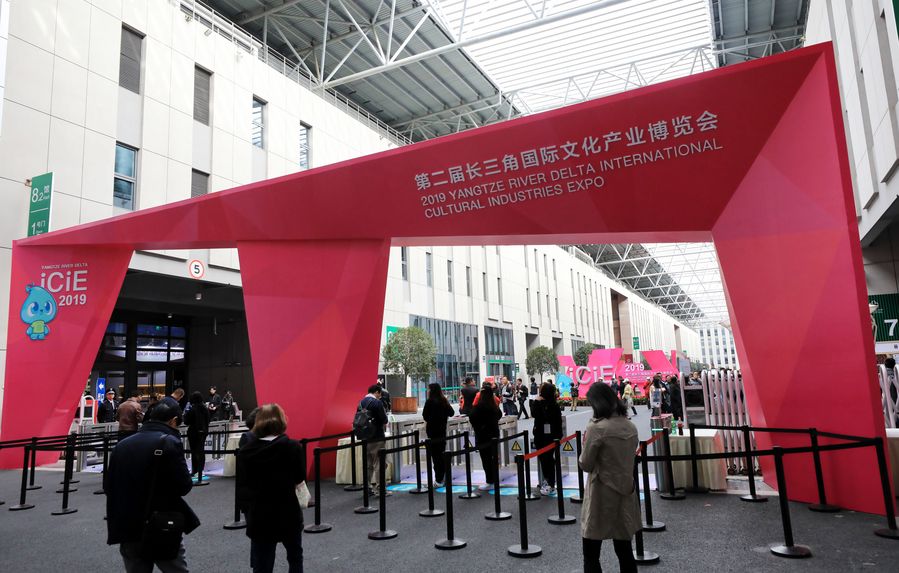 Photo taken on Nov. 21, 2019 shows the Yangtze River Delta International Cultural Industries Expo held in Shanghai, east China. [Photo/Xinhua]
The trade mission of the Yangtze River Delta region was a shining star during the 2nd CIIE held in November, with more than 40,000 purchasers from Zhejiang making orders worth nearly 10 billion yuan (about US$1.43 billion).
The Yangtze River Delta cities, represented by Shanghai, Hangzhou and Nanjing, are gateways of the Asian-Pacific region and a showcase of China's opening up, said Yang Xiangdong, vice head of the Zhejiang-based Yangtze Delta Region Institute of Tsinghua University.
He also noted that the region enjoys exceptional advantages such as a solid industrial foundation, China's huge domestic market and reform and opening-up policies.
"As the Yangtze River Delta further integrates, a world-class city cluster is on the rise," Yang said.