The fourth meeting of the World Media Summit (WMS) presidium has concluded in Shanghai with global media executives reaching consensuses on countering challenges in the digital age and fostering closer cooperation.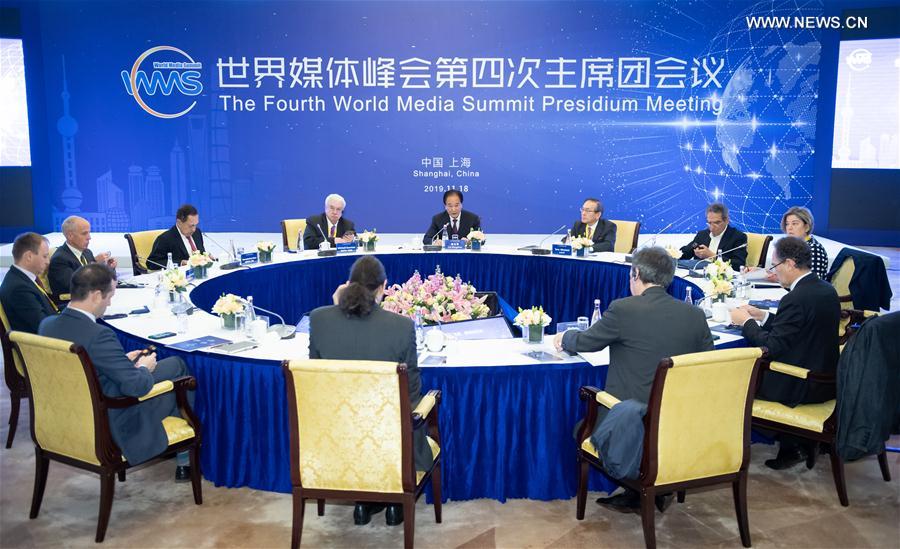 The Fourth World Media Summit Presidium Meeting is held in Shanghai, east China, Nov. 18, 2019. [Photo/Xinhua]
Monday's meeting, themed "New Era, New Media and New Vision," gathered senior executives of 13 media organizations from 11 countries to discuss issues of common concern in the media industry.
Embracing all-media era
Media leaders attending the meeting agreed that while transformation in an all-media era poses grave challenges to the operation of news organizations that have existed for a long time, abundant opportunities lie ahead for them to blaze a new path toward innovation.
Cai Mingzhao, WMS executive chairman and president of China's Xinhua News Agency, noted that since the third WMS was held in Doha in 2016, the global media industry has "witnessed great transformations."
"The Internet has broken through the boundaries of communication," said Cai, adding that within the media industry, the divisions between the work of newspapers, radio, television and news agencies are increasingly blurred.
"The deep integration of content technology, the merging of different forms of media and the interconnection of information carriers constitute a more complex and diverse media ecology," he said.
Cai said the trend toward a mobile audience is more pronounced than it was three years ago, citing the number of mobile Internet users in China which grew 30 percent from 2016 to reach 847 million in the first half of 2019.
The leap of media technology has put into use new technologies that were previously mere concepts, such as Artificial Intelligence, the commercial use of 5G, and the Internet of Things, he added.
Jim Kennedy, senior vice president of the Associated Press, pointed out that major challenges now include "the dramatic changes we are seeing in content consumption habits, driven by advancing technology and also by the generational shift toward younger audiences."
He suggested three promising areas of opportunity, namely, the opportunity to reach new audiences with new digital experiences of the news, the opportunity for new product development, and the imperative to embrace new technology to spark innovation.
Dmitry Gornostaev, deputy editor-in-chief of International News Agency and Radio Sputnik in Russia, said that as the market witnesses rapid and constant changes, media organizations should learn more technologies and engage with technology companies.
Combating fake news
Fake news was a topic that delegates focused much attention on during the meeting, with all of them agreeing that combating disinformation is an urgent need for media outlets to protect themselves and safeguard the public's interest.
The popularization of the Internet has lowered the professional threshold of information dissemination, Cai said, adding "this change has greatly expanded the pool of information, yet it has blurred the line between fact and fiction."
Cai cited the Digital News Report 2019 issued by Reuters Institute for the Study of Journalism, which said the public's trust in news plunged to 42 percent in early 2019 and half of those surveyed were not concerned about their ability to distinguish between real and fake news.
Noting there is no effective mechanism to strengthen cooperation and jointly crack down on fake news, Cai suggested that the summit create a broader synergy in fighting fake news.
Sue Brooks, managing director of Reuters Product and Agency Strategy, said fake news is "a big issue for our industry."
"We need to ensure that as a global industry, journalism is trusted," she said. "As soon as the population that we serve stop trusting us, then we are on a very slippery slope."
Philippe Massonnet, Asia-Pacific regional director of Agence France-Presse (AFP), said disinformation has existed as long as journalism itself, but in recent years it has exploded with the development of social media.
To fight fake news, media outlets need to increase transparency in editorial procedures to improve public trust, provide quality content, forge partnerships in developing verification tools and fact checking, and promote media literacy, he said.
Blueprinting cooperation for new decade
Reviewing a decade-long journey the WMS has gone through, the delegates also looked into how the mechanism for the WMS will develop in the next decade.
"With the joint efforts of the member media organizations, especially member institutions of the presidium, remarkable progress has been made in improving the mechanism for the summit," Cai said, referring to the summit as one of the world's most important high-level communication platforms for media.
In the past decade, three conferences of the WMS have been held in Beijing, Moscow and Doha, respectively. The WMS has formed a presidium as its top decision-making body and held three sessions, and created a secretariat for day-to-day affairs.
The mechanism has reaped fruitful results, including the presentation of the first WMS Global Awards for Excellence, three trainings for media practitioners, and the release of significant documents, exemplifying that the WMS has played an important role in advancing the common development of media around the world.
At the meeting on Monday, the delegates agreed that the fourth WMS be hosted by Xinhua News Agency in Beijing in 2020.
To make the mechanism play a bigger role, Cai proposed that member organizations build a more open and inclusive platform for media cooperation. "We should welcome more media outlets to join this family," he said.
He also suggested making the operating mechanism more practical and efficient, and fostering more popular and influential media cooperation projects.
Narasimhan Ram, chairman of The Hindu Publishing Group in India, said that members should "find as large common ground as possible, and not to focus on differences."
Ram said media organizations share common ground on a wide range of issues, such as media education and media literacy, challenges in a digital era and disinformation.
The WMS is "a fascinating initiative," said Uira Machado, deputy-managing editor of Folha de S.Paulo in Brazil. "I think its importance is increasing during the years."