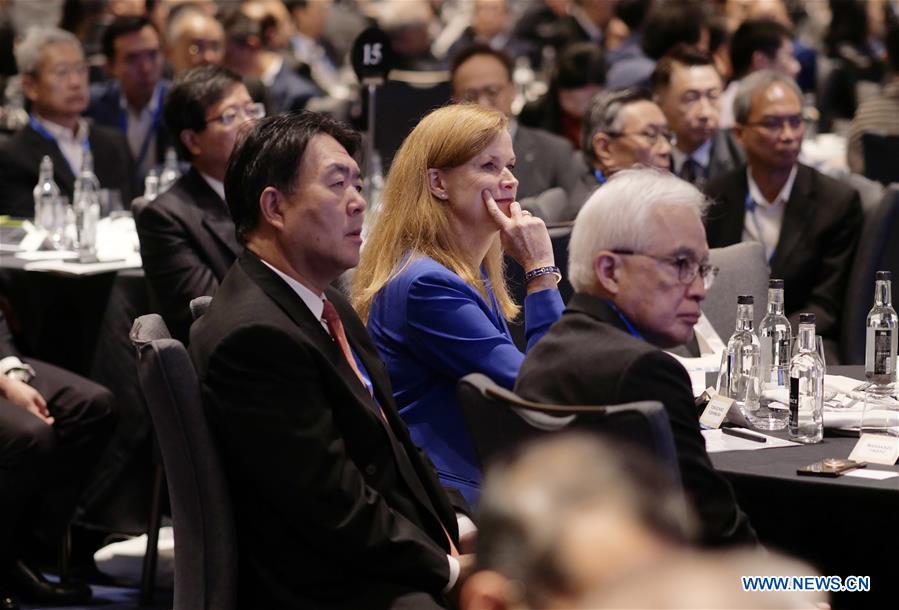 Guests attend a forum on the development of the Greater Bay Area in Hong Kong, south China, Oct. 24, 2019. [Photo/Xinhua]
A way out for Hong Kong
Analysts agreed that cities in the Greater Bay Area will reap benefits and Hong Kong in particular will get a boost to overcome the current economic hardships.
David Gosset, a French expert and founder of the Europe-China Forum, said the Greater Bay Area offers the opportunity for Hong Kong to renew itself and resolve social and economic problems.
With traditional strengths in banking, finance, services and trade, Hong Kong, connected with the Greater Bay Area's eco-system, could evolve into one of the world's leading smart cities, Gosset said. "Hong Kong's future cannot be separated from the Greater Bay Area and the rejuvenation of China."
Victor Fung, chairman of Hong Kong-based consumer goods export trading giant Fung Group, said the Greater Bay Area, by providing a cross-border, upward social mobility, will be a tremendous catalyst for Hong Kong to re-invent itself and building a better future.
"It is really a lifetime opportunity for Hong Kong and especially for young people," Fung said.
Opportunities for world
The Greater Bay Area has attracted global attention as international attendees of the forum expect it to help expand win-win cooperation in the region. The area has a population of 66 million people, 56,000 square km of coverage and a total GDP equivalent of 1.3 trillion U.S. dollars.
"I was amazed by the Greater Bay Area project in which Hong Kong plays a critical role," Joan McEntee, former Under Secretary of Commerce of the United States, said.
McEntee noted that the world will be paying great attention as the Greater Bay Area can serve as a model of openness and reform in China and of a true open market for all global firms.
The Greater Bay Area, along with the Belt and Road Initiative, is bringing mutual benefits to participating countries and regions, Thai Deputy Prime Minister Somkid Jatusripitak, said, calling it a global leader in science and innovation and a international hub in logistics and finance.
Thailand, also actively promoting sub-regional cooperation, hopes to strengthen cooperation between its Eastern Economic Corridor and the Greater Bay Area to push forward Thailand's 4.0 policy, Somkid said.