.
In Yongxin, a village administered by Urumqi around 30-km away, a gigantic monument shoots up into the sky -- this is the geographical center of the Asian continent.
While tourists pose for photographs under the landmark, potato farmer Chen Gong, 70, explains that he has never left the outer limits of Urumqi.
"I am Urumqi born and bred. I've never been to the coast. If I had the chance, I'd love to see the sea," he says.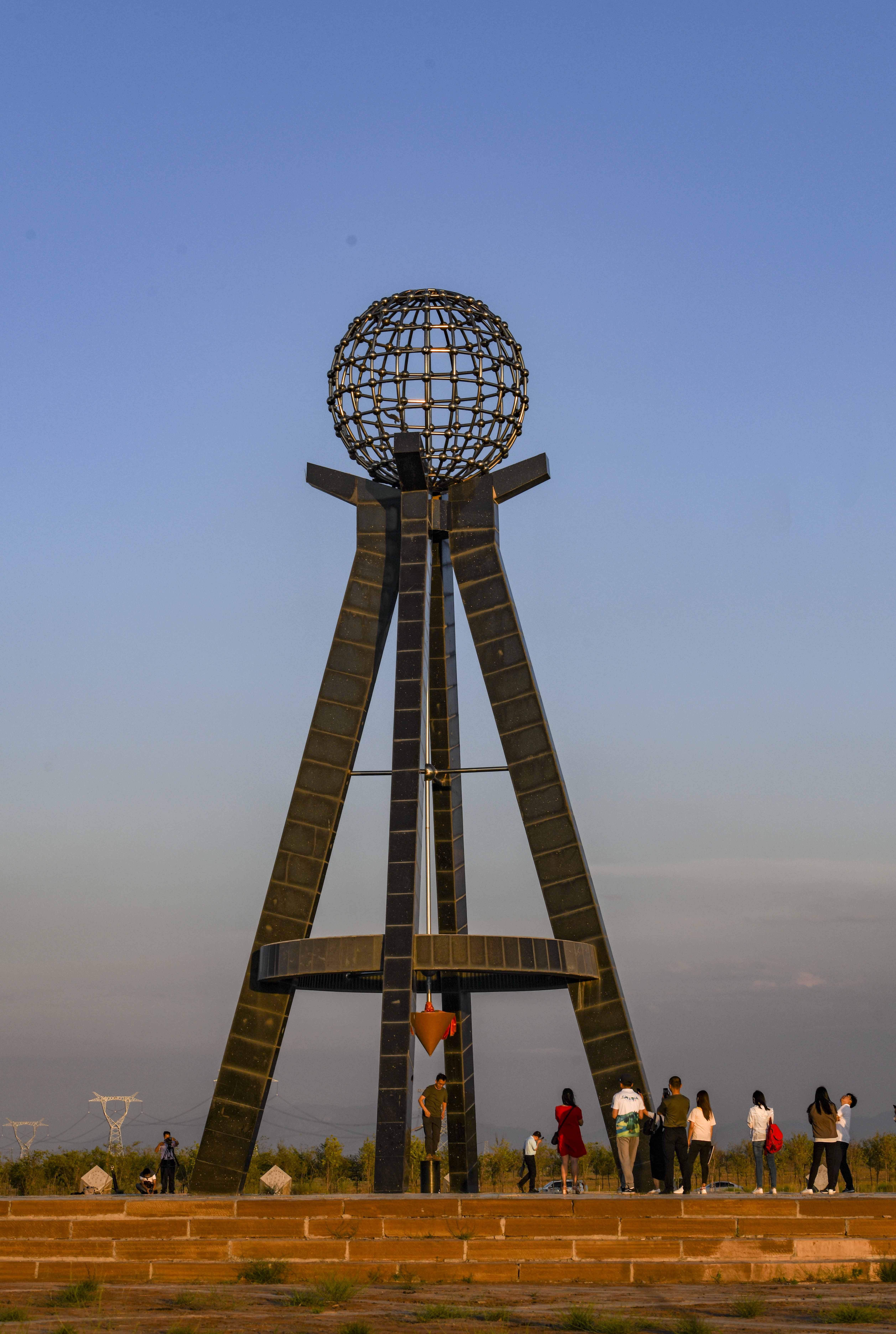 People visit the monument of the geographical center of the Asian continent in Yongxin Village of Urumqi, northwest China's Xinjiang Uygur Autonomous Region, July 12, 2019. [Photo/Xinhua]
The Pole of Inaccessibility, the farthest point on land from the coastline, is in China's far west region of Xinjiang. But it is far from inaccessible. In fact, it is Xinjiang's unique position on the Silk Road -- ancient and modern -- that puts it on the map.
For centuries, the ringing bells of camel caravans carrying merchants and tourists have signaled the arrival of new goods, and ideas.
Today, trains and planes have made modern Xinjiang better connected than ever before. As China's key trade gateway to Central and West Asia, the remote region's position as the heart of the Belt and Road Initiative is unmistakable.
Tradition
In Kashgar Old Town, southern Xinjiang, Yumaerjan Usaan and his father Yusaanjan Yusuyin play a cheerful dutar-tabour duet at the door of their wooden handicraft shop. Their audience -- two little girls and an old man -- clap their hands to the beat.
"Larks can't stop singing on the blooming branch/Just as I can't stop missing you/I can't sleep at night/When can I see you again, my love?" Yumaerjan sings.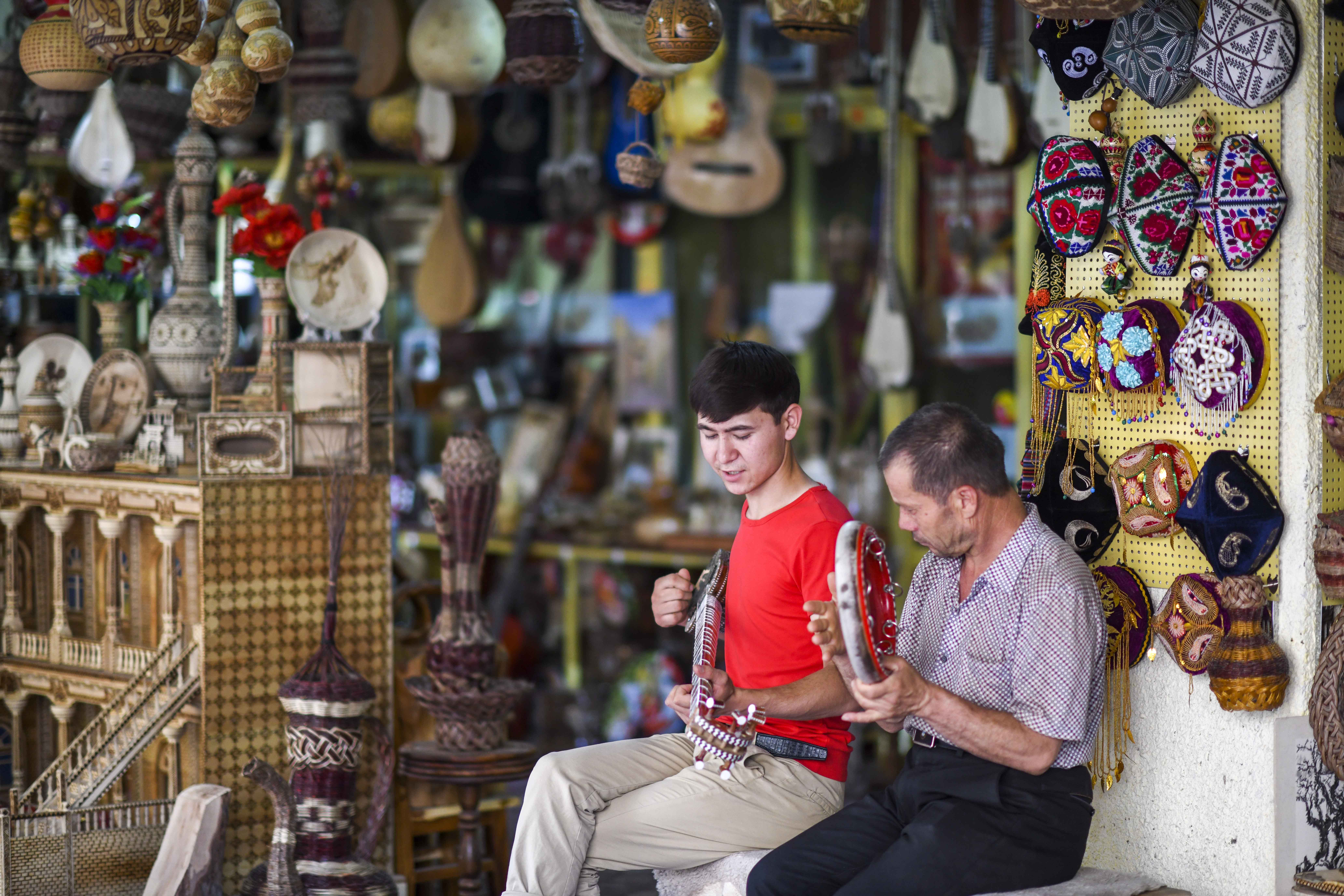 Yumaerjan Usaan (L) plays dutar at his wooden handicraft shop in Kashgar, July 6, 2019. [Photo/Xinhua]
"The traditional music of Kashgar was influenced by the music heard along the ancient Silk Road," says Nurmemet Rishat, composer and vice chairman of the Musician's Association of Kashgar.
Archaeological digs have unearthed evidence that the Chinese four-stringed pipa was played here 1,100 years ago. The influence of India and Persia can be seen in local stringed instruments such as the dutar or rewap. And the Yangqin, a Chinese hammered dulcimer with roots in western Asia, also found its way to Xinjiang thanks to the ancient trade routes.
Just like the music, the ancient Silk Road, and the people, languages and products that travelled along it made Xinjiang what it is today: a cultural patchwork.
Once an oasis in the vast sand, Kashgar was an important staging post. A place where travelers, carriages and camels rested before continuing their trek on the Silk Road.
A few steps away from the wooden ware shop is Mewlan Turaq's boutique. Racks of ornate, beaded and embroidered costumes jostle for space next to modern, modified outfits, all featuring Mewlan's unique, eye-catching designs.
With the help of his mother Aygul Khasim, a tailor, Mewlan recreated outfits that were once everyday wear in Xinjiang, and made a two-minute video to show the evolution of Uygur fashion over the past century.
"We can see that time has left different marks on our clothes, and different cultures have blended," said Mewlan.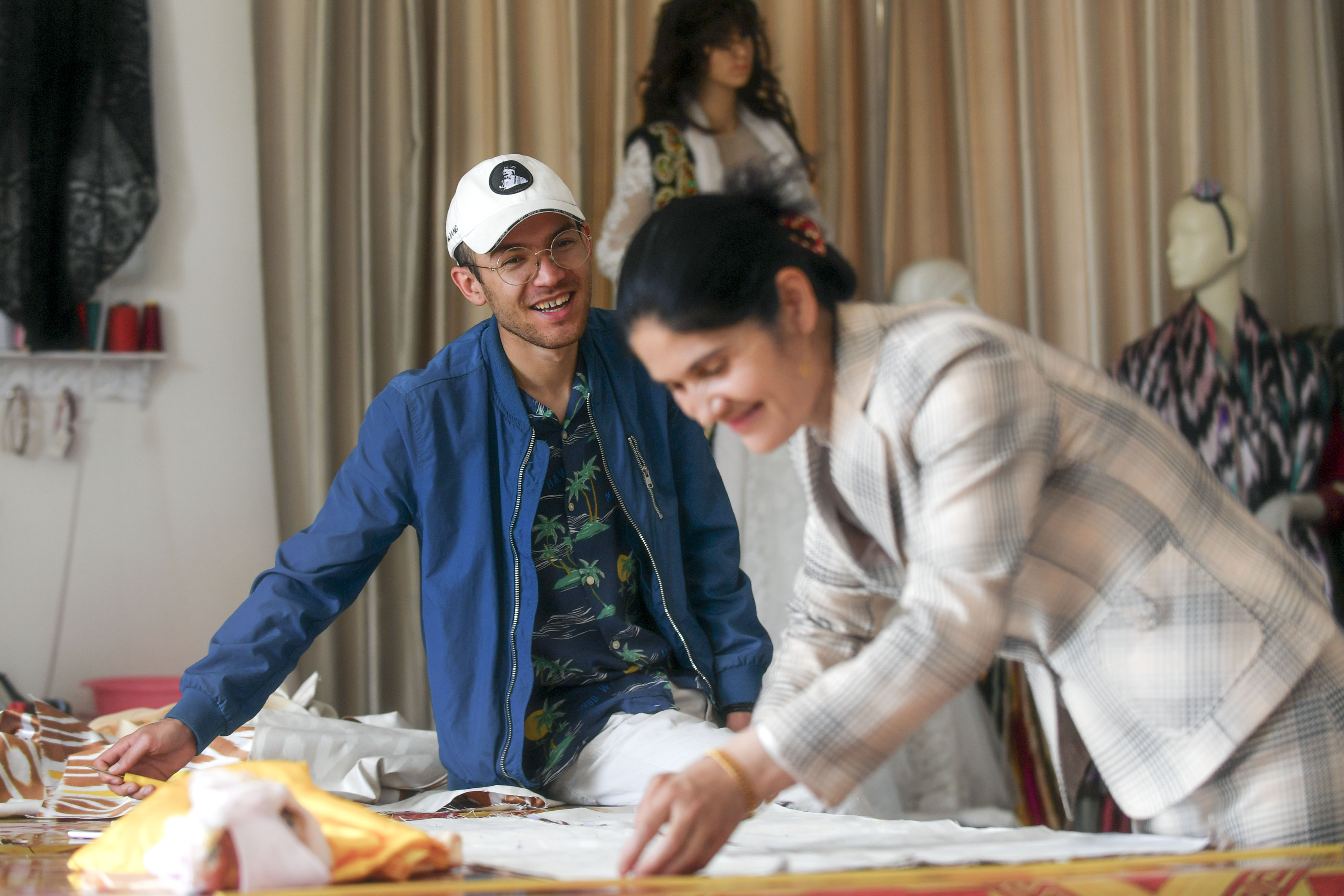 Mewlan Turaq and his mother Aygul Khasim design costumes at his boutique in Kashgar, May 13, 2019. [Photo/Xinhua]
He can wax lyrical about the typical central Asia pattern found on old caps, or the Manchu motifs embroidered with Han techniques on a set of Uygur costumes from a century ago.
From his perspective, cultures in the east and west have met and melded in Kashgar, and that shows in the evolution of the area's fashion.
He spends most of his spare time visiting old tailors and craftsmen and huntig down bargains at flea markets. He sees clothes like a language with which different cultures can communicate.
"I care about the cultures, the history and the aesthetic values behind the clothes. More importantly, I would like to see how cultures blend together and what cultures these blending elements are from," said the designer.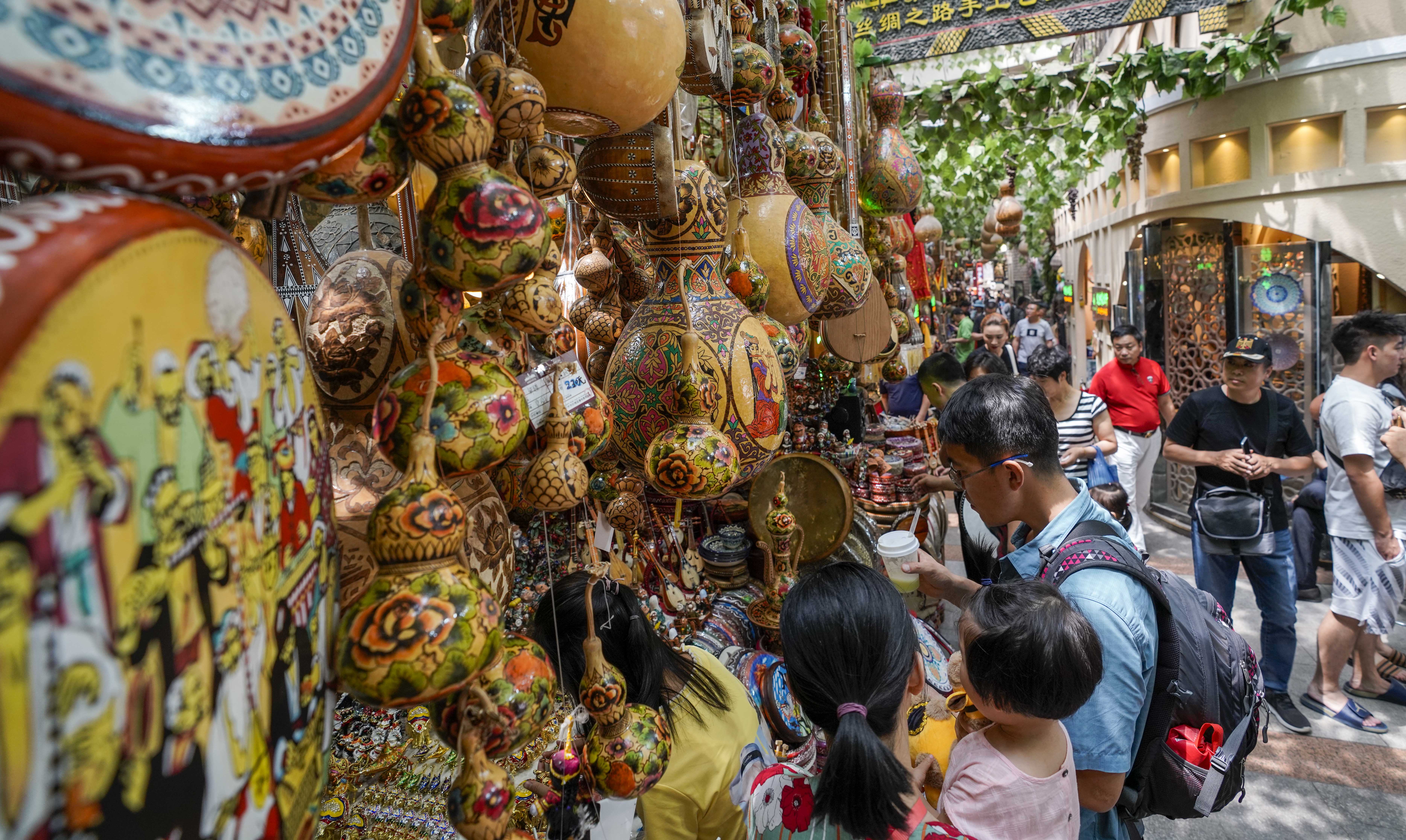 People visit the International Grand Bazaar in Urumqi, northwest China's Xinjiang Uygur Autonomous Region, July 13, 2019. [Photo/Xinhua]