Liu Yong, 63, a retired teacher from Nanjing, said he was in elementary school when the bridge first opened. Without telling his parents and teachers, he and his classmates walked more than 10 kilometers to see it.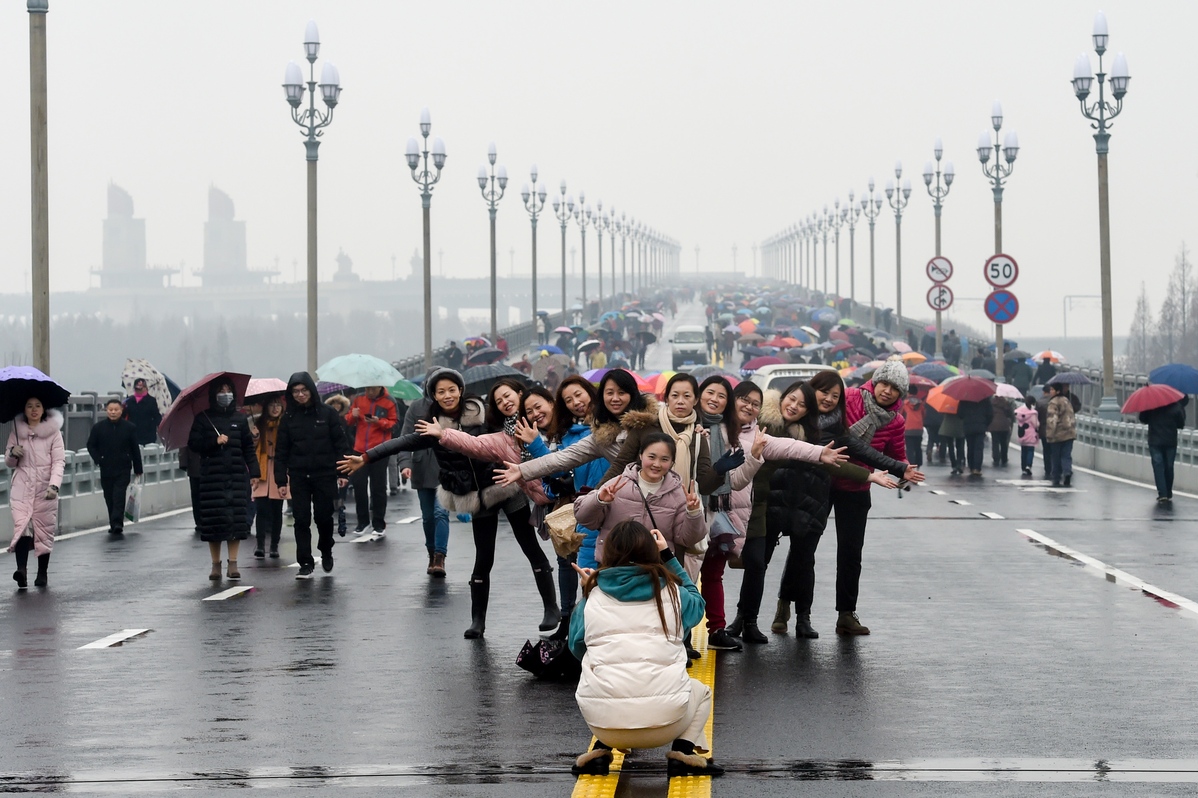 Nanjing residents celebrate the reopening of the bridge. [Photo/Xinhua]
"It was the most magnificent structure I had ever seen. When our relatives visited Nanjing, we took them to see the bridge instead of visiting other well-known places of interest," Liu said.

Zhou Lei, who lives in a residential community near the bridge, said that when he was an elementary school student in Yancheng, Jiangsu, his father promised him that he would take him to see the bridge if he had high scores in his final exam.
"It was such a huge temptation that I studied like crazy to get such scores. I got extremely high marks in the end, but my father failed to keep his promise because the family could not afford the tickets to go to Nanjing," Zhou said.
"Visiting the bridge had been my dream for many years. Now, my two sisters and I have all moved to Nanjing, the provincial capital. It's a happy coincidence that my family lives near the bridge."
Lu Andong, a professor with Nanjing University's School of Architecture and Urban Planning, said the bridge represents the collective memory of several generations and has special meaning for Chinese.
"It employed the country's most advanced technologies and talented workers when it was built. It was unique in stimulating cohesion and pride in the whole country," Lu said.
In 1960, the bridge featured in the Guinness Book of World Records as the world's longest with dual road and rail functions.
In 2014, it was listed as an Immovable Cultural Relic under State Council-designated protection, and two years later as part of China's 20th century architectural heritage.
Yang Tao, director of the Nanjing Institute for Urban and Transportation Planning and Design, said it was extremely hard to build the rail section of the bridge because of limited skills and technologies.
"But many bridge-building technologies were subsequently invented and these have not become outdated, even today. Completion of the bridge has played an important role in the economic and cultural exchanges between areas north and south of the Yangtze, and even unified governance of the country," Yang said.
People had dreamed of building a bridge spanning the Yangtze for years.