Farmer Zhao Huijie, spiced with humor when speaking at panel discussions at the second session of the 13th National People's Congress (NPC), China's national legislature, has a clearer vision for the development of her village.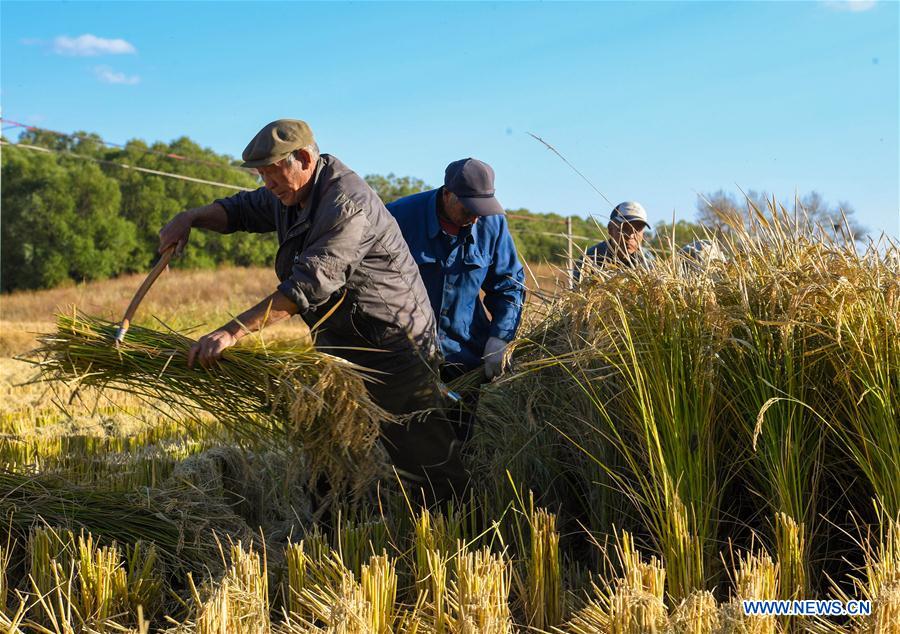 Farmers harvest rice in the field in Qiataiji village in Hohhot, north China's Inner Mongolia autonomous region, Oct. 1, 2018. [Photo/Xinhua]
The 48-year-old woman from north China's Inner Mongolia autonomous region has fought for fortune for her fellow villagers after she became the village Party chief in 2009, and now for the interest of more people in rural China now that she is a deputy to the NPC.
At the ongoing second session of the 13th NPC, Zhao submitted a suggestion on pollution control in animal husbandry and farming in rural areas.
"Random disposal of livestock waste has not only damaged the rural environment, but also polluted groundwater," she said, advising the government to fund major livestock farms in harmless waste treatment.
She also suggested the government to subsidize farmers to use degradable plastic films to protect the environment.
Unlike legislators in the West who make a career of politics, NPC deputies are from all walks of life and work part-time. Of the nearly 3,000 national lawmakers, more than 15 percent are workers and farmers.
Zhao, an ethnic Manchu, is also one of the 400-plus ethnic minority deputies.
Urban woman's rural life
Born into a worker's family, Zhao worked at a gold mine in the city of Chifeng, Inner Mongolia, where she got married in 1991.
"He was four years older than me. I think it was a perfect match considering I am talkative, while he is quiet," Zhao said of her husband.
Their daughter was born in 1992. In the same year, the gold mine went bankrupt, forcing the couple back to her husband's home in Xiaomiaozi Village.
Located between two mountains with a river traversing through, Xiaomiaozi was known for its poverty back then. Shabby houses, bumpy roads and barren farmland formed the major landscape, and the only crop villagers grew was corn.
To make ends meet, Zhao's husband found a job in town, and she rented a small plot of farmland at home.
She had to learn how to farm from scratch, including driving a horse to plow in the field. When she was farming, she had to place her baby on the field ridge.
"I didn't want to depend on my parents after getting married. If the other villagers could get used to the country life here, how could I not?" she said.
In 1995, she started teaching at the village elementary school. Four years later, she was assigned to take charge of family planning and women's work in the village.
"I was familiar with every household – newborn babies, young brides marrying into our village, and the elderly," Zhao said.
In 2009, she was elected unanimously as the village Party chief.
As soon as she took office, Zhao was asked to attend "a meeting" in the township.
"It turned out to be a training for Party chiefs of backward villages. That was shameful," she said, determined to change the situation.
New road, new life
The first thing she decided to work on was to build a concrete road, as she found corn buyers were reluctant to come due to the bumpy roads. Higher transport costs even dragged down corn prices in the village.
For more than a year, Zhao visited door to door to persuade villagers to relocate to give way to the road. She talked so much that she was diagnosed with sphagitis, and had to undergo a surgery.
"I liked singing in the past, but after the surgery, I could never hold a high note," she said.
After the road project was completed, Zhao had a bridge built, ending the days when villagers had to trek in waters to cross the river.
In 2013, when Zhao engaged herself in the bridge project, she broke her left arm and knee in a road accident.
"After work, I was riding my motorcycle in the dark when a donkey rushed on to the road. I was thrown away along with the vehicle," she said.
Instead of lying in bed, Zhao insisted going to the construction site on crutches, touching the villagers and drawing more and more followers.
Li Yongbo, a villager who used to work in Beijing, was persuaded home and led the farmers to grow traditional Chinese medicine (TCM) such as balloon flower root, which secures three times the income of corn.
According to Li, the sandy soil, big day-and-night temperature difference and easy access to irrigation made the village an ideal place for TCM plantation.
The village has expanded the TCM plantation areas to more than 200 hectares now, producing more than 4,000 tonnes of TCM every year. A TCM processing workshop has been established, further doubling the income from mere TCM plantation.
The per capita income of the village reached 14,000 yuan (2,087 U.S. dollars) in 2018, 10,000 yuan more than the levels of 2010.
"As villagers get rich and spend more, my tiny store now can bring me more than 100,000 yuan of profit every year," grocery runner You Junguang said.
Last year, Zhao was elected as a deputy to the 13th NPC. She suggested utilizing private investment in rural development.
"To my delight, the Ministry of Finance replied to me, accepting my suggestion and pledging to encourage private investors to contribute to revitalizing the rural areas."
Zhao said they had registered "Xiaomiaozi Village" as a brand, and were talking to a tourism company on cooperation to entice tourists with the village's Manchu and Mongolian ethnic cultures, as well as its beautiful landscape.
After graduating from college, Zhao's daughter found a teaching job in Changsha City in central China in 2014. Her son is studying in a senior high school in Chifeng City. Zhao is too busy to visit them.
"I feel guilty because I have rarely taken care of my kids. But I hope I can set an example for them by trying my best to do everything, be it vital or trivial, and making positive contribution to the society," she said.