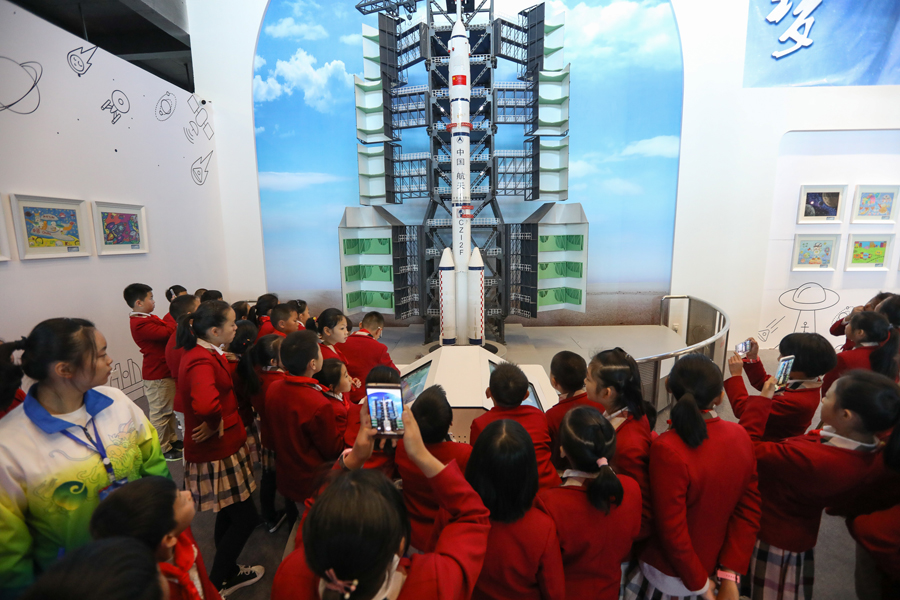 Students visit a science exhibition in Guiyang, Guizhou province in November. [Photo/Xinhua]
Space-based services
Toward the end of last year, China announced that its Beidou Navigation Satellite System had started to provide global services and that the space-based network was being used in a number of countries.
According to the China Satellite Navigation Office, 2018 was the busiest year in Beidou's construction history, as the nation launched 10 Long March rockets to position 18 satellites for the system, which also made Beidou the biggest user of Chinese carrier rockets last year. The latest satellites in the network are the 18th and 19th of the Beidou third-generation, or Beidou-3, series and were launched in late November.
Ran Chengqi, director of the China Satellite Navigation Office, said these launches completed the establishment of the Beidou-3 system's "primary constellation", signifying Beidou's entry into a "global era" from a "regional era".
Beidou is one of four space-based navigation networks along with the United States' GPS, Russia's GLONASS and the European Union's Galileo.
Since 2000, when the first Beidou satellite entered orbit, 47 system satellites, including four experimental ones, have been launched and several have been retired. Beidou began providing positioning, navigation, timing and messaging services to civilian users in China and other parts of the Asia-Pacific region in December 2012.
To date, 33 satellites – 18 in the Beidou-3 series and 15 in Beidou-2 – are operational in several orbits. They offer a global positioning service with 10-meter accuracy and an Asia-Pacific regional service with 5-m accuracy.
Before the end of next year, China plans to send 12 satellites into orbit for Beidou, which, by that time, will have about 30 in service and will have better capabilities and services.
In addition to Beidou, China made significant progress last year in developing other space-based assets for public or commercial purposes.
In December, China Aerospace Science and Industry Corp deployed the first satellite in its ambitious Hongyun project, the country's first low-orbit broadband communications satellite network. Demonstrating low-orbit broadband communications technologies is among the satellite's tasks.
The company intends to place more than 150 Hongyun satellites into orbit around 2023, and the number is likely to rise in response to market demands, according to Xiang Kaiheng, Hongyun's chief designer. After the network becomes fully operational, users will be able to pay to make calls and use high-speed internet services globally, he said.
Commercial advances
Zhang Di, a senior rocket scientist, said that in addition to the impetus from huge State-backed programs, progress in the commercial space sector last year also contributed to China's rise in the global space arena. Zhang is chairman of Expace Technology, a China Aerospace Science and Industry Corp subsidiary that builds the Kuaizhou solid-propellant carrier rocket.
Last year, three private space startups in Beijing – OneSpace, i-Space and LandSpace – carried out launches at government-run testing sites, marking the start of the private sector's participation in the space-launch market.
LandSpace appeared to have moved faster than the others, as it launched a carrier rocket in late October at the Jiuquan Satellite Launch Center. However, the rocket failed to place the satellite in orbit due to a malfunction in flight. The rockets launched by OneSpace and i-Space were sounding ones, which cannot place payloads into orbit.
Zhang Changwu, CEO of Land-Space, said that despite the failure of the maiden launch of the company's ZQ-1 rocket, the mission was still important for the country's space industry because it was the first attempt by a Chinese private company to build and launch a carrier rocket. It also showed the strength of the private space sector.
"The overall performance of our rocket on its debut flight was good enough to give us confidence in our capability and future growth," he said.
"Looking to the future, China's space industry needs changes and innovations. As State-owned programs are developing new rockets and facing new challenges, we would be wise not to put all our eggs in one basket. Therefore, the country needs a diversified portfolio in the space-launch field," Zhang said.
"Private rocket companies are willing and ready to undertake some government assignments or to design rockets based on the requirements of government programs."
Last year, LandSpace said its production base in Huzhou, Zhejiang province – the first privately owned carrier rocket factory in China and the largest of its kind in Asia – had begun operations and would be used to manufacture the company's first liquid-fuel rocket and the country's first methane rocket engine.
Both LandSpace and i-Space plan to launch at least one carrier rocket this year.
Zhang Di, the rocket scientist, said, "There have been increasing demands for commercial launch services from State-owned and private satellite enterprises, giving opportunities to private rocket firms."
He predicted that State-owned and private rocket companies are likely to make at least 40 launches this year, maintaining China's No. 1 position globally.
"As far as Expace is concerned, at least five Kuaizhou launches are scheduled in 2019. But our clients' demands go beyond five launches, so if everything goes well, 10 are likely," he said.
Zhang Di added that Expace intends to conduct the first mission of the Kuaizhou 11, set to be China's largest and most powerful solid-propellant carrier rocket, before the end of this year.
The prosperity of the country's satellite businesses, especially that of private players, lies behind the thriving launch market.
Commsat, a private satellite producer in Beijing and one of the forerunners in the nation's private satellite operations, launched eight of its small satellites from Chinese rockets last year. It led other private companies in terms of the number of satellites launched.
Xie Tao, Commsat's CEO, said that with the launches last year, his company showed it is capable of designing and building small satellites. The missions also demonstrate that private Chinese companies are able to develop satellites weighing hundreds of kilograms, and that the bigger a satellite is, the better its capability.
He said Commsat looks forward to cooperating with private rocket manufacturers.
"In 2019, we will still mainly rely on State-owned companies' rockets, but we expect privately made ones to provide launch services for us as soon as possible," Xie said. He added that he hopes domestically made private rockets can place satellites in orbit this year, which would be a landmark for the nation's space industry.
In addition to rockets and satellites, private players have made their mark in the ground-based support business.
Several private startups such as Beijing Tianlian Telemetry, Tracking and Command Technology and Shaanxi Xingyi Space Technology have set up a number of ground stations in China for spacecraft telemetry, tracking and command. Telemetry is an automated communications process by which measurements and other data are collected at remote or inaccessible points and transmitted to receiving equipment for monitoring.
Zheng Ruhua, chief technology officer at Beijing Tianlian, said the company can serve at least 20 satellites, adding that it plans to establish several stations overseas, and if the plan goes well, it will be capable of handling more than 200 satellites by the end of the year.