.
For Stephanie Pollack, this year's holiday gifts are somewhat special.
"I can't think of a better holiday present" than the two newly rolled-out rail cars set to replace the old ones running on Boston's Orange Line for decades, said the head of the Transportation Department for the U.S. state of Massachusetts.
The two cars, the first pair of the 404 next-generation rail vehicles being built by the U.S. factory of Chinese rail car manufacturer CRRC will be delivered to Massachusetts Bay Transportation Authority (MBTA), a division of Pollack's Department, for further tests before entering into service in the coming months.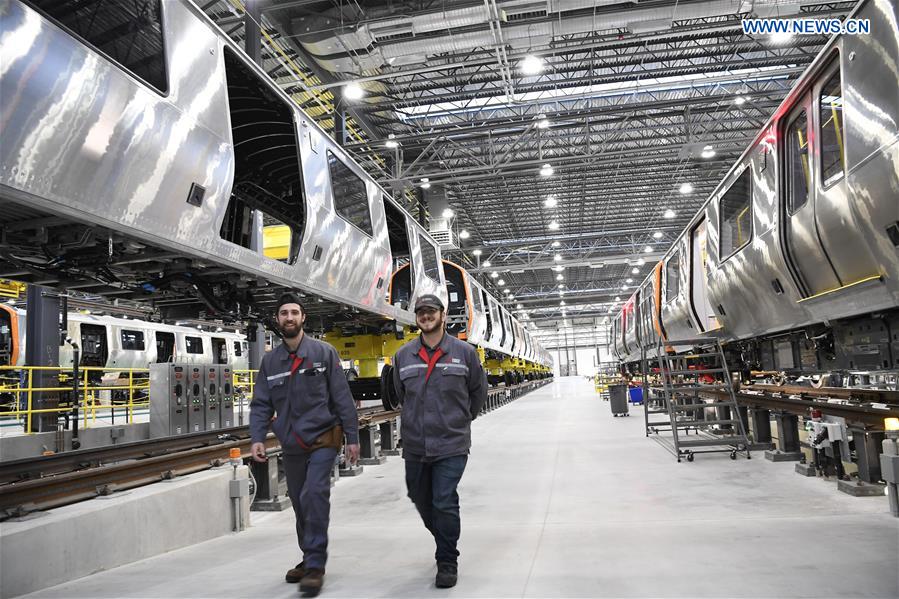 Photo taken on Dec. 18, 2018 shows an assembly factory of CRRC in Springfield, Massachusetts, the United States. [Photo/Xinhua]
A new look
It was a sunny yet icy day for Springfield, a city in Massachusetts. Hundreds of people, including U.S. and Chinese workers, political and business leaders and journalists all swarmed into CRRC MA's assembly factory, the corporation's North American hub, to applaud the roll-out of two subway cars on Dec. 18.
The facility itself was quite impressive, with local media saying the interior was big enough for three and a half football fields.
The compartments have a number of new features compared to their retiring cousins, like air conditioning and heating units, physically challenged-friendly doors and a wheelchair area that can transform into regular seating with jump seats folding up and away.
To ensure safe travels, the CRRC also equipped the new model with crash energy management, LCD passenger information displays and CCTV cameras, replete with next-generation technology.
Shira Irvine is an electrical assembler. The factory has given her a hard-to-come-by job in this industrially decrepit area.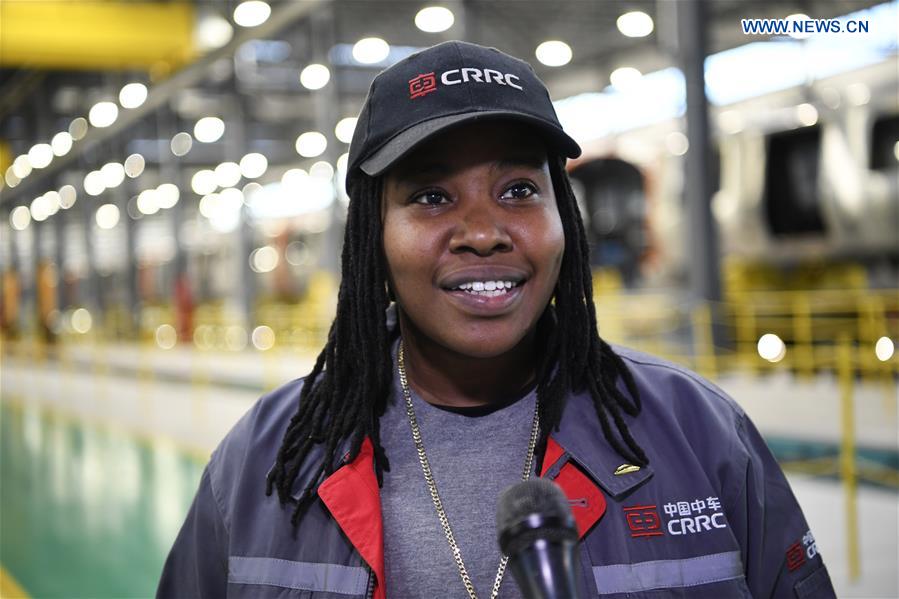 Shira Irvine, an electrical assembler, speaks to reporters at the factory of CRRC in Springfield, Massachusetts, the United States, on Dec. 18, 2018. [Photo/Xinhua]
"I've been working here eight months ... we install all the cameras, all the lighting. Anything that functions, we do it," she said. "I love my job. This is something new, something exciting. I feel important that I'm a part of something so big."
"I plan on making it my career. I want to retire from here," she told Xinhua.
For Vernon Jones, a welder at the factory, the enthusiasm was palpable.
"I've been following the CRRC since I found out it was going to be breaking ground here," he said.
The Chinese company has created at least 150 direct jobs, but its contribution to local development is more than that, according to Domenic Sarno, mayor of Springfield.
The company "took a vacant or decrepit area and transform it to a state-of-the-art manufacturing facility that I'd say would rival anything in the world for manufacturing rail cars."
With Chinese investment here, the city has been itching to preserve its history and retake its past manufacturing glory.