Ningxia Hui Autonomous Region, located in China's northwest, is known as the "watery place beyond the great wall" for its spectacular landscape and unique regional development history.
It's a land with a long history that depicts the diversity of Chinese culture, honoring the unity of ethnic minorities, and demonstrating how the Ningxia people diligently work for a better life.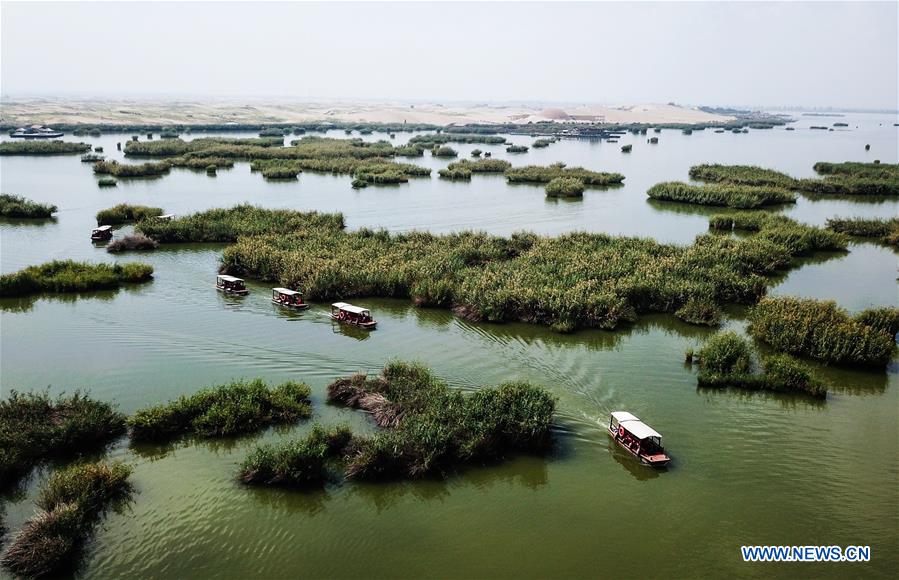 Aerial photo taken on Sept. 12, 2018 shows sightseeing boats in Shahu Lake in Shizuishan City, northwest China's Ningxia Hui Autonomous Region. [Photo/Xinhua]
This year marks the 60th anniversary of the establishment of the Ningxia Hui Autonomous Region. The present-day Ningxia, as a model of ethnic solidarity and regional autonomy, is promisingly vibrant and has shown rapid economic development, stable social status and an improved ecological environment.
Ever since the 18th National Congress of the Communist Party of China, Chinese President Xi Jinping has stressed the importance of the work towards solidifying ethnic unity and boosting economic development in Ningxia.
At this historic moment, as Xi said, poverty alleviation and enhancements to livelihood through economic development have played key roles in regard to building an all-round moderately prosperous society in Ningxia.
Targeted poverty alleviation
"For Ningxia, the key measure to win the combat against poverty is enhancing people's livelihood," said Xi Jinping.
Poverty alleviation started in 1983 in Ningxia, and has experienced five major stages including "Sanxi" agricultural construction (1983-1993), "Shuangbai" poverty alleviation (1994-2000), thousand-village poverty alleviation (2001-2010), million-people poverty alleviation (2011-2015) and targeted measures-taking poverty alleviation, which is currently the main policy implemented in Ningxia.
The relative policies have helped lift more than 3.3 million people out of poverty in Ningxia. In the past five years, 719,000 people have shaken off poverty, and incidences of poverty have decreased by 16.9 percent.
"Poverty alleviation is getting more and more difficult as it progresses to the end," Xi said. So in the past three decades, the local government has implemented policies to transfer relief measures to assistance measures through development. Meanwhile, the scattered poverty alleviation measures are becoming increasingly targeted, in accord with the blueprint for China's development from 2016 to 2020, which is to lift 10 million people out of poverty every year.
Livelihood matters
In the 60 years since the Ningxia Hui Autonomous Region was established, GDP in Ningxia has increased 1050 fold to an impressive 345 billion RMB.
The deepening reform and opening up has brought Ningxia to a new stage of overall social development. The urbanization process is accelerating, and more of the ethnic minority people have migrated to cities from rural areas, thus resulting in new issues in education, healthcare, and public services for the left-behind children, women and elderly.
The Ningxia government and local agencies, under the general CPC's national joint development guidelines, have made a series of effective measures for Ningxia citizens.
A standardized network of government administration has been built to better serve citizens. The public transportation system has been much improved, the infrastructure construction has used echo concepts and smart technologies, and travel services have been upgraded as an important part of Ningxia's economy.
Moreover, domestic and international collaboration among health care and education have helped Ningxia attract more talent from around the nation.
The landscape
The Ningxia people used to live in mud-clay houses and relied on wood and coal. People who have never been to there cannot imagine how anyone could live in a desert.
However, with 60 years of dedicated work, Ningxia now has an organic system of nature and urban development, watery regions and business areas exist together, and residential blocks and transportation networks connect harmoniously.
Yinchuan, capital city of Ningxia, has a 41.48-percent green coverage, and its park land per capita is 16.5 square kilometers. The beautiful views also won Yinchuan the title of international wetland city.
Every inch of Ningxia has changed over the last 60 years. People are striving to turn the land into a brand new destination for the sake of the overall development will benefit the local people.