.
Khalid Bahiru, a 25-year-old Ethiopian, is working at a local bank in Addis Ababa, where he enjoys working with his Chinese colleagues.
"They always come up with solutions for almost all challenges we face, and they also understand the rules easily," Bahiru said.
In Africa, there are many young people like Bahiru that can have close contact with China or can feel the changes brought by China to the continent. And they are especially excited about eight major initiatives outlined at the just-concluded 2018 Beijing Summit of the Forum on China-Africa Cooperation.
The Beijing Summit of the Forum on China-Africa Cooperation (FOCAC) opens at the Great Hall of the People in Beijing, capital of China, Sept. 3, 2018. [Photo/Xinhua]
The eight initiatives, revealed during the summit by Chinese President Xi Jinping, will be implemented with African countries in next three years and beyond, covering various fields such as industrial promotion, infrastructure connectivity, trade facilitation, green development, capacity building, healthcare, people-to-people exchanges, and peace and security.
As for opportunities that may come along, young Africans hold high expectations that these initiatives can further promote win-win cooperation and common development between China and Africa.
More jobs
Ashenafi Yenew, a 24-year-old civil engineering graduate from Addis Ababa University in Ethiopia, said that with the initiative of industrial promotion, more Chinese enterprises will come to Africa, bring good investments and more jobs to local people.
In Yenew's hometown of Bahir Dar, some 575 km north of Addis Ababa, Chinese companies are building an industry zone there.
"Some of my friends are now working with Chinese companies in different types of projects," said Yenew.
As an engineering graduate, he is seeking a chance to join one of the Chinese construction companies in Ethiopia.
"Almost all local community members, including me, hope that it will create employment opportunities and help us to mitigate the ever increasing employment-related challenges in our area," he said.
Jeanne Ongiyo is a communications officer with China Communications Construction Company (CCCC) in Kenya. The company is working on Phase 2A of the Standard Gauge Railway (SGR) project linking the capital Nairobi to the resort town of Naivasha.
Ongiyo believes this major infrastructure project is going to facilitate Kenya's development.
"This development is going to have a spillover on the social and economic development of our country," she said.
She expects there will be more job opportunities for youths with the launch of the initiative of infrastructure connectivity.
Facilitating business
Businessmen in Ugandan expressed their hopes that the initiative of trade facilitation can create more business activities in the future.
"I think it (the initiative) is also going to make it easy for me to get products from China," said Sadat Magezi, a 26-year-old businessman, who deals with perfume production and vegetable supplies.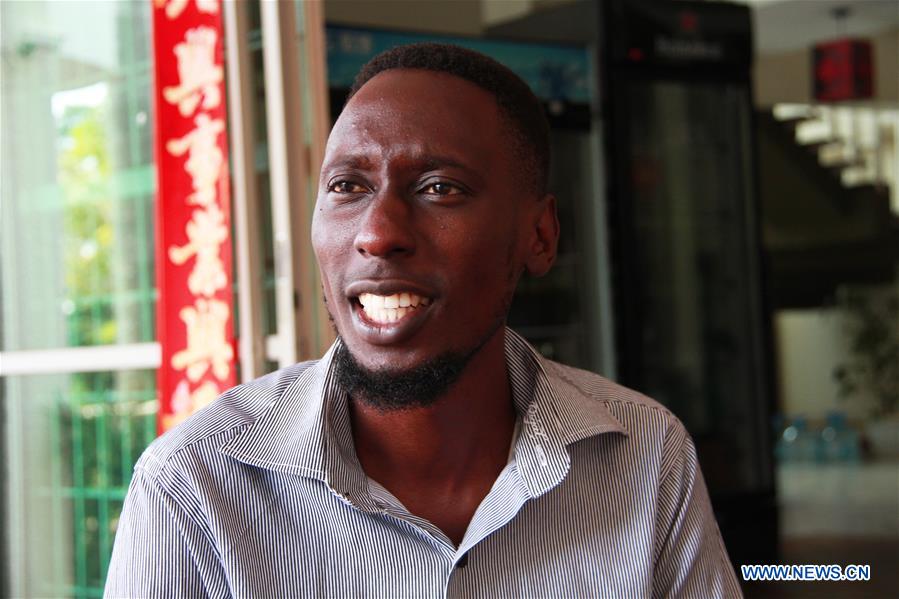 Sadat Magezi, a 26-year-old businessman, receives an interview with Xinhua News Agency in Kampala, Uganda, Sept. 11, 2018. [Photo/Xinhua]
Magezi needs machinery from China so that some products could be manufactured locally to facilitate business transactions.
"For instance there may be a lot of orders from my clients and yet the materials are still in transit. This may lead to some of the clients to cancel the orders and thus affect my business," he complained.
He expects there would be a mechanism to help small businesses get machinery or raw materials from China on loan.
Edward Lwanga, a Ugandan textile importer, hopes that the trade facilitation initiative can help African businessmen establish a direct link with the Chinese factories or producers.
"Their products are really cheap but finding the market is the biggest problem. You have to pass through an agent to take you there," said Lwanga.
Greener development
Vanessa Okobour, a 25-year-old student from University of Ghana, is excited about the green development initiative, because she reckons that green development will put an end to so many bad things like diseases.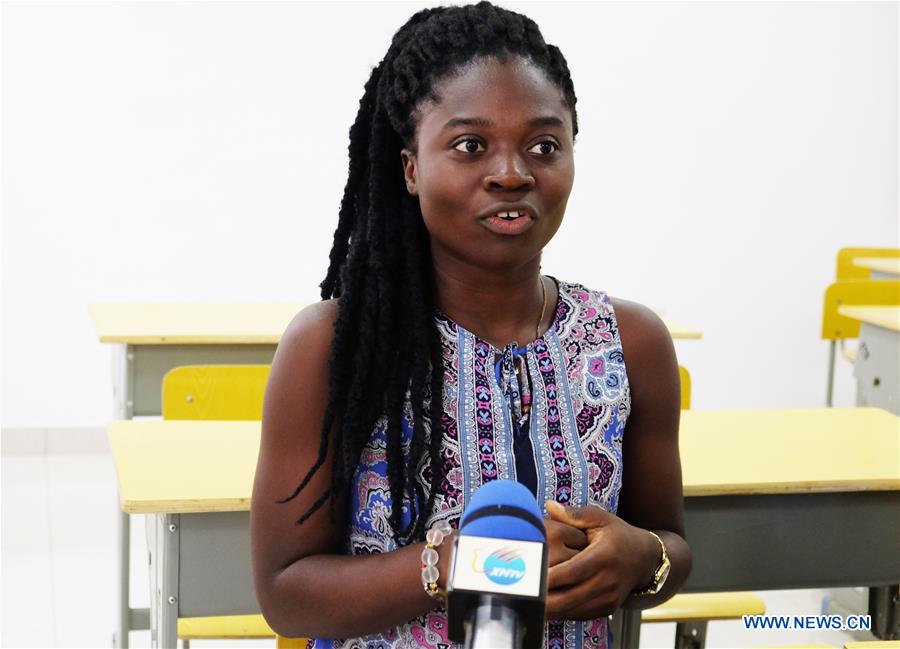 Vanessa Okobour, a 25-year-old student from University of Ghana, receives an interview with Xinhua News Agency in Accra, capital of Ghana, Sept. 10, 2018. [Photo/Xinhua]
"I am really excited about this and would love to be a part of it in any way that I can, so I feel this is a win-win for Chinese and Africans," Okobour said.
For Nathan Ankrah, another student at University of Ghana, the most serious problem facing Ghana right now is waste management and public sanitation.
"Standard of living is going to be improved since jobs are being created for people. It will also in a long run go far in reducing the diseases people have in the country," said Ankrah.
Ankrah's remarks were echoed by Valery Chikomba, a medical student at the University of Zimbabwe, who believes that public health sector is the weakest part of the health care system in Zimbabwe.
"It lacks a lot of equipment and modern infrastructure," he said.
He anticipates that China can donate equipment to health care facilities to help Zimbabwe build its own capacity.
Improving security
No country challenged by security threats can accommodate any reasonable venture or investment, said Ogbo Collins, a student from the University of Abuja, Nigeria.
"Over time, most of Nigeria's development aids and partners hardly want to venture into issues that concern advancing and advocating for peace," Collins said.
Therefore, the initiative of peace and security is highly appreciated, according to Collins.
Eguko Efetive, a student from the same university, expressed his hope that the initiative of capacity building can assist Nigeria in pacifying the restive northeast region, which has long been plagued by Boko Haram militants.
If the initiative helps with long-term capacity building in the country, the risks posed by terrorist or militant groups will be reduced, said Efetive.
Bringing people closer
About one month ago, 22-year-old Tyana Naidoo took up an offer to teach English at a school in Yongkang City in China's Zhejiang province.
Naidoo decided to leave her home in Cape Town, South Africa, to go to China and experience its culture at first hand.
"I am fascinated about how the Chinese have managed to become such an indomitable global presence. And as a young person learning about life with my own goals and aspirations, I decided to move to China," said Naidoo in a telephone interview with Xinhua.
She expects that the people-to-people exchange initiative will lead to deeper understanding between Africa and China.
"The ability to communicate in English is becoming essential for Chinese children and if I can give them that skill, it is also rewarding for me," said Naidoo.
"I want to do my bit for the Chinese people as well. After all, that's what exchanges are about. They must be mutually beneficial," she added.