.
The fragrance of fresh tea fills the air on the streets of Hetaoba, a village in Meitan county, Guizhou province. While this is an unusual season for picking in most tea-cultivation areas, the favorable weather conditions in Hetaoba allow three harvests every year, so the villagers are busy with their "summer tea" collection.
A resident (L) of Hetaoba village, Meitan county, Guizhou province, teaches people from a nearby village how to pick tea. [Photo/Xinhua]
After nearly 50 years of development, the tiny green leaves have not only become Hetaoba's calling card, but also a magic wand for the village and the surrounding area to shake off poverty.
Several factors have contributed to the continued growth of Hetaoba's tea industry, said Liao Jianghong, deputy director of the office of the tea industry in Meitan.
Among them, the area's natural advantages, such as high altitude, daily temperature swings and special soil, allow the production of quality tea.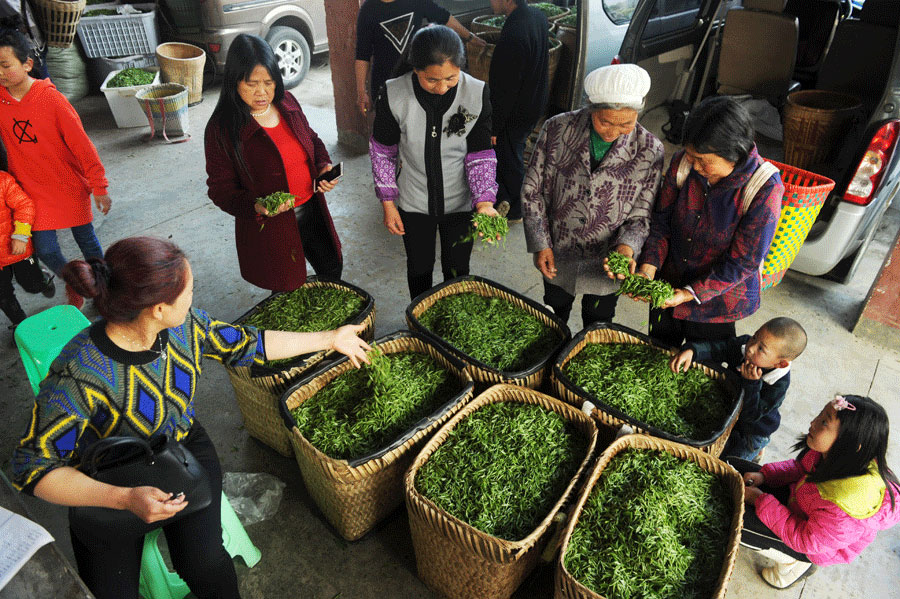 Residents of villages in Meitan and Zheng'an counties sell freshly picked green-tea leaves. [Photo/Xinhua]
Reforms
According to Chen Tingming, Party chief of the Hetaoba village committee, the village was once notoriously poor and the residents depended on traditional crops such as corn as well as animal husbandry for their livelihoods. A large proportion of what are now tea fields was barren land, while the village lacked arable land and there was little water for irrigation.
"There were no tea bushes, either," said Chen, adding that tea cultivation started in the 1970s as a result of reforms led by He Dianlun, the former Party chief of Hetaoba.
To help the villagers eradicate poverty, He initiated changes and introduced quality seedlings from the provincial Tea Research Institute in Meitan, which has a long history of growing green tea. He also invited researchers to teach the villagers management skills.
Chen said, "At first, the villagers were against the idea because they were worried about the tea market."
Gradually, however, the residents recognized the advantages of growing tea, and the area under cultivation expanded year by year.
"Now there are green-tea gardens all over the village, and the yellow soil has been turned into gold this way," Chen said.
The area under cultivation is now about 700 hectares, and almost every family in the village grows tea, runs a tea factory or a tea shop, and many have their own brands, according to Chen.
In 2016, the tea industry in the village generated combined income of 224 million yuan (US$32 million), and the average income of the 3,800 residents was more than 16,400 yuan, he added.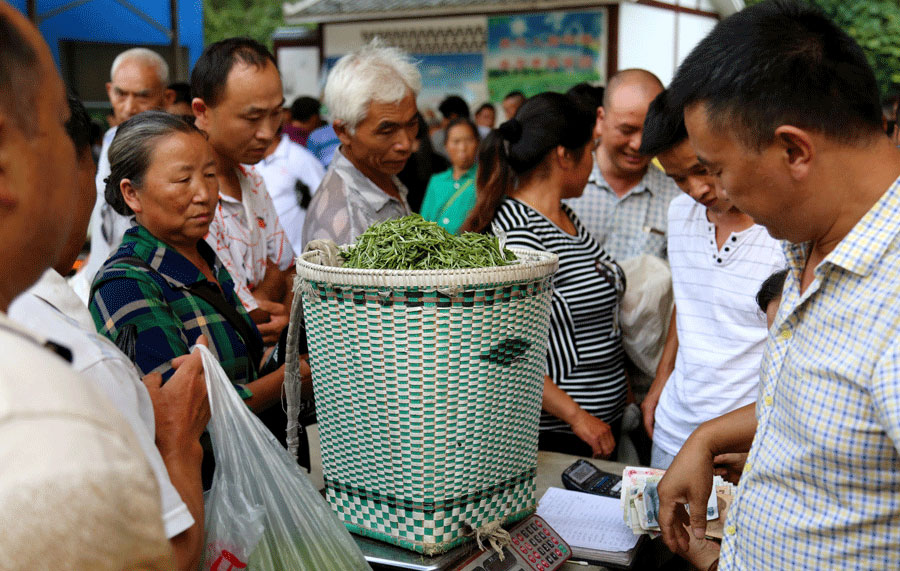 Tea pickers bargain at a market which is held every afternoon during the harvest season. [Photo/China Daily]
Transformation
In recent decades, Hetaoba's tea industry has undergone a huge transformation, from family-based manual workshops in the 1990s to the current industrial chain, including large-scale factories and professional distribution. Processing and cultivation have also been improved by modern techniques.
This year, the village has expanded its product line to include black tea.
"We have all gained huge benefits from growing tea, and all the villagers are living wealthier lives now," Chen said.
Villager Yu Kunqiang, 43, started helping his parents grow tea when he was a child.
"Nowadays every aspect of life is closely related to tea," said Yu, who owns 0.9 hectares of tea bushes, which generates income of 60,000 yuan annually. His parents also have a plot of land under cultivation.
During the harvest seasons, Yu and his wife also work as tea dealers. They buy green-tea leaves from farmers and sell them to nearby factories for processing, earning about 500 yuan in total on a good day.
Every afternoon, a green-tea trading market opens in the village, and tea pickers, carrying the leaves in their bags or bamboo baskets, gather in groups to sell their daily yield to dealers. The finished product is sold nationwide via various channels.
"Our fellow villagers don't have to work in faraway places thanks to the stable income from the tea industry, which has totally changed our lives," said Yu, adding that a few residents look for part-time work in the county town during the low season for tea production.
For seniors, such as Tian Jinlian, picking tea leaves is a relatively easy way to help bolster the family income.
"It's hard for people of my age to do heavy farming, and it's impossible to work in the cities. Luckily we have a tea farm," said the 66-year-old, who works in the early morning and late afternoon to avoid the summer heat.
She and her husband manage a tea field of 0.4 hectares. During the summer harvest, they collect about 8 kilograms of green-tea leaves a day, which have sold for 48 yuan a kg this year.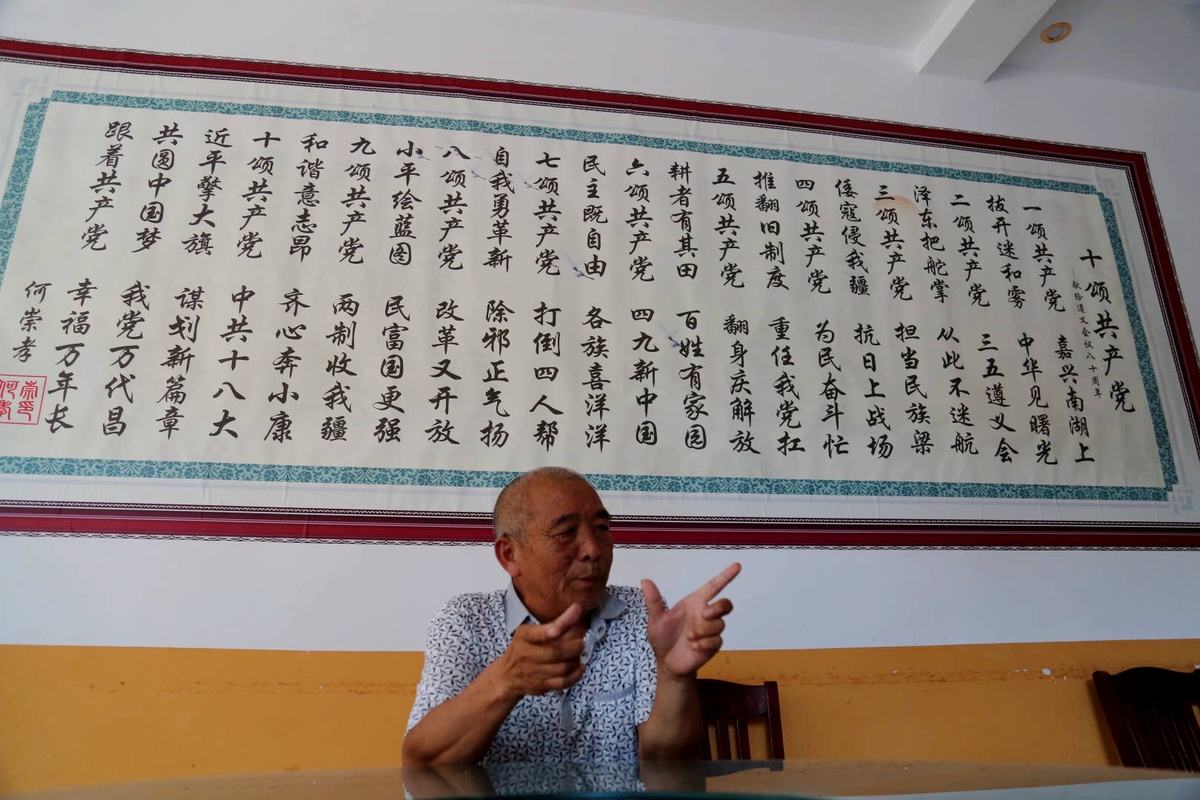 He Chongxiao opened a home inn and restaurant in Hetaoba in 2009 to exploit the potential of 'tea tourism'. [Photo/China Daily]
A new path to wealth
While tea production and dealing are now traditional ways of earning a living in Hetaoba, He Chongxiao was one of the first villagers to seek a business transformation by opening a home inn and restaurant in 2009.
The 70-year-old and four members of his family earn a combined annual income of 300,000 yuan. Most of the money comes from the hotel business, which includes 10 rooms, the restaurant and a tea shop, but they also lease a hectare of land to tea growers.
The business, which the local people call "tea tourism", has been adopted by a number of villagers as Hetaoba's fame spreads as a center of tea production with a clean environment, according to He Chongxiao.
In recent years, business has grown rapidly and even attracts hordes of tourists from outside the province, especially seniors in search of a summer retreat.
Feng Zhongyun, a middle school teacher from neighboring Chongqing municipality, recently stayed at He Chongxiao's inn after traveling to the village for a vacation to avoid the summer heat in the city. A friend recommended the inn, so Feng brought a group of 12 family members and friends to stay for a week.
"It has clean air and a nice environment. More important, the area is famous for tea, so it's a perfect option for me as a tea lover," said Feng, adding that he and his friends planned to buy some tea before leaving.
As tea tourism becomes more popular, the inns and restaurants in Hetaoba are offering new jobs. For example, because he is short of hands for his business, He Chongxiao hires a local farmer as his cook, paying him about 6,000 yuan a month.
"We have all benefitted a lot from the tea industry, which is the foundation of our village," He Chongxiao said, adding that many villagers have become wealthy and have built multistory homes, and more than 90 percent of local families own at least one car.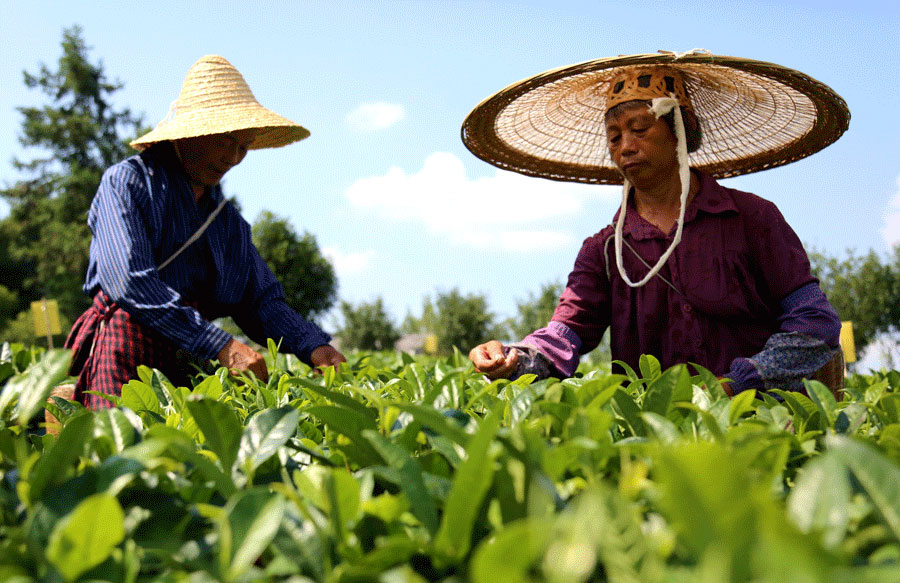 Residents of villages in Meitan pick green-tea leaves. [Photo/China Daily]
Wider benefits
Li Jie, general manager of Sipinjun Tea Co in Hetaoba, has witnessed the rapid growth of the local tea industry, especially in recent years. He cited his company as an example.
Sipinjun was started in 2006 by tea processors in the village who combined the equipment in their family factories to form a cooperative.
"However, they encountered problems finding product distribution channels and establishing a brand. They appreciated my ability in such areas and invited me to become a shareholder and work on those things," said Li, who used to sell cellphones in the county town.
Twelve years later, the company has grown from a village cooperative to an enterprise with an annual turnover of 140 million yuan, and its business is divided equally between tea production and tea tourism.
The company produces more than 20,000 metric tons of tea a year, which is sold in 75 chain stores around the country. Its tourist business targets both groups and self-driving tourists, and offers services ranging from tea-picking activities to lodgings and dining.
Sipinjun employs more than 250 workers at its tea bases, mostly farmers from nearby counties who earn an average of 4,000 yuan a month, an attractive income compared with traditional farming, according to Li.
"Many bring their whole family here. Some of the relatives work at the factory and some at the tea farms, so everybody in the family can earn an income. Working here is much more convenient than working in faraway cities," he said, adding that the workers' children can study at local schools.
According to Chen, the village Party chief, Hetaoba has attracted more than 1,300 outsiders looking for ways to make a living-for example, by renting tea fields from villagers or working for local companies.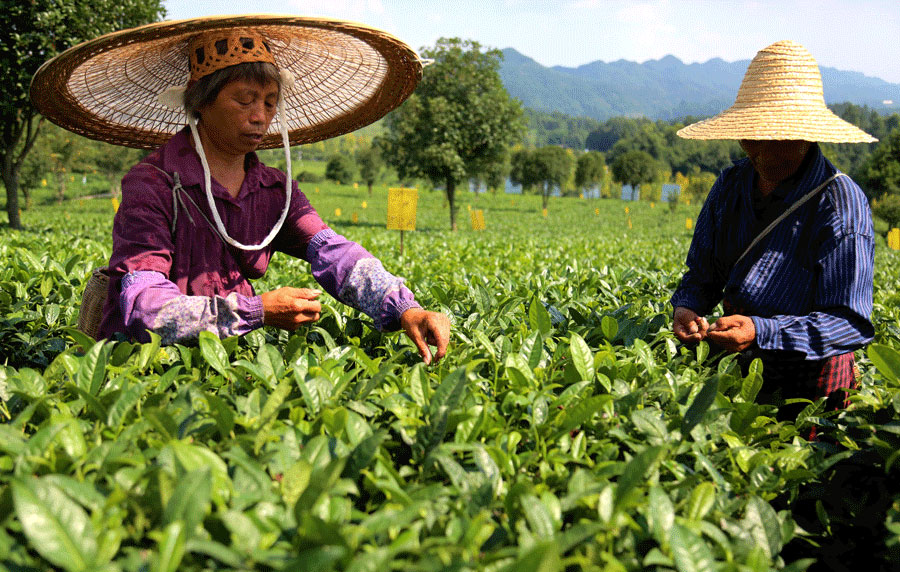 Residents of villages in Meitan pick green-tea leaves. [Photo/China Daily]
Future plans
Hetaoba, which has earned the name the "No 1 village as an ecological tea base in West China", is just one example of Meitan's successful efforts to improve local people's livelihoods and drive economic development via tea cultivation.
More than 40,000 hectares of tea bushes have been planted in Meitan, making it the biggest tea-producing county in Guizhou and the second-largest in China.
The tea industry has become the most important part of the county's rural economy, according to Wei Zaiping, Party secretary of Meitan.
As a green industry, tea cultivation is being further promoted by the county government as the region becomes actively integrated into the Yangtze River Economic Belt, which comprises Guizhou and 10 other provinces and municipalities.
President Xi Jinping has said that the belt is a key national development strategy and places great emphasis on "green development" and "ecological priorities".
Chen said: "Tea planting has reached a considerable scale in our village. It has grown into an integrated industry chain, such as farm management, seedlings, processing and marketing, from merely growing tea in the past. We are now thinking about how to further enhance the economic benefits on the basis of putting the environment first."
He added that Hetaoba will continue to play a pioneering role in the tea industry, especially in boosting the development of tea tourism.
Li, from Sipinjun, has started looking to the future and is directing his business toward "green and healthy" activities as well as production. He believes tea tourism, especially health tourism, will become a trend.
"People care more and more about health and quality of life, so it will be an opportunity for us," Li said, adding that environmentally beneficial tea cultivation, the beautiful tea fields and the clean environment will all work to Hetaoba's advantage in the future.