As the sun began its slow descent, the Taklamakan Desert began to cool. In Tazhong, a small settlement in the far-western wilderness, it was, however, getting hotter. Wisps of smoke rose and curled from chimneys, and restaurants heaved with weary travelers and hungry workers.
Deep in Xinjiang Uygur Autonomous Region is China's largest desert, the 337,000-square-km Taklamakan. Across China, it is known as the "sea of death." In the Uygur tongue, its name means "go in and you won't come out." Trading posts dotted across this inhospitable land once offered refuge to caravans and adventurers who used the ancient Silk Road.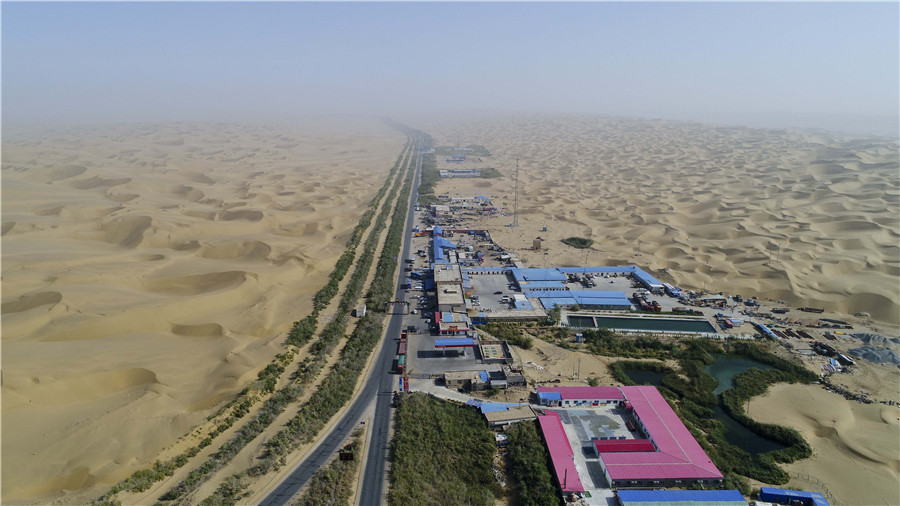 Tazhong, a view from the sky. [Photo/Xinhua]
Tazhong, which translates to "center of the desert," did not bear witness to these ancient travelers. It rose up out of the dust after the world's longest desert highway opened to traffic in 1995.
It was this 522-km highway that brought residents and life to the hinterland of Taklamakan. Later, oil workers came to exploit deposits hidden under the dunes. The township was not formally established until 2015.
In a small restaurant, Li Jiansheng was busy flash-frying vegetables grown 300 km away. More than two decades ago, he left his hometown in Sichuan Province, more than 2,000 km away, to start a new life here.
When he first started to serve tables in the restaurant, Tazhong was a dusty, barren land with no greenery at all. Over 20 years, he has seen saxaul and rose willow grow and flourish. He has turned his tiny home into a two-storey house. Now, he is the owner of the restaurant.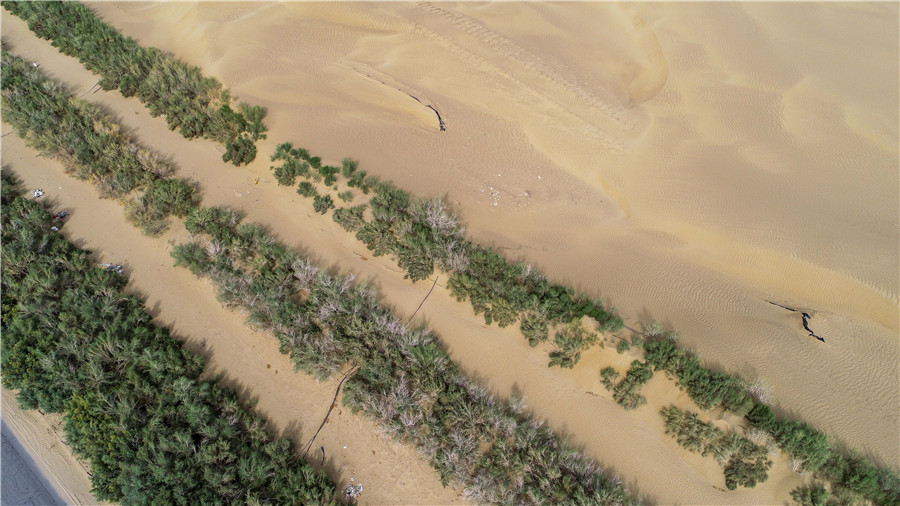 The trees along the highway. [Xinhua/Hu Huhu]
Outside Li's kitchen, people dig into spicy Sichuan dishes and meaty Xinjiang fare and wash them down with a beer or glasses of erguotou, a strong liquor made from sorghum. As night falls, the sound of chatting customers, sizzling pans, bubbling pots and clinking tableware fill the sweet, smokey air.
"We all work very hard, so a drink really helps," said oil worker Yang Zhicheng, between alternating slurps of noodle soup and beer. He has been stationed here for less than three weeks and quickly discovered that there was little in way of evening entertainment.
Truck driver Memet Barat, 54, has been traversing this highway for five years. Today, he is traveling from Luntai County at the northern end of the highway to Hotan Prefecture on the southern edge of the vast desert. To him, the lights of Tazhong are like a beacon amid the sea of sand, a welcome oasis after a long, hot day's driving.
Those lights that were such a welcome sight, also represent something else to Memet -- they say that Yusupjan Yasin's kebab and noodles joint is open for business.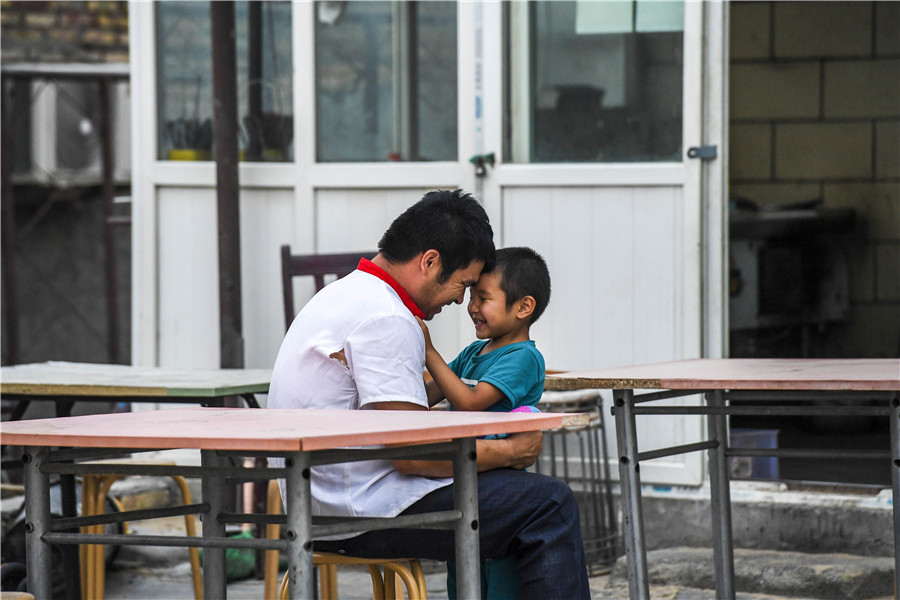 Yusupjan plays with his child in front of his restaurant. [Photo/Xinhua]
"I drive by here twice a month. No trip to Tazhong is complete without a meal at Yusupjan Yasin's place," he said as he stretched out his arm to pick up another skewer of barbecued meat.
In his restaurant Yusupjan was busy tearing a piece of naan bread the size of a frying pan lid into small pieces before he packed them into a bag. The crispy bread staple, which is mixed with sesame seeds, will be sold "to-go" to travelers short on time.
"I've run this restaurant for three years. Business depends on the weather," said Yusupjan. If the wind is strong, customers avoid eating in the town as sandstorms make dinnertime an uncomfortable ordeal.
Customers dine while watching a World Cup game in Li's restaurant. [Photo/Xinhua]
Chang Qing knows Tazhong like the back of her hand. She has been a frequent visitor for 18 years. Without her, the town may have been buried by the sand.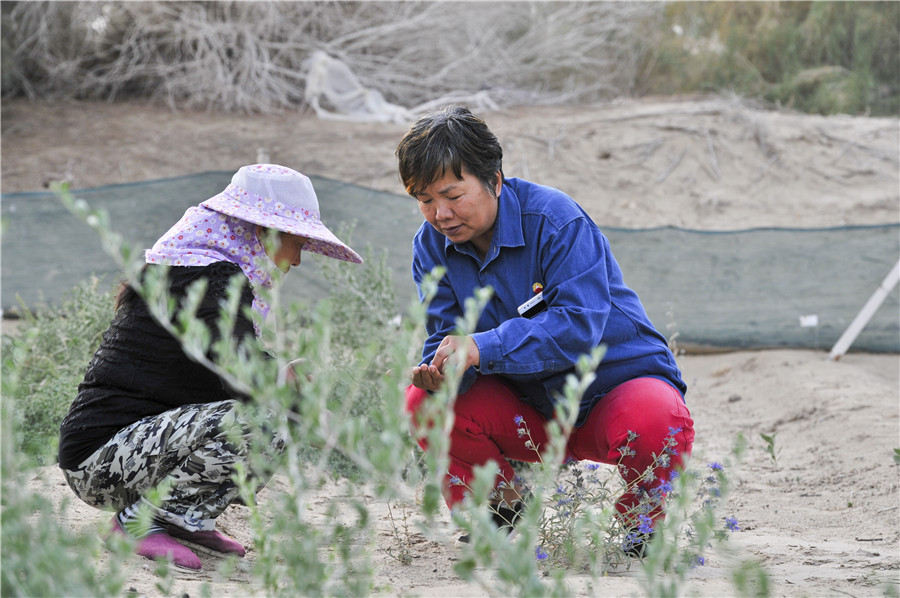 Chang Qing (R) checks the plant in the botanical garden. [Photo/Xinhua]
Her name means "forever green," a prophetic choice given her chosen career. As a botanist with Xinjiang Institute of Ecology and Geography, she has helped with the afforestation project that protects the highway. She spent nine months in Taklamakan every year since 2000. She helped build the world's only botanical garden in the center of a desert.
"There are hardly any distractions here, so it is easy to concentrate on work," she explained. "The community here is closer for it."
She has sown more than 400 species of plants in the sandy earth, and watched 240 kinds survive. Her work has made the "heart" of Taklamakan desert green and vibrant.
As the clock ticked to midnight, a tipsy Yang leaned on his co-worker and the two staggered back to their rooms. Yusupjan turned off the stove, and joined his wife who was cleaning the tables. Memet went back to his truck to bed down for the night.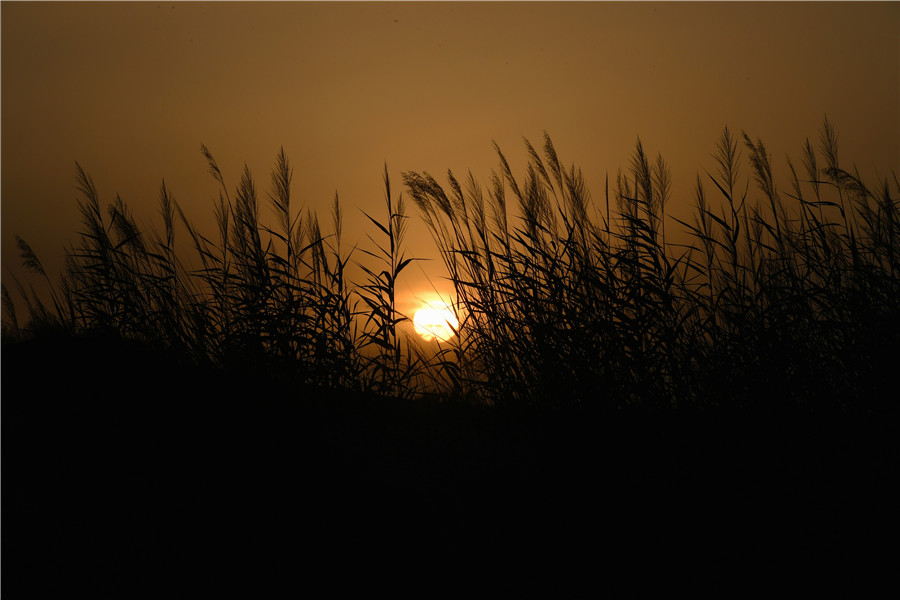 The sunset in Tazhong. [Photo/Xinhua]
The lights of the shops went out, and the town fell silent. In the darkness the only light and sounds were from the occasional vehicles.
Tomorrow is another day in Tazhong; one with new travelers and their stories.