The story of Jordanian merchant Mohanad Ali Moh'd Shalabi was related by President Xi Jinping in a speech about China-Arab cooperation four years ago. The result of that mention has been huge.

Shalabi never expected to be in the spotlight. He said that on June 5, 2014, he was surprised and excited to hear that he had been mentioned by the president.
He immediately shared Xi's remarks on the WeChat messaging app, quickly garnering dozens of likes.
Shalabi, 39, runs an Arabic restaurant and a trading company in Yiwu, a city in Zhejiang province known for the production and trading of small consumer goods.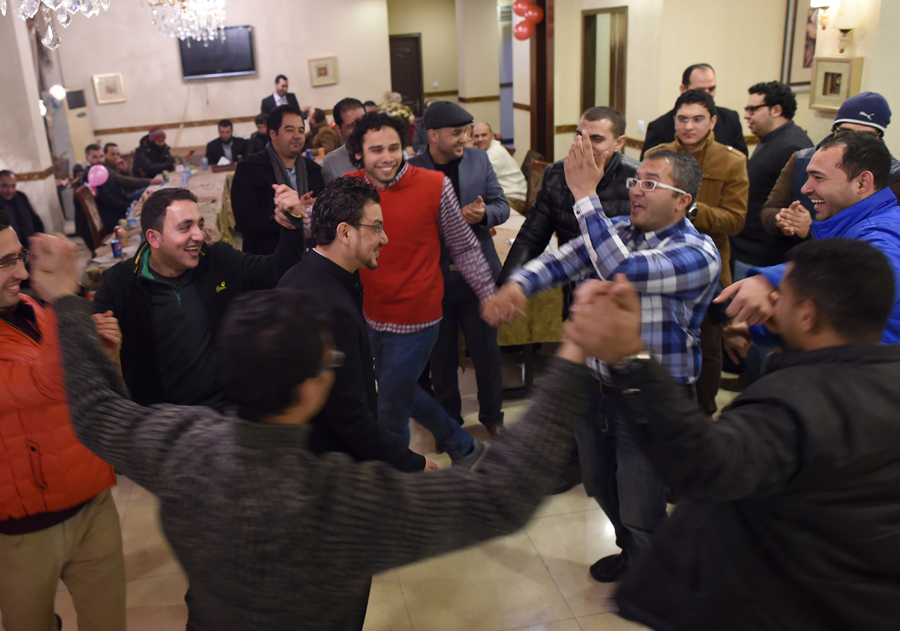 Egyptian wedding guests celebrate at Ward, an Arabian restaurant opened by a Jordanian merchant in Yiwu, Zhejiang province. [Photo/Xinhua]
In telling Shalabi's story at the sixth ministerial meeting of the China-Arab States Cooperation Forum, Xi said Shalabi had brought the original flavor of Arabic food to Yiwu, and had not only seen business flourish but also love blossom in his marriage to a Chinese woman.
Shalabi's prosperity has mirrored the rise of China-Arab cooperation in building the Belt and Road. He came to China for the first time in 2000 and worked for an Arabic restaurant in Guangzhou, capital of Guangdong province, where he fell in love with Liu Fang, from Anhui province.
Liu worked for the restaurant as a translator, then soon became his wife. The couple started their own business in 2002, taking over an Arabic restaurant from Shalabi's uncle in Yiwu. The business has flourished, as has the family. Shalabi has two sons born in Yiwu who now attend middle school.
He printed quotes from Xi's speech, put them in a large picture frame and placed them at the entrance to his restaurant.
Since then, more people have come to know about him and the restaurant-both locals or those from other countries who do business in the city.
"Yiwu is a paradise for businesspeople. I consider Yiwu my second home," Shalabi said.
He said his company mainly exports small commodities to Kuwait, Jordan, Saudi Arabia and even Europe, depending on market demand.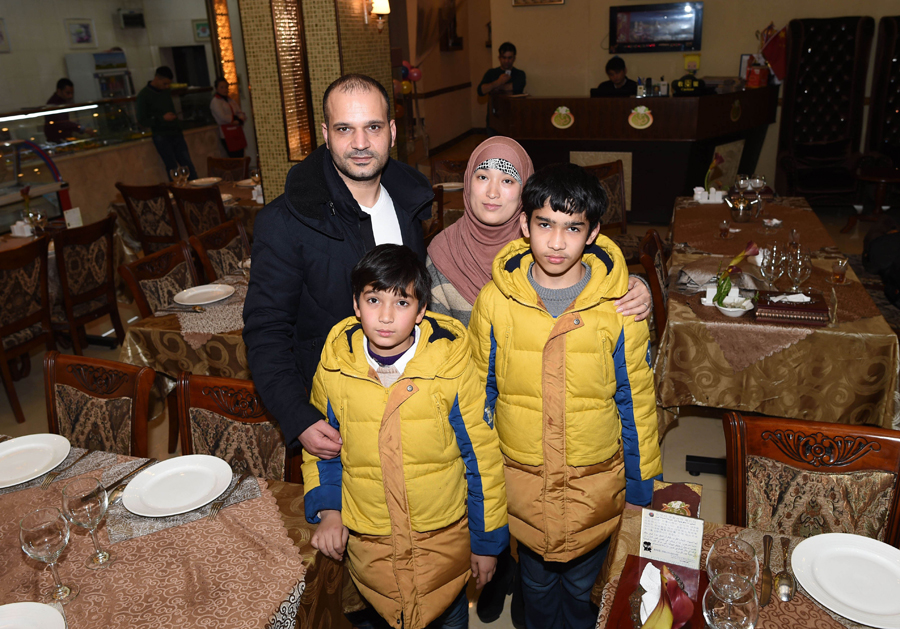 Mohanad Ali Moh'd Shalabi from Jordan opens the Ward restaurant with his family in Yiwu. [Photo/Xinhua]
Shalabi is one of millions of Arab businessmen travelling between China and Arab countries. Like the medieval Moroccan traveler and scholar Ibn Batutah, they bridge exchanges between China and Arab countries which can be traced to ancient times.
Along the ancient Silk Road, China's paper, gunpowder, printing and compasses were taken through Arab countries to Europe, while astronomy, the Arab calendar and medicine from Arab countries were introduced to China.
As a result, the Silk Road has been a natural bond enhancing the mutual understanding between the two civilizations for thousands of years.
Since China proposed the Belt and Road Initiative in 2013, the government has adopted a series of measures to facilitate trade, including simplified procedures for customs clearance and company incorporation, Shalabi said.
In his speech at the Sixth Ministerial Meeting of the China-Arab States Cooperation Forum in Beijing on June 5, 2014, Xi called on Arab states to make joint efforts to promote the Belt and Road Initiative based on the principles of wide consultations, joint contributions and shared benefits.
Historically, China and Arab states enjoy mutual understanding and friendship because of the Silk Road, and they are natural cooperative partners in jointly building the initiative, Xi said in his speech.
Arab states responded positively and the majority are planning to align their development strategy with Belt and Road construction, according to a report on achievements and prospects of the China-Arab States Cooperation Forum released by Shanghai International Studies University's Middle East Studies Institute in May.
They include Egypt's Revitalization Plan, Saudi Arabia's Vision 2030, Kuwait's construction of a Silk City, Jordan's Vision 2025 and Morocco's construction of the Mohammed VI Tangier Tech City, the report said.
Sameh el-Shahat, president of China-i, a risk management consultancy in London, hailed the Belt and Road Initiative as "a new type of global development blueprint."
"A global model for development based on infrastructure connectivity and proposed by a developing country that managed to lift 800 million people out of poverty in 40 years has a good pedigree," said Shahat, who holds both Egyptian and British citizenship.
He said the initiative is of global significance in that it contributes to the world a development vision featuring mutual benefit and win-win cooperation-a China solution to the problems faced by the world.
It is also a good antidote to the negative mentality of rising protectionism, Shahat said.
The initiative links China and Europe to parts of the world such as Central Asia, West Asia and North Africa, which have been "hobbled by poverty and are victims of the depredations of colonialism and invasion", he added.
For Shalabi, the initiative has enabled his business to become much easier. "I am one of the beneficiaries of the Belt and Road dividend," he said.
Last year, he closed the Ward restaurant and rented a three-story building in central Yiwu for the premises of a new restaurant. He named it "Beity", which means "my home" in Arabic.
The new restaurant covers more than 1,000 square meters with a capacity of more than 300, almost three times the size of the previous one.
Shalabi partnered with his friends from Syria and Jordan for the new restaurant and hired chefs from Syria, Jordan and Japan. "I hope all the guests at my restaurant feel at home," he said.
He is not the only Arab to make China his home.
Ahmed Mohammed, 32, an IT innovator from Yemen, runs a company specializing in big data and blockchain technology at Zhongguancun Science Park in Beijing-known as China's Silicon Valley-in partnership with his Chinese friends.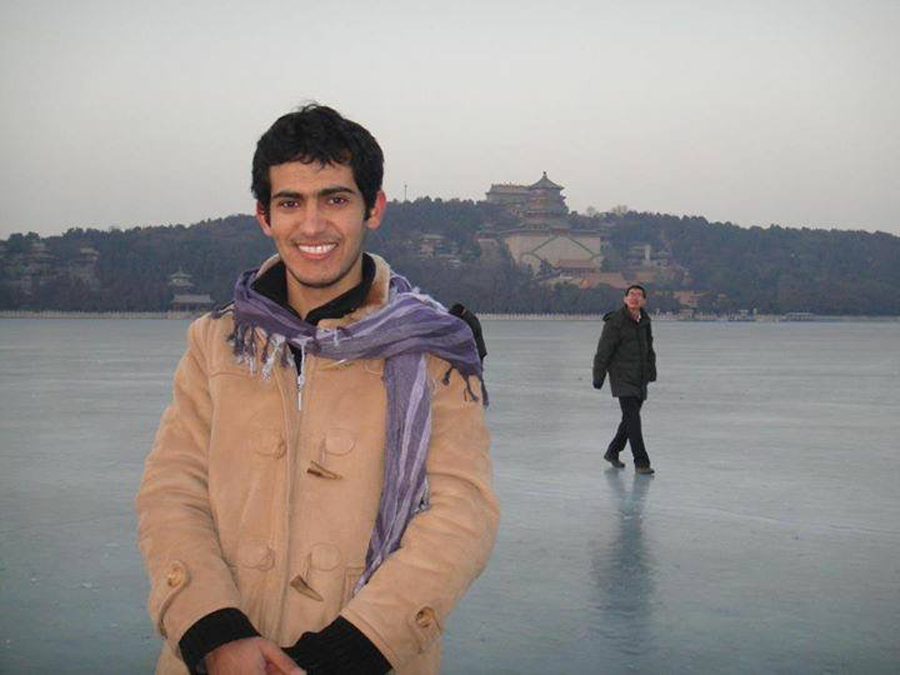 Ahmed Mohammed, who runs a blockchain-technology company at Zhongguancun Science Park in Beijing, poses at the Summer Palace. [Photo/Xinhua]
His business develops news apps in Arabic for markets in Arab states.
"It's not easy to find a place like the Zhongguancun International Incubation Center, where you have easy access to high-end talent, a vibrant entrepreneurial environment and favorable policy," he said.
Mohammed has lived in China since 2005. He completed his undergraduate program at the University of Science and Technology of China in 2010 and received his master's in computer science at Tsinghua University in 2015.
He obtained a China green card at the end of last year thanks to the policy that encourages foreign employees to make innovative contributions.
"With the green card, I can live like local people," he said.
While Arabs are increasingly trying to start businesses in China, Chinese companies have also moved to the Arab world for trade and investment.
Wei Jianqing, deputy general manager of China-Africa Teda Investment Co Ltd, has witnessed the Suez Economic and Trade Cooperation Zone grow in Egypt.
He arrived to work in Egypt in 2008 and was told his company would transform a patch of desert into an economic zone. After 10 years, the 1.34 square kilometer zone has become home to 68 businesses, including 34 manufacturing enterprises, mostly from China.
The largest economic zone in Egypt, it is 30 minutes' drive from Suez and 90 minutes from Cairo. The location gives the zone convenient access to markets in Central, South and East Asia.
It has attracted investment of more than US$1 billion in contract value, with an annual output value of about US$140 million by the end of last year, creating more than 3,500 jobs for local people, according to the company.
"When I first saw it, I felt let down," Wei said. Instead of the hustle and bustle of a flourishing commercial and industrial project, there were just three small companies and a few factories.
He considers the zone a flagship project in production capacity cooperation between China and Egypt.
"Production capacity cooperation is an important part of the Belt and Road Initiative, which has created win-win outcomes in the two countries," Wei said.
Thanks to the zone, Egypt's industrialization has advanced. One example is that the North African country has become a major global fiberglass maker.
Egypt did not have a fiberglass industry until Chinese company Jushi, reportedly the largest fiberglass company in the world, built its production lines in the zone six years ago.
"A well-managed economic and trade cooperation zone injects strong vitality into Egypt's economic growth," Wei said. "It helps create jobs and tax revenues, and in turn promotes the overall development of the country."
Behind the friendly people-to-people exchanges is China-Arab cooperation led by summit diplomacy.
President Xi Jinping visited Saudi Arabia and Egypt in January 2016. When he visited the headquarters of the Arab League during the trip, he proposed ideas and strategies for China-Arab cooperation in the new era.
Meanwhile, leaders of Arab states have visited China frequently in recent years to plan strategic cooperation with the country.
Friendly cooperation between China and Arab countries has withstood the test of time, said Zhu Weilie, director of the Center for China-Arab States Cooperation Forum Studies at Shanghai International Studies University.
This is evident in intensified political mutual trust, closer economic and trade connections, frequent exchanges of humanities and a strengthened security partnership, he added.
The trade volume between China and Arab states reached US$191.34 billion last year, a year-on-year increase of 11.9 percent, according to the Ministry of Commerce.
Zhu said the sustained China-Arab partnership has injected new vitality into the peace and development of the Arab world and also accumulated experience for international cooperation, reform of the global governance system, and building a community of shared future for mankind.
"With growing uncertainties in the international situation against the backdrop of protectionism and the backlash against globalization, strategic mutual trust between China and Arab states is of increasingly realistic significance," he said.
Solid efforts should be made by China and the Arab states to break new ground in Belt and Road cooperation, he added.
Shahat, the China-i risk management consultancy president in London, said that while Chinese companies have spearheaded the Belt and Road Initiative, they should increase awareness of risk prevention.
"China's biggest risks along the Belt and Road are those of social acceptance and values, as the world is simply unaccustomed to Chinese values and there is growing suspicion of Chinese intentions," he said.
He said the Chinese government and companies need to realize that new strains of social and political risks focused on China are emerging.
The best way to start the Belt and Road journey is to better prepare and recognize the world has changed, he added.
Zhu highlighted the importance of people-to-people contacts, saying human exchanges are fundamental for China-Arab relations.
In April last year, a center for reform and development studies was set up at Zhu's university to promote exchanges between China and Arab countries in governance and economic development.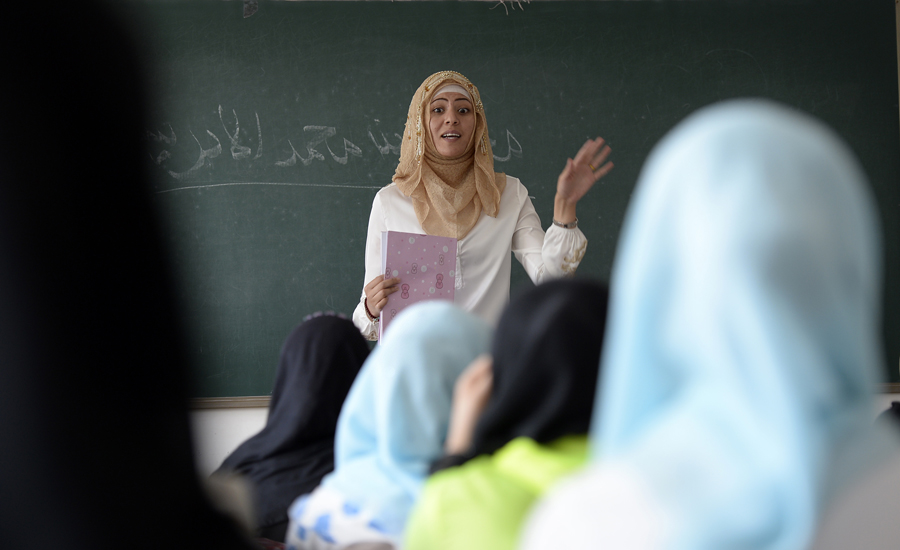 Garda, who uses the Chinese name Zhao Yingxin, teaches Arabic in Yinchuan, Ningxia Hui autonmous region. [Photo/Xinhua]
"With growing imperatives in the alignment of development strategies of Arab states with Belt and Road construction, sharing respective experiences in governance becomes more important than ever," Zhu said.
Coupled with people-to-people communication, the spirit of the ancient Silk Road featuring peace and cooperation, openness and inclusiveness, mutual learning and mutual benefit will be passed on, he added.
Shalabi shares Zhu's view, saying more and more Arab businesspeople want to know how the initiative benefits them.
As an increasing number of Arabs flock to Yiwu for business, commercial disputes arise from time to time. When businesspeople approach Shalabi for help, the hospitable Jordanian volunteers to be a dispute mediator or solution provider.
He said that as long as they come to him, he will try his best to offer a solution, adding that if he fails to come up with a solution, he will try to find somebody else to help them.
"This is the way life is. People should help each other," he said.