Felix Asuma was determined at a tender age to pursue civil engineering with the aim of participating in modernization of Kenya's transport infrastructure.
The 27-year-old General Affairs Workshop Supervisor at the Nairobi-Mombasa Standard Gauge Railway (SGR) commuter service credits his study tour in China for acquiring skills required to operate a modern train.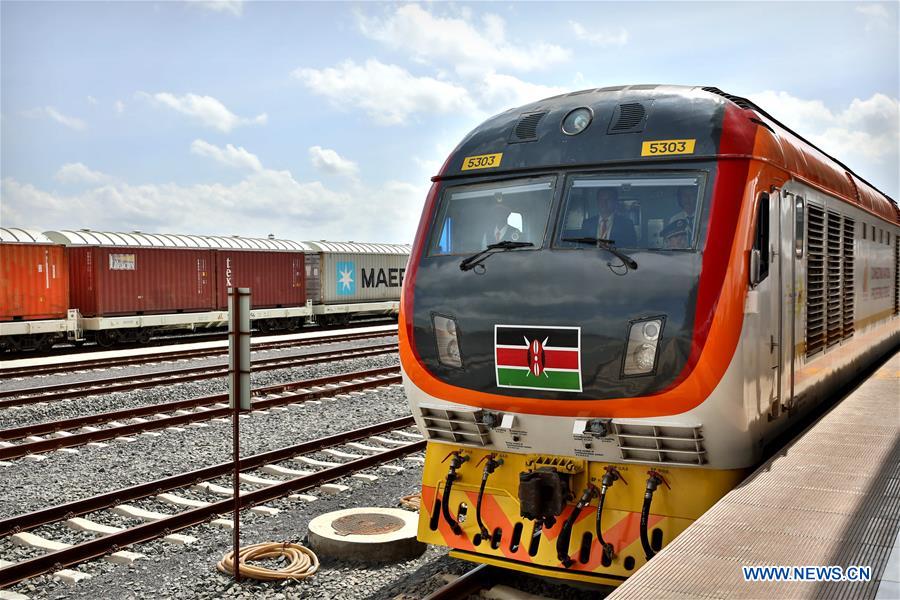 A train leaves the Nairobi terminus of Mombasa-Nairobi Standard Gauge Railway in Nairobi, Kenya, on May 31, 2018. [Photo/Xinhua]
During an interview with Xinhua on Friday, Asuma said he felt honored to be among Kenyan youth whose expertise has been harnessed to operate the SGR train service since its launch on May 31 last year.
"My experience since I joined the SGR commuter service last year has been good. It is built on advanced Chinese technology that I am familiar with and having been mentored by Chinese engineers, I am convinced I have gained enough skills to handle its operation and maintenance," said Asuma.
He pursued a bachelor's degree in civil engineering at Southwest Jiaotong University under a Chinese government scholarship.
Asuma also studied Chinese language for one year in Shanghai and his engineering prowess combined with proficiency in Mandarin secured him a job in Africa Star Railway Operation Company Limited.
His day job involves monitoring the safety of the railway track to ensure it is not encroached by wildlife or livestock that could cause accident to oncoming train.
Asuma aspires to rise through the ranks at the SGR train service that he credits for transforming his life while improving Kenya's economy.
"I have gained immense knowledge in civil engineering since joining SGR one and a half years ago. It has provided my needs and has also improved the economy of this country while shortening the journey from Nairobi to Mombasa," Asuma told Xinhua.
President Uhuru Kenyatta on May 31 last year launched the passenger train service to operate along the 480 kilometers China-funded modern railway linking the capital Nairobi to the port city of Mombasa.
Dubbed "Madaraka Express", the SGR commuter train has so far ferried an estimated 1.3 million passengers while stimulating commerce along its corridor.
The launch of Madaraka Express opened new opportunities for Kenyan youth trained in diverse disciplines like engineering, finance, hospitality and communication.
Harrison Kimani, an economic major from Kenyatta University, joined the SGR commuter train service in February 2017 to work as an Assistant Manager in charge of passenger service.
The 23-year-old went to China in 2016 to undertake a four-month course in railway operations and is convinced that he has gained the necessary skills and experience to run a modern train service.
"It has been an exciting learning curve since joining the SGR passenger service last year. So far, I have gained skills required to manage its operations," said Kimani.
The alumni of Kenyatta University's Confucius Institute who is fluent in Mandarin aspires to be part of the team that will operate the SGR commuter service once the Kenyan authorities take over from CRBC.
Kimani manages a team of Kenyan crew charged with ensuring that passengers are provided quality service during their ride on Madaraka Express.
He said that working alongside his Chinese colleagues has been professionally rewarding.
"The Chinese colleagues have taught me how to maintain high professional standards and observe work ethics like punctuality and good management," said Kimani.
He added that Kenyan workers at the SGR have also been keen to teach their Chinese peers the native language and rich culture of the East African Nation.
Kimani noted that many Kenyans are keen to witness full localization of SGR operations but stressed patience is required to ensure the process is seamless.
"As for now, we should wait until we acquire the skills and technology to run it," said Kimani.
He added that Kenya will benefit from tapping into wealth of knowledge and experience from Chinese expatriates to run a modern commuter train service.
Kenyan youth whose agility and entrepreneur spirit is unmatched in the region are at the forefront to give the SGR commuter train service a native feel.
Sharon Chelangat, a 22 years old communications major who is a crew member at Madaraka express said rendering service to local and foreign passengers has been a transformative experience.
The vivacious locomotive crew was sponsored by her employer to attend the Spring Festival Gala held in Beijing in February and is keen to work for Madaraka Express for the long haul thanks to enriching tutorials from Chinese supervisors.
Kennedy Chemeitoi, whose position is General Affairs clerk, said he has learned a lot since he joined the company. "The field work is not entirely the same as the book says. My Chinese mentor has taught me a lot. "
Chemeitoi got his bachelor's degree in Peking University, which is a Top 2 university in China. Now he has a Chinese mentor and have to take an exam every month. "The Chinese are very responsible. They want to make sure you have mastered the expertise."
Chemeitoi felt very promising working for the SGR. "I hope the cooperation of China and Kenya will continue as it is very beneficial for Kenyan people. China has been where we are. With this cooperation going on, Kenya will enjoy good development as China does."