Editor's note: Why does the transitioning of China's economy from a phase of rapid growth to a stage of high-quality development require high-quality spatial development? What are the connotations of spatial development and spatial balance? Why and how to promote high-quality development of urbanization? Yang Weimin, a member of the 13th National Committee of the Chinese People's Political Consultative Conference, answered those questions in detail at a seminar jointly hosted by China Internet Information Center (China.org.cn) and Cloud River Urban Research Institute on June 11, 2019.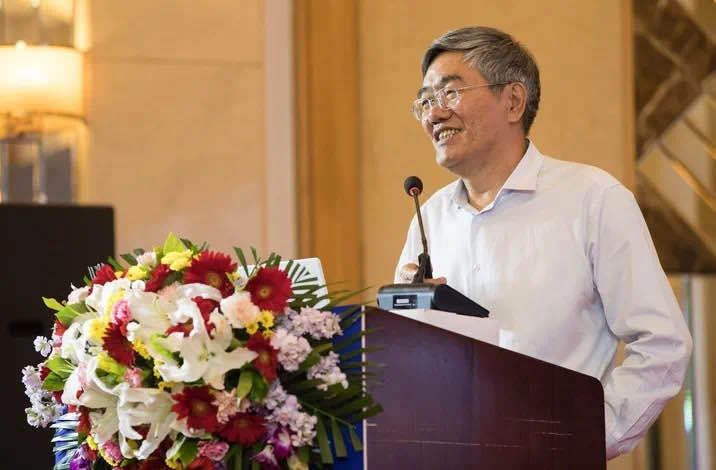 The 19th CPC National Congress pointed out that China's economy has been transitioning from a phase of rapid growth to a stage of high-quality development. That must be achieved during the process of industrialization and urbanization. Therefore, to some degree, boosting high-quality economic development means advancing high-quality development of industrialization and urbanization.
High-quality development of industrialization and urbanization is both interactive and indispensable. Despite high-quality industrial products and advanced technologies, it should not be high-quality development if the environment is destroyed by factories and chimneys. High-quality industries and products would not suffice, and we must achieve all-round high-quality development in space.
What are spatial development and spatial balance?
Spatial development and spatial balance are two philosophies used to advance high-quality development of urbanization. Development can be generalized into three aspects. The first is economic development, the second people-centric development or the social advance and harmony, and the third is sustainable development emphasizing ecological protection.
The three aspects of development vary from place to place and development strategies of one place can't be copied to another. Of the seven strategies mentioned in 19th CPC National Congress, the rural vitalization strategy can't be implemented across China but only in rural areas. The strategy of revitalizing northeast China can't be carried out all over northeast China to boost economy. For example, the Northeast China Tiger and Leopard National Park aims to protect more tigers and leopards other than promoting economy. So development strategies should be adjusted according to specific areas.
I will introduce three typical cases. The first is Three River Source, the core area of Qinghai-Tibet Plateau. Developing industry is impossible there due to the lack of oxygen. Agriculture doesn't work, because the plants there don't grow well. I have been to Maduo county where trees didn't even grow. How to development economy in such a place?
The only solution seems to be raising cattle and sheep. But over grazing will harm eco-environment and damage functions of water conservation and sand prevention. Since Three River Source provides a great amount of clean water to downstream areas, ecological degradation of the place would harm the water resources of the Yangtze River and the Yellow River. How to improve the living standards of local residents and lift this area out of serve poverty by only protecting eco-environment?
To solve the problem, President Xi examined and approved the pilot plan of The-Three-River National Park covering 200,000 square meters. The method not only protects the environment but also improves local people's livelihood by providing jobs in the park. In future, after the establishment of CO2 emission rights trading market, transfer payments from the central government and other market capital will gather there, and living standard will further improve. In this way, Three River Source can truly enjoy invaluable assets from lucid waters and lush mountains.
The second case is Shenzhen, a city with strong economy, high fiscal revenue, and advantages in scientific and technological innovation. Shenzhen's GDP surpassed that of Hong Kong in 2018. But in the aspect of people's development, the disadvantages lie in overvalued housing prices and lack of commodity houses. Shenzhen has 10 million houses, which seems enough for a population of 20 million. Why housing prices are still high? Actually, only 1.6 million houses are for commercial use. Enterprises will not be able to maintain the talents who can't afford high housing prices. Residence is the basis for people's livelihood and the biggest issue for Shenzhen is to ensure people's well-being.
The third example is Beijing, which is well-developed in economy and social services such as education and medical care. Although Beijing's housing issue is similar to that of Shenzhen, it is still better than the latter. The essential issues Beijing encounters are pollution and shortage of water.
Beijing has a dustpan shape terrain, surrounded by mountains in the east, north and west. Local pollution and pollution from the south would linger in the sky without strong wind.
Another problem is water resources. Beijing used to be a place abundant in water, but the upstream forest was destroyed during the past dynasties before the People's Republic. Now Beijing has only two reservoirs, the Guanting Reservoir and the Miyun Reservoir. Water shortage would remain unsolved if Beijing continues to serve as a multi-functional center and to gather population in the long run. The water from the South-to-North Water Diversion Project can only meet the need in short term.
From the above three examples, every place has different situations in economic development, social development and eco-environment development. Therefore, we must finely adjust measures and policies to local conditions.
The spatial development is to balance the development of three aspects. Fortune is increasing and everyone can enjoy the fruits fairly. Meanwhile, nature's regenerative ability is well reserved.
The space can vary from small, medium to large scale. In summary, the high-quality development is to maintain the balance among economic development, population gathering and environment carrying capacity. The high-quality urbanization seeks the balanced development of three aspects in every city of China.
Why should we promote high-quality development of urbanization?
At present, there are four major structural imbalances in space or urbanization in China.
First, the imbalance between economy and population. Notwithstanding that people are concentrating in big cities, many of them are limited by the household registration system, which makes it impossible for migrant workers to settle down and eventually may force them to go back to their hometowns. On the one hand, since migrant workers cannot work for many years in big cities, they earn less. According to the National Bureau of Statistics, China's 40 years of rapid development has produced more than 400 million middle-income groups, but it is found out that among them there are very few workers and farmers, who constitute the major part of employment in China, and if most of them are still low-income or even live in poverty, the expansion of our market will doubtlessly be restricted. China's production capacity is growing rapidly, and in 2011 it became the largest manufacturer in the world, but it is still not the largest market country at present. The inability of migrant workers to settle down also leads to a shortage of highly skilled workers. If we want to improve the quality of the manufacturing industry, we must find ways to help migrant workers settle down and integrate into the local society, otherwise they cannot be trained into sophisticated craftsmen.
Second, the imbalance between financial resources and population. On the one hand, the economy is concentrated in big cities and mega cities. But on the other hand, our tax system and financial system cannot balance the gap in per capita financial resources between regions and cities. The difference is still fairly huge, although it has been narrowed a bit recently. The per capita financial resources or the per capita financial expenditure level of each region determines the quality of public services, social security and infrastructure, which are also the main reasons for gaps in living quality. Income is a very important aspect, but income does not completely determine the standard of living.
Third, the imbalance between land and population. Urbanization means that the rural population heads to the city, but the nearly 300 million people who enter the city from the countryside have no way to relocate their residential land into the city since the current administration system does not allow so. Coupled with household registration restrictions, although mobile employment is allowed, migrant workers and their family members are not allowed to settle down. So here comes the problem - much land is left vacant in rural areas while urban residential land is in severe shortage. Compared with other overseas cities, there is very little residential land in Chinese cities. And between cities, the allocation of land and population mobility in the first-, second- and third-tier cities are also unreasonable. The first-tier cities welcome a large number of people, but they are not given much residential land. There is also a problem in land-use structure as much more is set aside for industry and business purposes and much less for housing. However, in some third- and fourth-tier cities with net population outflow, the amount of residential land is still increasing. That will certainly lead to housing vacancy in the long run.
Fourth, the imbalance between resources, the environment and economic population. China's development is implemented by many various administrative divisions. So, when we talk about the development of Shanghai or Beijing, we talk about the two cities themselves, not the city clusters. As a result, the urban functions tend to concentrate way too much in downtown areas while there is a huge gap between the main urban areas and the surrounding areas.
How do we achieve high-quality development of urbanization?
First, clearly define what a city is. There are three major concepts for a city. (1) Administrative division, for example Beijing's administrative division is 16,400 square kilometers; (2) Districts, with the three municipalities directly under the Central Government now all have changed its counties into districts, it completely confuses the concepts of administrative divisions and districts, therefore resulting in confusion of urbanization policies; (3) City in the sense of economic development, since in every city we have downtown areas and central districts. Based on these circumstances, we need a clear definition of the city for precise policy making. Say, if we want to stabilize the housing price in Beijing, we need to specify the regions where we want to apply certain regulations. Take Miyun for example, it used to be a county, but now it is a district. Considering the fact that Miyun is not one of the economic centers, there is no need to impose restrictions in housing price, cars, and even household registrations.
Second, loosen control on household registration. For mega-cities like Beijing, household registration restrictions should only be imposed in its central urban districts, not in Miyun, Yanqing and other districts that are far away from the urban center. That is what we call precise policy making. In addition, the point-based household registration system for settling down in the main districts should also be improved, particularly for migrant workers. Without migrant workers, mega-cities simply cannot function at all.
All cities except mega ones should loosen control on household registration. Instead of competing to attract young people, cities should give the priority to those who have been working there for many years, those who have been paying social security fees and taxes, many of whom are migrant workers. Priorities should be given to solve the existing problems before the new problems unless you are trying to attract some top-notch talented people. The city government should be responsible for the public services of the employed population and family members in the city and achieve the equal treatment of citizens with or without household registrations. Many places have introduced policies on low-rent housing and rental housing, but even those two groups of people get totally different treatment, which is a gap that we should break. Fairness and justice must be fully considered in policymaking as we can no longer allow the urban-rural dual system to become a new dual system within the city, which will doubtlessly bring in social injustice.
Third, improve the property rights system of rural construction land. It is possible to keep the ownership of rural collective construction land and rural homestead unchanged while create a new property rights system in line with Chinese characteristics. Only in this way rural land can enter the market and bring benefits to the farmers, thus enlarging their income. China still has a portion of people living with extremely low income. If we can substantially raise the income of farmers, we can expand our middle class and rely less on foreign markets. That will help us take the initiative in dealing with Sino-U.S. trade frictions.
Fourth, reform the housing system. We need to break the monopoly of residential land, break the monopoly of housing supply, break the single market structure, reform the real estate tax, and housing provident fund system. It is also necessary to establish policy-oriented residential banks. Those were all mentioned at the third plenary session of the 19th CPC Central Committee. We need to have them implemented.
Fifth, focus on city clusters. Urbanization can no longer be carried out according to the administrative division of individual cities but should be promoted by city clusters at the designing stage. In the next 20 to 30 years, six large city clusters with a population of more than 100 million will be formed: the Beijing-Tianjin-Hebei region, the Yangtze River Delta, the Guangdong-Hong Kong-Macao Greater Bay Area, the Chengdu-Chongqing region, the middle reaches of the Yangtze River, and the Central Plains. We will also have eight city clusters with a population of more than 10 million: Shandong Peninsula, East Liaoning Peninsula, Harbin-Chang Chun area, Fujian Coastal area, Guanzhong Plain, Beibu Gulf, Hohhot-Baotou-Erdos-Yulin, and the northern slope of Tianshan Mountain. City clusters can also be formed within a mega city cluster, and several city clusters can eventually form another mega city cluster.
Sixth, work out spatial planning. What is spatial planning? The economic and social development plan, also known as the five-year plan, aims at the economic and social development of the whole country. And for spatial planning, it is the planning of spatial development that combines economic development, human development, and sustainable development. Its main content is to clarify the "three zones, three lines, and three networks." In the past it used to be just "three zones and three lines," and now we add "three networks," which is the city network, the infrastructure network, and the ecosystem network. To formulate the spatial planning, we need to interact with the upper and lower levels, one is to superimpose the various planning plans from the grassroots level, and the other is to focus on city clusters. We need to take all circumstances into consideration before we formulate a blueprint that we can adhere to in the future.
In a word, for high-quality spatial development, we should establish the concept and principle of spatial development and coordinate population, economy, resources, and the environment within a spatial scope.
The "Comprehensive Development Index of China's Cities" jointly compiled by the Department of Development Planning of the National Development and Reform Commission and Cloud River Urban Research Institute is a high-quality report for urban development. The study has been carried out for many years and is of great value to urban development. We hope it can further focus on the city's high-quality development, constantly enrich and improve the index system, and play a greater role in promoting better urban development.