Food security is a major issue for national development and people's well-being, and China needs to remain highly vigilant regarding grain security, especially amid the fallout of the COVID-19 pandemic, said the nation's leading agricultural scientist.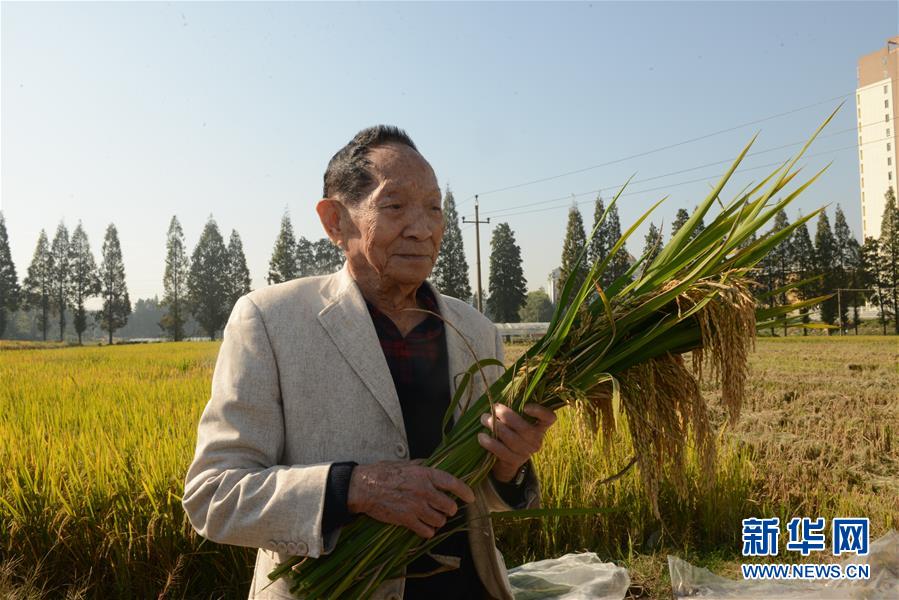 Yuan Longping holds a strain of the third-generation hybrid rice in Changsha, Hunan province, on Oct 30, 2018. [Photo/Xinhua]
"Domestic grain production fulfills 87 percent of China's food supply. It is true we still need to import grain from other countries," Yuan Longping said in an interview with China Daily on Monday.
"We must try all-out expansion of the planting area and improve the unit yields of hybrid rice to achieve self-reliance in grain production," Yuan said.
By April, 13 countries, including Vietnam, Russia and India, had announced curbs on grain exports to ensure their own food supply amid the pandemic.
In June, Yuan's team launched programs to plant rice in saline-alkali soil across the country, turning 6,667 hectares of saline-alkali land into arable land.
In addition, Yuan's team began conducting high-yield trials in Guanyang county, Guangxi Zhuang autonomous region, in 2010 and mainly promoted a new planting model that produces two crops a year while only transplanting rice seedlings once.
It managed to yield 23.4 metric tons per hectare in 2017, setting a world record for rice output.
According to Chen Aiping, head of Guanyang Agricultural Technology Extension Station, annual grain production has risen 10 percent as a result of innovative planting, boosting incomes by 6,000 yuan (US$870) per hectare.
In 2019, the county grew 8,000 hectares of super hybrid rice with annual production of 78,000 tons, according to Guanyang's agriculture department.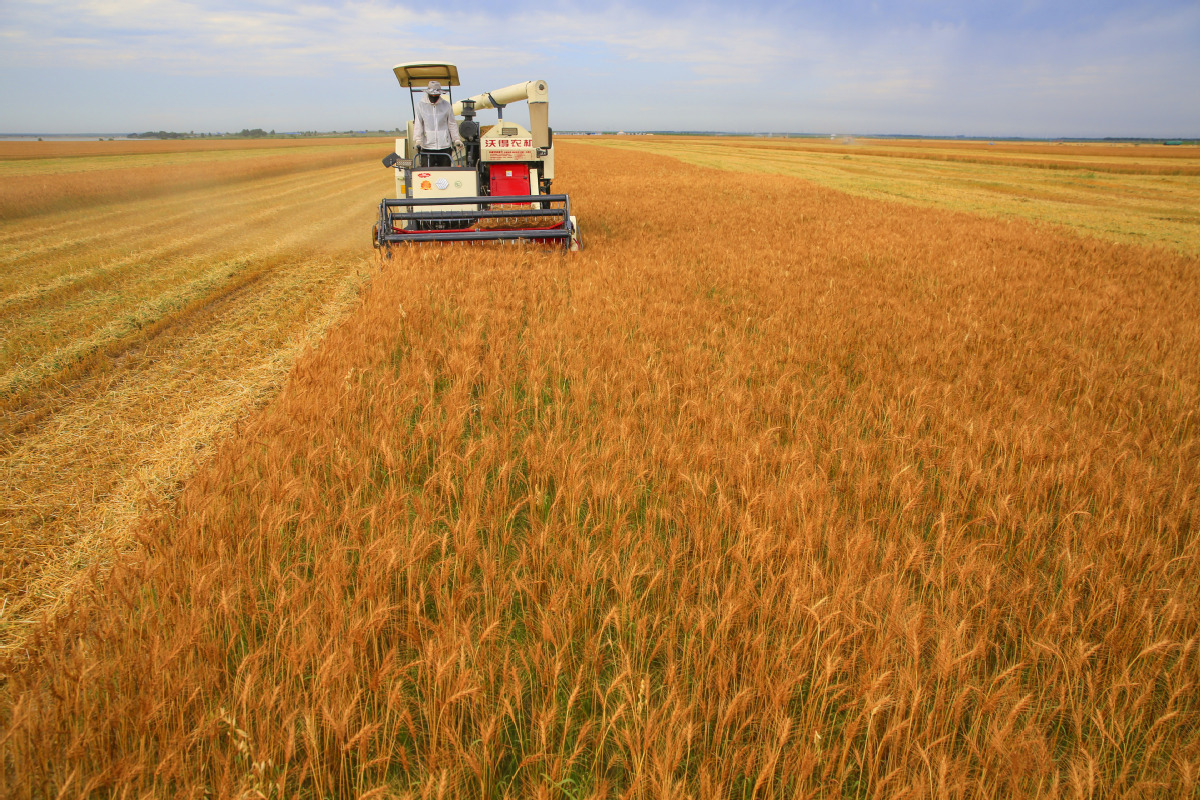 An agricultural machine harvests wheat at Shengyijindi Farm in Taonan, Jilin province, as the region recently entered the summer harvest season. [Photo/chinadaily.com.cn]
Zhou Kailin, a farmer in Yongfu, a village in Guanyang, said many residents tend to earn a living in big cities instead of farming, because of the limited income it offers.
But he said that a good way for the farmers to grow their incomes is by expanding their planting area, which the local government encourages with subsidies.
He said he purchased a rice harvester at a price of 110,000 yuan, and the government offered a subsidy of 30,000 yuan for the purchase.
In addition, the expanded farming would create more jobs, since during the harvest season, Zhou hires 30 people who are each paid 70 yuan per day.
"Grain production also plays an important role in rural revitalization," said Chen, head of the county's Agricultural Technology Extension Station. "Therefore, the county promotes intensive farming and setting up farming cooperatives and family farms in its 68 poverty-stricken villages."
Since the first hybrid varieties were developed in the 1970s, Yuan's rice has been grown in dozens of countries in Africa, the Americas and Asia-providing a robust food source in areas with a high risk of hunger.
For example, according to Yuan, super hybrid rice increased the average yield from 2.5 tons per hectare to 7 tons in Madagascar, where there is now a great interest in promoting hybrid rice.