China's central government will provide all necessary support for the Hong Kong Special Administrative Region (HKSAR) to fight the COVID-19 epidemic, a spokesperson said Monday.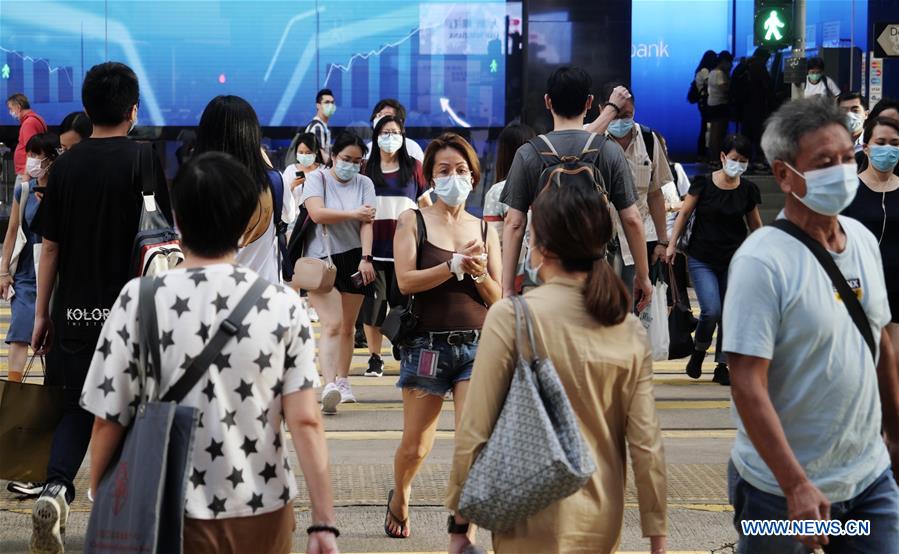 People wearing masks walk in the Central area of Hong Kong, south China, July 27, 2020. [Photo/Xinhua]
The central government pays high attention to the recent resurgence of COVID-19 cases in HKSAR and is highly concerned about the health and safety of Hong Kong residents, said a spokesperson for the Hong Kong and Macao Affairs Office of the State Council.
The central government will continue to fully support the HKSAR in the fight against COVID-19, particularly in improving the nucleic acid testing capability and speeding up the construction of temporary centers for quarantine and medical treatment, so as to help it control the epidemic as soon as possible, the spokesperson said.
Noting that a few people made absurd remarks and even spread rumors and slander out of political bias and political manipulation attempts, the spokesperson said these acts should be condemned by the whole society.
Curbing the spread of the epidemic is an overwhelming task for the HKSAR at the moment, the spokesperson said, expressing the hope that people of Hong Kong from all walks of life fully support the HKSAR government on measures for epidemic prevention and control.
"With the vigorous support of the central government, and selfless help from the mainland, Hong Kong will surely win a victory against the epidemic," the spokesperson said.