.Zuo Xiaofeng speeds around Shigatse, the second largest city in Tibet, on his electric bicycle and works from 10 a.m. to 3 p.m. every day to deliver parcels at around 4,000 meters above sea level. The 33-year-old said he does not consider his job tiring, and that he has found another meaningful life running in the mountains over the past seven years.

In 2011, then 24-year-old Zuo decided to make a lifestyle change and travel around the country. He resigned from his civil service post in Chengdu, the capital of southwestern China's Sichuan province, and took a 44-hour train ride to visit Lhasa city for the first time.
During the first month in Tibet, Zuo said he felt unprecedented freedom and was amazed by the spectacular scenery and traditional Tibetan culture, shown through from the different styles of temples to the prestigious monasteries.
"Just walk into a sweet-tea house and sit down; it's natural for you to have talks with the locals. And you can hear the blessings of 'tashi delek' anytime. There is always sunshine during the day, the breeze at night is comfortable, and the sky here is always as clear as water," he said.
He added it was the kindness and warmth of the Tibetans that made him choose to stay.
In order to settle down, Zuo needed to find himself a job. However, his bachelor's degree became a problem here, as many employers thought an undergraduate could not bear the tough conditions of the various types of work. Luckily, a courier service company offered him a job. Before his express delivery station opened, Zuo spent three days studying the delivery route by wandering through the streets on his bike.
In 2013, he decided to develop his courier career and take it to the next level. Zuo became the first delivery man of ZTO Express in Shigatse. However, the high altitude taught Zuo his first lesson. In addition to coping with extreme oxygen and temperature conditions, Zuo had to gasp for breath as he climbed up and down in the buildings to deliver the parcels. "It was like I just finished a marathon," Zuo said as he recalled his first day of work.
As the second largest city in Tibet, Shigatse has one municipal district and 17 counties. Due to the lack of transportation, the express delivery volume only reached 40 parcels on the first day when he opened his express delivery station in Shigatse. Because of the lower population density in Shigatse, Zuo and his colleagues had to each ride over 60 kilometers to deliver all the parcels.
To reduce costs and better grow the business, Zuo began to conduct market research. He noticed that during the tourist season, brick and mortar stores selling saffron, yartsa gunbu, and dried yak meat are his potential customers. In order to build a better brand image, Zuo promised to pick up the goods two hours after receiving an order placement.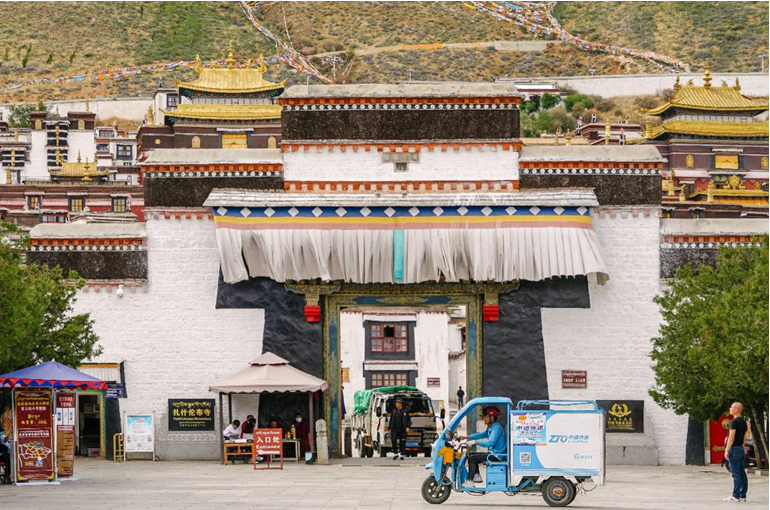 Day by day, his efforts helped the people to further facilitate the transportation of local products and boost rural household consumption. Still, Zuo said he believed there was a long way to go to make sure all local people could enjoy the convenience brought by the express delivery business.
"We don't have county-level delivery service stations at that time. The locals had to drive long distances to pick up their goods, with more fares paid on the road than on delivering the parcels," Zuo said. "All the 17 counties in Shigatse are poverty-stricken counties, and no one wants to take the business due to the harsh conditions and high cost of transportation."
To reduce the cost, Zuo has been to these counties many times to study the delivery route, applied for subsidies from the headquarters, and cooperated with other delivery service companies.
With his continued efforts, in 2015, the first county-level delivery service station was opened in Gyangze county. "I was quite excited and finally my clients in the counties could pick up their parcels on their doorstep," Zuo said.
By the end of this May, there were a total of five city-level and 16 county-level delivery service stations in Shigatse. More Tibetans have gotten used to the express delivery service and are choosing to purchase flowers, fruits, and household appliance online. The express delivery volume could now reach 4,000 to 5,000 parcels per day, with an annual growth of 40% to 45%, according to Zuo.
As the express delivery network expanded in Shigatse, more local people are taking part in Zuo's business. Among the 100 staff members working in the Shigatse-branch of ZTO Express, 20 of them are Tibetans. "Some of them may earn a salary of as high as over 10,000 yuan (US$1,412), or down to 7,000 yuan. This is a relatively high-income job in Shigatse and respected by the locals." Zuo said this makes him feel proud.
In 2019, ZTO Express established the delivery service station in Tashi Dzom township, Shigatse's Tingri county, which is only 45 kilometers away from the Mount Qomolangma Base Camp. "On my way to delivering parcels in Tingri county and Gyirong county, I could see Mount Qomolangma far away," Zuo said.
"It looks like a small hill from a long distance, but we know that conquering the peak entails perseverance, courage and trailblazing spirit, which is also an inspiration for me all the time."