As the COVID-19 pandemic has brought a huge impact on the global economy, China's agriculture sector delivered a robust performance in the first quarter of 2020, which analysts say is the foundation of the economic stability and enabled the country to cope with the epidemic headwinds.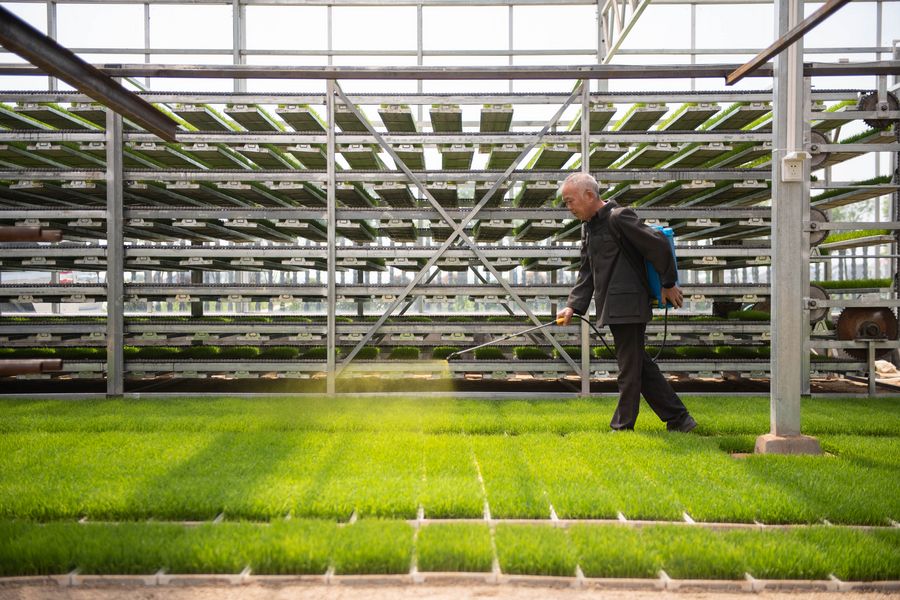 A farmer applies fertilizer to rice seedlings at a workshop in Shuangjiangkou Town of Ningxiang City, central China's Hunan Province, April 12, 2020. [Photo/Xinhua]
World Food Programme (WFP) Executive Director David Beasley recently warned of a hunger pandemic across the world in tandem with the coronavirus pandemic. According to WFP projections, unless swift action is taken, the economic impact of COVID-19 could cause the number of people experiencing acute food insecurity to rise from 135 million in 2019 to 265 million in 2020.
In the first quarter of 2020, China recorded a 3.5 percent year-on-year increase in the added value of the planting industry, and the breeding sows in stock expanded by 9.8 percent from the end of 2019, said Wei Baigang, an official with the Ministry of Agriculture and Rural Affairs Tuesday.
The stable performance of the agricultural sector has provided strong support for China's epidemic control and overall development, Wei said, pledging efforts to ensure the country's annual grain output reaches over 650 billion kg and restore the hog production to the normal level by the end of this year.
In addition, multi-pronged measures have been taken by the government to restore rural consumption, create jobs and provide more financial support for businesses.
As China has effectively got the domestic virus situation under control, domestic consumption demand was expected to be unleashed. With fresh air, good ecology, open space and low cost, rural tourism enjoys an edge in the country's tourism industry resumption.
Provinces such as Jiangsu and Zhejiang have provided vouchers and coupons to encourage leisure tours in rural areas. The National Development and Reform Commission and the Ministry of Culture and Tourism have selected 122 typical cases of rural tourism to share the experience of absorbing social investment and mitigating the epidemic impact.
Meanwhile, many grassroots level officials have turned to livestreaming to help local farmers and entrepreneurs sell their products.
Fifty-four counties in southern China's Guangxi Zhuang Autonomous Region have joined the live sales hosted by government officials and attracted over 30 million viewers in early April, according to the regional commerce department.
"The trend of going digital in the agricultural sector and among relevant firms will continue even after the outbreak, and it will become an indispensable part of the industry," said Shen Bing, chief information officer of the agricultural branch of Sinochem, China's leading operator of fertilizer, seeds and agrochemicals.
To help migrant workers staying in their hometowns obtain employment locally or in nearby areas, the government has issued a guideline to pool resources to guide migrant workers to engage in agriculture, create jobs by implementing rural infrastructure projects, nurture innovative business models and support startups.
Rural homes have always provided an alternative for China's migratory workers. Some of them have returned home to farm the land amid the epidemic, generating additional output for the agriculture sector, said He Xuefeng, dean of the School of Sociology of Wuhan University.
For family farms, rural cooperatives and people returning or moving to the countryside to set up businesses, the China Banking and Insurance Regulatory Commission recently underscored in a circular that further financial assistance should be offered.
The commission encouraged commercial banks to strengthen financial support for grain production, circulation, processing, storage, import and export and consumption, and offer good financial services to the animal husbandry industry.
"Agriculture is the ballast of economic and social stability that requires special attention in the face of risks," Chinese Minister of Agriculture and Rural Affairs Han Changfu said during an extraordinary virtual meeting of the G20 agriculture ministers on April 21.
China's agricultural sector has withstood the test of the COVID-19 outbreak, Han said, adding that the country will continue to coordinate anti-virus efforts and agricultural production and go all-out to secure a bumper harvest for this year.