In the two recent State Council executive meetings, keeping employment stable has been noted as a priority amid China's efforts to promote balanced advancement in the prevention and control of the coronavirus epidemic and economic and social development.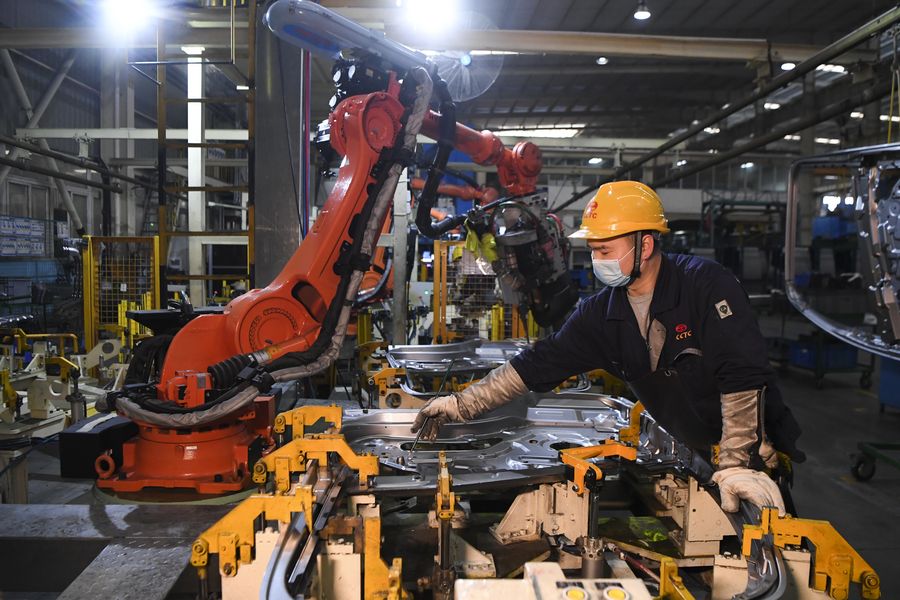 A worker works at the workshop of a vehicle door manufacturer in Yubei District of southwest China's Chongqing Municipality, March 11, 2020. [Photo/Xinhua]
The epidemic outbreak, which led to outbound restrictions and disrupted business, has exerted a downward economic pressure as the latest data on industrial output, retail sales and investment showed across-the-board contraction in the first two months.
A total of 1.08 million new urban jobs were created in the first two months this year. The surveyed urban unemployment rate in February stood at 6.2%, up by one percentage point from January, according to the National Bureau of Statistics on Monday.
To cushion the impact of the epidemic and promote the overall stability of employment of the year, China has outlined multi-pronged measures to support resumption of work, facilitate recruitment of key groups and revive labor demands by creating new forms of industry and new occupations.
Resumption without barriers
It was stressed at the State Council executive meeting on Tuesday that unreasonable restrictions that hinder the resumption of work should be lifted to enable more people to return to work and resume their income at the earliest possible time, as the epidemic situation continues to ease.
China has restored normal traffic order in most areas, as 1,117 of the 1,119 closed expressway entrances and exits across the country have re-opened as of last Saturday.
Small and medium-sized enterprises (SMEs), which are vulnerable during the outbreak but contribute more than 80% of the job opportunities in China, have been provided with an array of policies to ease their cash strain, such as temporary exemption of social insurance payments, deferral of the collection of housing provident funds and low-interest lending offers.
The Ministry of Industry and Information Technology also encouraged leading enterprises to give a hand to SMEs to fast-track work resumption across the industrial chain.
"It is vital to break all the barriers holding back work and production resumption, and further strengthen the main responsibility of local governments to avoid over-restriction," said Chang Tiewei, deputy director of the Employment Department of the National Development and Reform Commission (NDRC).
Over 90% of the major industrial enterprises in China's provincial-level regions, except for certain areas including Hubei, have resumed work and production thanks to region-specific restoration measures, said the NDRC on Tuesday.
Recruitment of key groups
The meeting on Tuesday also urged more market-oriented approaches to facilitate employment and entrepreneurship for key groups of labor such as college graduates and migrant workers.
As the number of the college graduates is expected to hit a record 8.74 million this year, the Ministry of Education and other departments have announced measures to ease the pressure, including launching an online campus recruitment service and expanding the enrollment of master's degree students.
"Online recruitment has saved me time and economic cost, and I do not feel as nervous as I would in an on-site interview," said Wang Jiajia, a master's degree student from the Shandong University.
According to Zhaopin.com, the country's leading human resources service provider, more than 50,000 enterprises have participated in online campus recruitment through the platform as of Sunday, offering 200,000 jobs. Over 450,000 students have submitted 1.7 million resumes.
Buses, high-speed trains and planes have been arranged to help rural migrant workers return to work and alleviate labor shortages in some areas.
About 100 million migrant workers have gone back to work, accounting for 80% of those returning to their hometowns before the Spring Festival, said Li Zhong, vice minister of human resources and social security on Thursday.
Meanwhile, the ministry is planning to launch a 100-day free online vocational training camp from late March to the end of June for various job seekers. The training camp will select at least 50 online training platforms nationwide covering more than 100 occupations to provide training to over 5 million people.
Large-scale and effective skill training will enormously enhance the skills of the rural migrant workers, adapting them to the economic transformation and industry upgrading, said Yang Zhiming, chairman of the Chinese Association of Labor Science.
Revive demand with new drivers
Tuesday's meeting also called for intensifying support for Internet Plus and the platform economy to cultivate new forms of industry in the digital economy and create new jobs and professions. Obstacles must be eliminated to facilitate diverse forms of business start-ups and flexible employment.
Many Internet firms are adding new staff to cope with business surges amid the epidemic. Yuanfudao, a Beijing-based online tutoring platform, has launched its new spring recruitment plan with over 10,000 job posts ranging from teachers to programmers.
The Beijing Business Incubation Association has launched an initiative with 86 incubators in the city, which can accommodate about 6,000 small and micro-sized enterprises. The association said those incubators will provide professional services for settled businesses in early investment and entrepreneurship mentoring and also open up incubation service resources and channels, among other moves.
"Entrepreneurship can create doubled job opportunities. It is the moment to expand employment by encouraging start-ups as the epidemic happens," said Lai Desheng, professor from the Party School of the Central Committee of the Communist Party of China.
China has given official recognition of 16 new professions earlier this month, mostly in emerging industries and service sectors such as artificial intelligence trainers and virtual reality technicians. The release is expected to boost the development of related industries, increase employment and strengthen vocational education and training.