China has made solid development in commerce and trade during the past seven decades, impressing the world with investment, consumption and foreign trade hikes.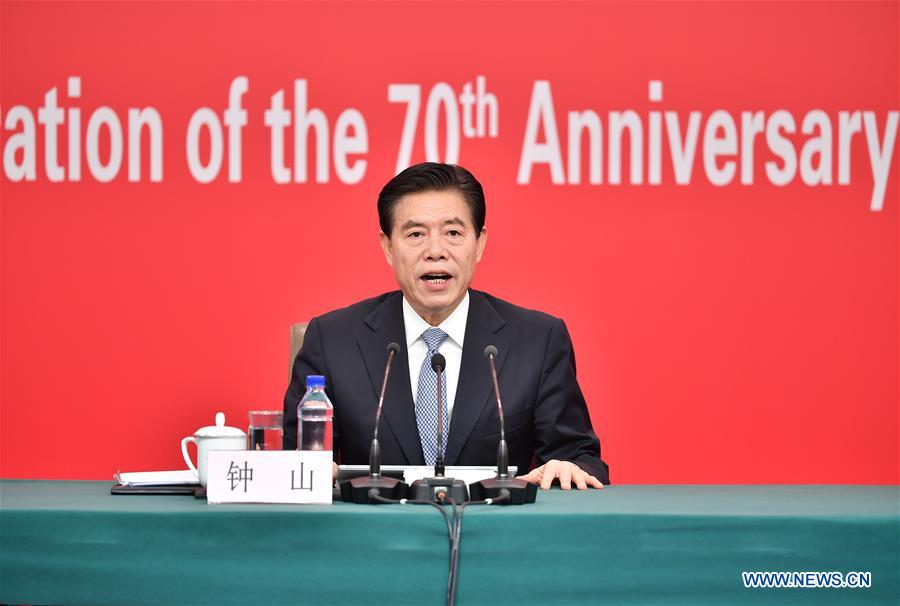 Chinese Minister of Commerce Zhong Shan speaks at a press conference in Beijing, capital of China, Sept. 29, 2019. [Photo/Xinhua]
China is now the world's second-largest consumer market, with its retail sales of consumer goods at around 38 trillion yuan (about US$5.4 trillion) in 2018, up from 27.7 billion yuan in 1952, Minister of Commerce Zhong Shan told a press conference Sunday.
Compared to US$1.13 billion in 1950, China's foreign trade volume in 2018 topped the world at a whopping US$4.6 trillion, among which US$2 trillion came from imports, said Zhong.
As an increasingly favorable destination for foreign investment, China came in second in the world with US$138.3 billion in foreign direct investment in 2018, with 960,000 foreign-invested companies by the end of last year.
China's outbound direct investment also snowballed over the past decades to rank second worldwide at US$143 billion in 2018, contributing to the economic growth of local communities around the world, Zhong said.