A memorial ceremony was held in the Southern Confucius Ancestral Temple in Quzhou, southeastern China's Zhejiang province, on Sept. 28 to mark the 2,570th anniversary of the birth of Confucius, an ancient Chinese philosopher and educator.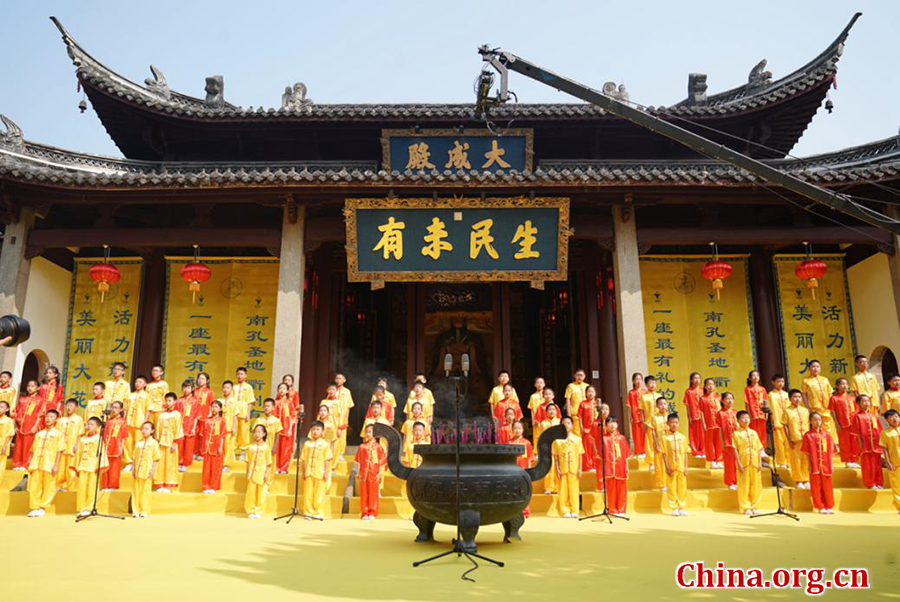 Students give a recital at the memorial ceremony marking the 2,570th anniversary of the birth of Confucius held in Quzhou, Zhejiang province, on Sept. 28, 2019. [Wang Xiaojun/China.org.cn]
Hundreds of guests from around the world, including descendants of Confucius, representatives from the International Confucian Association, the China Confucius Foundation and the Temple of Confucius, as well as delegates from Confucius Institutes of 11 countries — the U.S., Germany, Japan, the Republic of Korea, South Africa, Uganda, Madagascar, Togo, Tajikistan, Armenia and Albania — gathered for the ceremony.
This year also marks the 890th anniversary of Confucius' descendants' migration to Quzhou. Kong Lingli, the 76th generation lineal descendant of Confucius, took over from his father Kong Xiangkai as the assistant master of the ceremony.
The ceremony featured tributes and recitals. In the tribute-paying session, participants presented the five ceremonial grains, the "Four Treasures of Study," incense, and candles.
For the recitals, students from Quzhou Huamao Foreign Languages School, Quzhou Special Education School, and a reading class at the Southern Confucius Ancestral Temple recited sentences from "The Analects of Confucius." Participants also sang "The Ode to Great Harmony," which contains the famous sentence encouraging people to pursue a just cause for the common good.
Commenting on the ceremony, Martin Deborah Saskia, an official from Suriname's Ministry of Education, Science and Culture, said that it was a wonderful opportunity to learn about Chinese culture. She added that she watched the ceremony on television years ago and it's a nice experience to see it for herself.
Quzhou is the second home of the Confucius family. In 1128, after the downfall of the Northern Song Dynasty (960-1127), Kong Duanyou, a 48th-generation descendant of Confucius, moved to the south and settled in Quzhou, which led the city to become a cultural center of Confucianism in southern China.
The city has held such a ceremony annually since 2004. According to the organizers, the theme of this year's ceremony is to promote Quzhou as a model city of virtue.