About 100,000 ordinary citizens will march in a mass pageantry on National Day, which falls on Oct. 1, said a senior official with the event's organizer on Wednesday.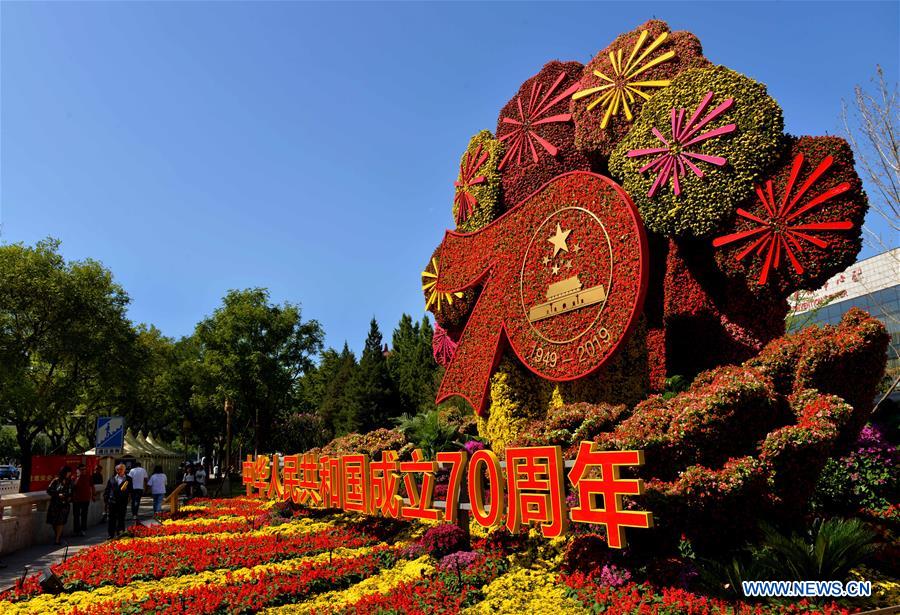 People watch a flowerbed titled "70th Anniversary of the Founding of the People's Republic of China" in Beijing, capital of China, Sept. 23, 2019. [Photo/Xinhua]
The parade will consist of 70 big floats in 36 formations and will march down the Chang'an Avenue in downtown Beijing from east to west, said Zhang Ge, an executive director of the mass pageantry's organizing department, at a press conference.
Among the people in the mass pageantry, more than 400 are compatriots from Hong Kong, Macao and Taiwan, overseas Chinese nationals, and foreign friends, said Zhang.
This year marks the 70th anniversary of the founding of the People's Republic of China (PRC).
The mass parade will reconstruct the historical process from the PRC's founding, the implementation of reform and opening-up and advancement of the cause of socialism with Chinese characteristics, and to now as the cause of socialism with Chinese characteristics has entered a new era, Zhang said.
The mass parade is designed to tell well the China story and express the confidence and trust the Chinese people have in the Party, he said.
Participants will be made up of people from all walks of life, including deliverymen and housewives, he added.
Tian'anmen Square will be richly decorated to echo the festive atmosphere with 70 huge red lanterns hung along the roads on its east and west sides.
"On Oct. 1, 70,000 white doves and 70,000 colorful balloons will be released," Zhang said.
Moreover, a 90-minute grand gala will be held at the Tian'anmen Square on the evening of the National Day, said Pang Wei, executive deputy head of the gala's organizing department, at the press conference.
The gala, which will start at 8 p.m., mainly consists of performances and a fireworks show.
A total of 3,290 performers will hold light panels and other props in thematic performances depicting China's great leaps over the past 70 years. Another 3,650 performers will stage around 40 popular and classic songs, Pang said.
More than 160,000 volunteers have been recruited for the upcoming National Day celebrations.
Among them, over 10,000 will provide direct service to the celebration gathering and grand gala on the National Day, said Xiong Zhuo, executive director for volunteer work, adding the majority of those 10,000 volunteers are people born during the 1990s and 2000s.