An introduction event was held in the Hong Kong Convention and Exhibition Center on Thursday. With the theme of "refreshing Fujian, varied kinds of tea," the event was designed to promote Fujian-produced tea to the world. As a part of the Maritime Silk Road show of Fujian-produced Tea, the event included the introduction of tea enterprises, the opening ceremony of a tea exhibition center, and the signing ceremony of cooperative agreements.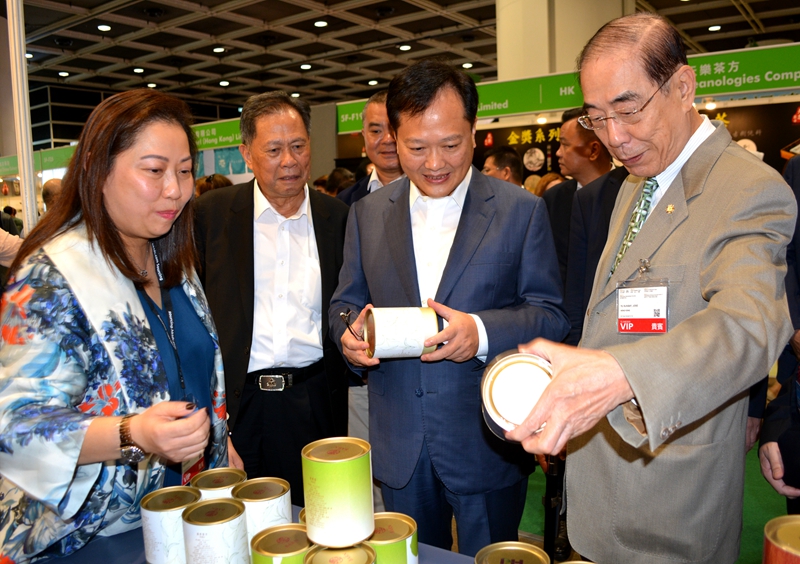 Fujian is the birthplace of oolong tea, black tea, white tea, and flower tea. Anxi Tieguanyin (a kind of oolong tea), Wuyi rock tea, Fuding white tea, Lapsang souchong (a kind of black tea), Panyong congou (another kind of black tea), and Fuzhou jasmine tea are all among the world's most famous types. Hong Kong is an important tea-exporting destination for Fujian province. In 2018, tea exported from Fujian to Hong Kong amounted to US$110 million, accounting for about one-third of Fujian's total tea export volume, while marking an annual increase of 74%. To further promote Fujian's tea industry and tea enterprises, the Fujian Provincial Department of Agricultural and Rural Affairs, along with Huamin Investment Group, set up the Fujian Tea Cultural Exhibition Center. More than 50 Fujian-based tea enterprises and tea trading companies in Hong Kong held trade talks and signed contracts worth 380 million yuan (US$54 million).


"We hold this event to promote the tea industry and tea culture of Fujian in a comprehensive, efficient and high-quality manner," said a person in charge at the Fujian Provincial Department of Agricultural and Rural Affairs. "We hope we can push forward the exchange of tea trade and tea culture between Fujian province and Hong Kong SAR, and also we aim to accelerate the development of our tea industry in the Belt and Road Initiative through Hong Kong, which is a world-class hub."
In recent years, Fujian has pushed for green development while focusing on improving quality and branding, and vigorously promoted the high-quality development of its tea industry. By now, the province has seen an output of more than 100 billion yuan from its tea industry. The Maritime Silk Road show of Fujian-produced tea, launched and carried out by Fujian province, is proving to be an effective boost to the economic exchange and trade of tea and tea culture between Fujian and other countries along the Maritime Silk Road.