China will rely on enterprises, market mechanisms and other resources to build more open and innovative artificial intelligence platforms capable of producing new and effective services to bolster socioeconomic growth, under a plan released by the Ministry of Science and Technology.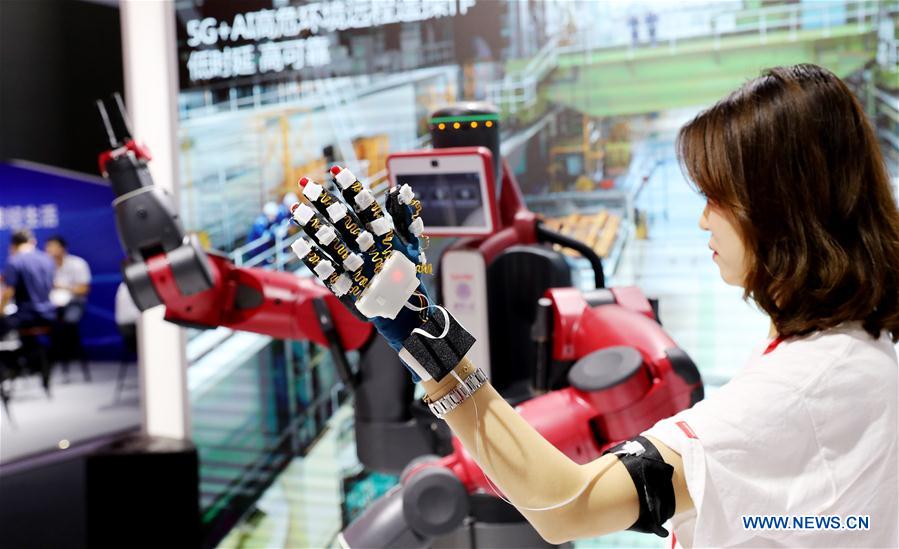 A staff member shows remote control with 5G and artificial intelligence (AI) technologies during the Mobile World Conference Shanghai 2018, June 27, 2018. [Photo/Xinhua]
Building open and sharing platforms is crucial for AI development, and a key component of China's overall AI innovation, the ministry said in an online statement on Friday. In principle, every subfield of AI research should have a State-level AI innovation platform.

This will require joint effort from pioneering companies and research institutions, as well as effective allocation of technological, industrial and financial resources to ensure continuous research and innovation in AI core technologies, the ministry said.
Moreover, the open platforms can improve services for researching AI-related hardware and software, and encourage more research entities, especially small and medium-sized companies, to participate in the research.
By the end of last year, China had 3,341 AI companies, second in number only to the US, according to the 2019 China New Generation Artificial Intelligence Development Report published by the ministry in May.
The United States, China and the United Kingdom are the three strongest countries in AI, the report said. From 2013 to 2018, scientists around the world had published 304,914 papers in AI research, with China leading in such papers published with 74,408, followed by the US with 51,766.
However, the impact and influence of Chinese papers has been relatively weak compared with those from developed countries. China also lacks companies capable of building advanced technological platforms and processors, or conducting basic research. Integration and collaboration between universities and companies working on AI should be advanced, the report said.
To remedy these issues, the ministry said its new plan for new AI innovation platforms will focus on producing AI applications and services that not only satisfy China's main needs, but also have world-class impact and utility, the ministry said.
Local government, AI industry, research institutions and universities will all take part in building the platforms, creating an open ecosystem that can help turn core technologies into products.
Entities responsible for building and operating the AI platform must ensure continuous investment in financial, personnel and infrastructure resources. They should also place bolstering technological prowess and their innovations' industrial impact as top priorities.
Provincial governments must report to the ministry in a timely manner on issues related to these AI platforms. The ministry has the power to terminate platforms that have caused severe negative impact.
In 2017, China published its "Next Generation Artificial Intelligence Development Plan", which laid out plans to become the world leader in AI by 2030, with a domestic AI industry worth almost $150 billion. The first step of that plan is to catch up with the US on AI technology and applications by 2020.
China has identified 17 key areas for AI development in China, among which are smart vehicles, intelligent service robots, intelligent drones, neural network chips and intelligent manufacturing.