A grand ceremony to worship the Yellow Emperor (Huangdi), who is considered to be the common ancestor of all Han Chinese, was held in Xinzheng, central China's Henan province, on April 7.
On the third day of every third month of the Chinese lunar calendar, a grand ceremony is held in a small town in central China, where people would gather to worship Huangdi, or the Yellow Emperor, who in the Chinese culture is considered to be the common ancestor of all Han Chinese people.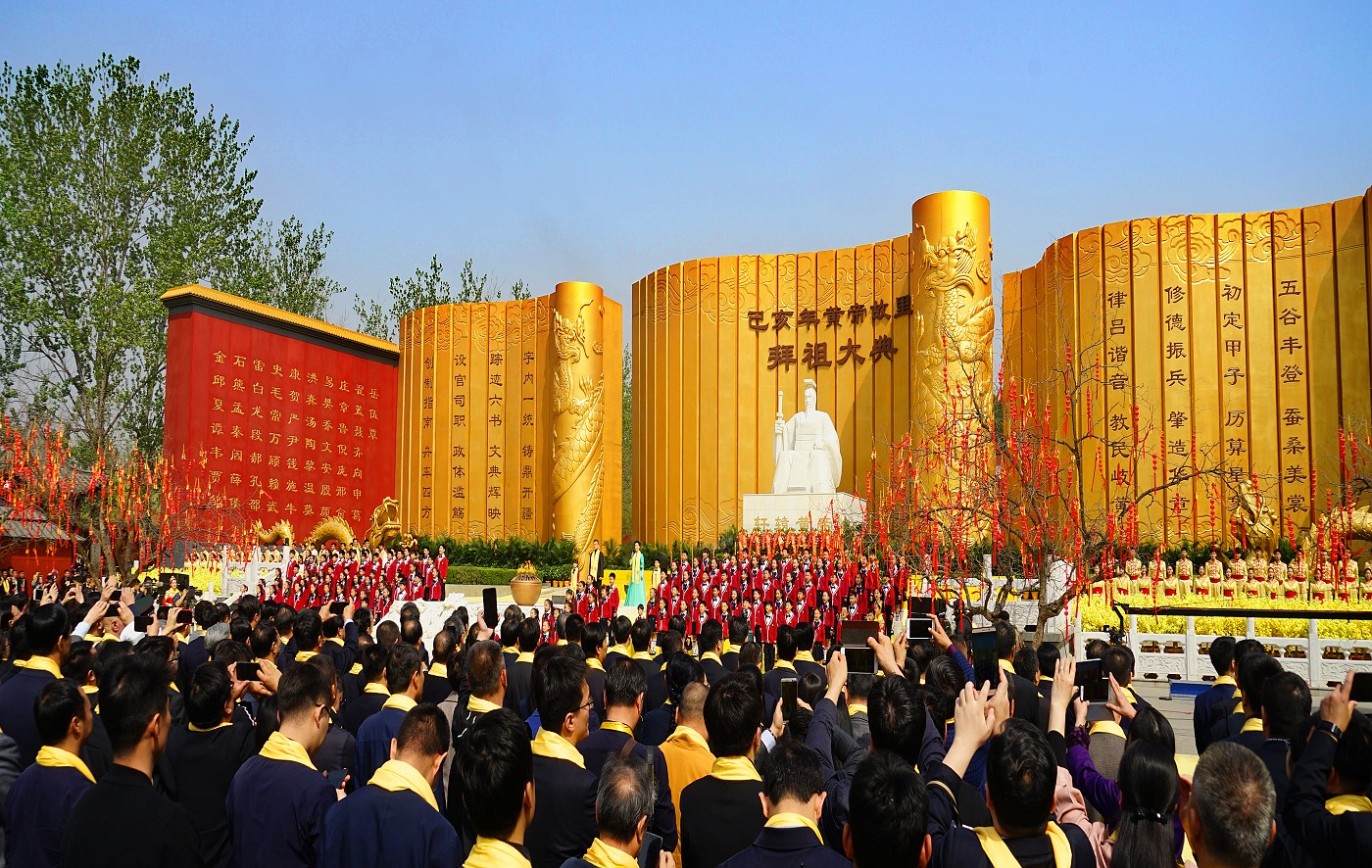 A grand ceremony to worship the Yellow Emperor is held in Xinzheng, Henan province, on April 7, 2019. [Photo courtesy of Information Office of Zhengzhou Municipal Government]
The town of Xinzheng in the jurisdiction of Zhengzhou, the provincial capital of Henan, is the birthplace of the Yellow Emperor, whose legendary existence dates back to more than 4,000 years ago. The tradition of worshipping ancestors on the mythical figure's birthday, which falls on April 7 this year, can be traced back to the Spring and Autumn Period (770-476 B.C.).
The legends say that the Yellow Emperor also invented the cart, boat, bow and arrow, as well as traditional Chinese medicine.
The annual ceremony of worshipping the Yellow Emperor was listed as national intangible cultural heritage in 2008 with approval of the State Council. Nine rituals are often performed, including a 21-gun salute, the placing of flower basket, burning incense, worshiping the gods, singing odes, dancing, praying for China, and wishing for the harmony among the people, the heaven, and the earth.
This year's ceremony coincides with the 70th anniversary of the founding of the People's Republic of China. And so, the worshipping ceremony is a good way to grasp the spirit and root of the Chinese people, connecting everyone to the past and binding them as a people, said Chen Run'er, governor of Henan province.
In addition, the ceremony provides a good opportunity to teach the younger people more about traditional Chinese culture. "The Yellow Emperor is more than just a legend," said a young volunteer who took part in the ceremonial performance. "It helps us feel connected by paying tribute to our common ancestor of all Han Chinese, even though we live thousands of kilometers away."
The ceremony on Sunday concluded with the grand moment when respect is paid to the sacred fire altar before the Yellow Emperor's sculpture, and then golden flags and red balloons were released to bring the curtain down for the ceremony.
Over 8,000 participants from nearly 40 countries and regions attended the ceremony.