China was praised for protecting rights of disabled people at 2017 Europe-China Human Rights Seminar. In the seminar, some scholars shared their research on protecting the rights of persons with disabilities.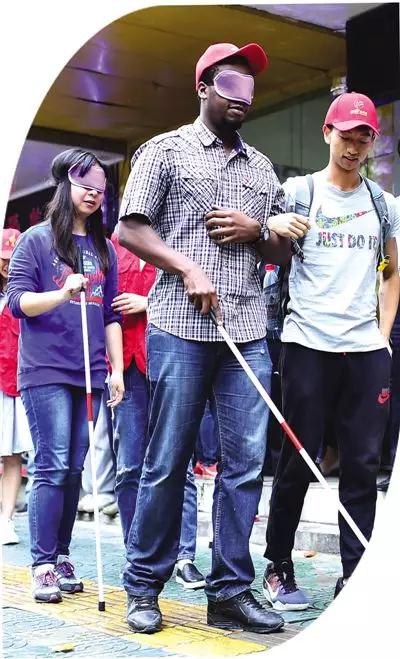 A foreign student from Tanzania experiences tactile paving in Hefei on May 15, 2017. [Photo/People's Daily]
The protection of social security for disabled people has become an important dimension in the rapid development of the protection of Chinese human rights. Meanwhile, it demonstrates China's effort to build a just and civilized society.
A disabled competitor takes part in the "one kilometer" marathon in Lanzhou on June 11, 2017. [Photo/People's Daily]
P.J. Peverelli, from Vrije University, said that the society has switched its view of disabled people from charity and medical science to human rights. Most of the signatory countries have approved "Convention on the Rights of Persons with Disabilities," which helps improve human rights for the disabled and expand obligations of signatory counties. He hoped that every signatory country could set up a legal mechanism for protecting rights of disabled people.
Zhang Wanhong, vice director of the Institute for Human Rights Studies of Wuhan University, mentioned that China is the biggest developing country in the world and always gives development the top priority. The Chinese government has put forward five ideas of development-- innovation, coordination, green, opening up and sharing, which conforms to the trend of the times. The Chinese government and people of all sectors have worked hard to empower disabled people in China.
Gianni Magazzeni, chief of the Americas, Europe and Central Asia Branch of the United Nations High Commissioner for Human Rights, said, "The Chinese government formulated 'National Human Rights Action Plan of China' in 2009, which gave more details about the rights of disabled people and set up targets for protecting their rights. We happily know that many countries have put the protection of rights for disabled people on their sustainable development agenda."
He was echoed by Patrick Haverman, a UNDP deputy country director in China, who said that china has made great progress in promoting the rights of disabled people, and about 60 related laws have been enacted for ensuring their life.
Zheng Gongcheng,chairman of China Association of Social Security and professor from Renmin University of China, said the China's social security system for disabled people is made up of four parts, including a universal system, a particular system, injury insurance, and pensions of disabled soldiers. The development of the social security system for disabled people embodies social equality and human rights in China.
"China will further improve the system to ensure the rights of disabled people, enhance their ability to develop themselves, and guarantee their rights in politics, economy, society and culture," said Guo Chunning, deputy director of the research office of China Disabled Persons' Federation.
Ron Pouwels, UNICEF's head of child protection in China, said disabled children are often discriminated against and their needs cannot be satisfied. China has achieved great progress in protecting disabled children's rights by enacting a series of laws and policies which help them to gain access to services, including education and social service.