Tianwen 1, a Chinese Mars probe, has been transported to Hainan province, where it is set to be launched atop a Long March 5 carrier rocket in the coming days, according to the China Academy of Space Technology.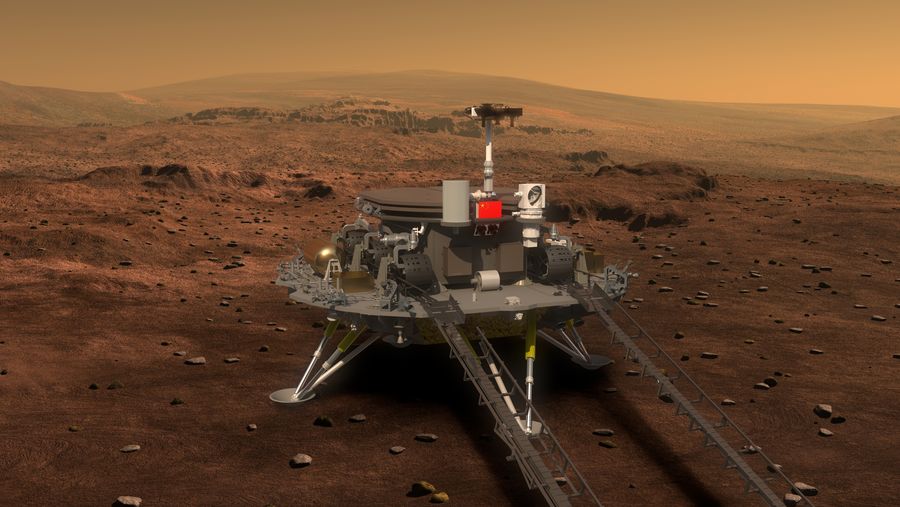 Picture released on Aug 23, 2016 by the lunar probe and space project center of Chinese State Administration of Science, Technology and Industry for National Defence shows the concept portraying what the Mars rover and lander would look like. [Photo/Xinhua]
The academy said in a statement on Tuesday that the spacecraft is now undergoing prelaunch preparations at the Wenchang Space Launch Center in Wenchang before setting out on China's first independent Mars exploration without elaborating.
According to the academy's parent, China Aerospace Science and Technology Corp, a State-owned space conglomerate, the mission of Tianwen 1, or Quest for Heavenly Truth 1, will fulfill three scientific objectives — orbiting the red planet for comprehensive observation, landing on Martian soil and sending a rover to roam the landing site. It will conduct scientific investigations into the planet's soil, geological structure, environment, atmosphere and water.
If Tianwen 1 succeeds, it will become the first Mars expedition accomplishing all three goals with one probe, the company said.
Tianwen is a long poem by a famous ancient poet, Qu Yuan of the Kingdom of Chu during the Warring States Period (475-221 BC). He is known for his patriotism and contributions to classical poetry and verses, especially through the poems of the Chu Ci anthology, also known as Songs of Chu.
In the mission's first step, a Long March 5, the nation's biggest and most powerful rocket, will blast off at the Wenchang center to transport the robotic probe to the Earth-Mars transfer trajectory before the spacecraft begins its self-propelled flight toward Mars' gravity field.
The probe will travel about seven months before it reaches Mars, which at the farthest point of its orbit is about 400 million kilometers from Earth and 55 million km at the nearest point.
The space contractor said the probe consists of three parts — the orbiter, the lander and the rover — and they will separate in Mars orbit. The orbiter will remain in the orbit for scientific operations and to relay signals while the lander-rover combination makes an autonomous descent and landing.
The rover, which is expected to become the world's seventh of its kind and the first from Asia, has six wheels and four solar panels and carries six scientific instruments. It weighs over 200 kilograms and will work for about three months on the planet, designers said.
In a second step for China's Mars exploration program, a larger probe will set off for Mars around 2030 to take samples and then return to Earth, space officials have said.