The Hebei Sub-Bureau of the central route of the South-to-North Water Diversion Project hosted an open day event in Xingtai on Oct. 10, in the lead-up to the fifth anniversary of the project launch.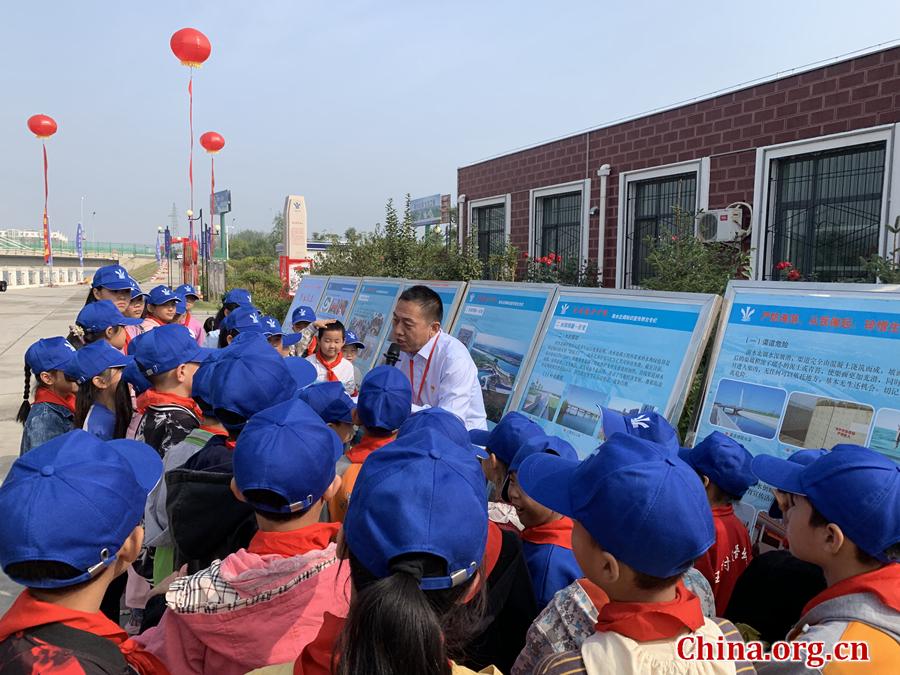 An open day event about the central route of the South-to-North Water Diversion Project is held in Xingtai, Hebei province on Oct. 10. [Photo by Guo Yiming/China.org.cn]
With a theme of promoting ecological protection and building a beautiful China, the event attracted over 100 public visitors, including primary students, teachers, and public servants. They were briefed on the operation of the project, as well as the social, economic, and ecological progress it has produced in areas along the route.
During the open day event, a painting competition was also held for the primary school students, who were asked to paint the water diversion project from their own perspectives.
"Through today's visit, I have seen the huge benefits that the project has brought to Xingtai and Hebei province," said Chen Fengzhen, a college professor and a deputy to the 13th National People's Congress, China's legislature. Chen said she will try to inspire more people to save water and protect the environment as well as supporting the water diversion project.
By Oct. 10, the Hebei sub-bureau has operated the project for 1,763 days without any accidents since the central route was put into operation in December 2014. Over the years, around 4.7 billion cubic meters of water has been diverted to Hebei province, and 1.2 billion cubic meters of water has been replenished to rivers and lakes along the route, greatly improving the water quality and underground water level in the region.