The 10th China-South Korea Media High-Level Dialogue was held in Seoul on Thursday, with participation of representatives from the mainstream media groups of the two countries as well as local experts.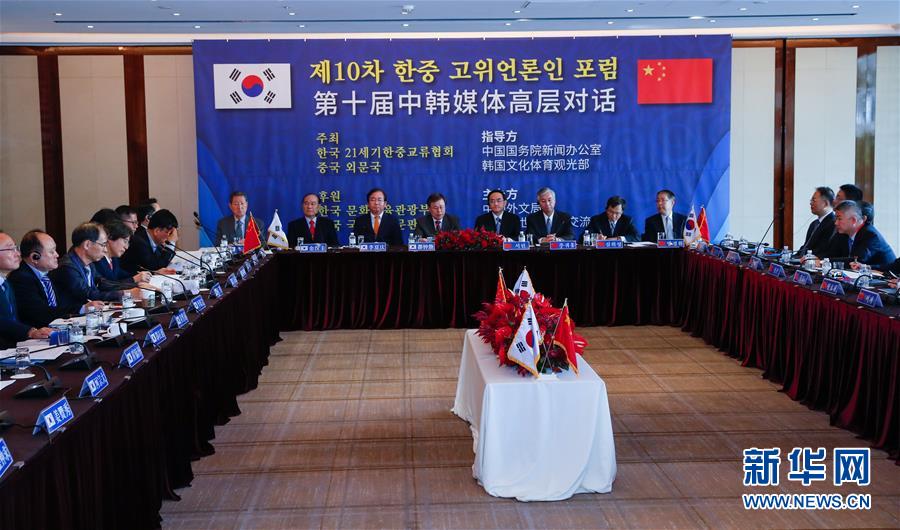 The 10th China-South Korea Media High-Level Dialogue is held in Seoul, Oct. 11, 2018. [Photo/Xinhua]
Xu Lin, deputy head of the Publicity Department of the Communist Party of China (CPC) Central Committee and director of the State Council Information Office of China, and Do Jong-hwan, minister of culture, sports and tourism of South Korea, led their separate delegations.
The dialogue centered on technology innovation and bilateral economic and trade ties, role of media in the development of ecological industry and other topics.
The attendees agreed that the Media High-Level Dialogue has played an active role in promoting mutual understanding and friendship between the peoples of the two countries since it started in 2009.
The two sides should deepen cooperation and spread rational voices to contribute to the sound and stable development of the ties between the two countries, they said.
Xu Lin urged the media professionals to undertake the historical task of maintaining, strengthening and developing China-South Korea ties, and play an active role in promoting bilateral cooperation and people-to-people exchanges.
Do Jong-hwan said media cooperation between China and South Korea is very important in promoting peace and prosperity of Northeast Asia, urging the attendees to share their experiences and ideas on promoting the future development of their countries.
Chinese representatives came from the People's Daily, Xinhua News Agency and the China Media Group, and South Korean representative came from JoongAng IIbo, Yonhap News Agency and Korean Broadcasting System.
Local experts were from Korea Advanced Institute of Science and Technology, Sogang University and other South Korean research institutes.
Established in 2009, the China-South Korea Media High-Level Dialogue is aimed at boosting mutual trust and cooperation between the media of the two countries. The two sides take turns in hosting the dialogue once a year.