With deepening cooperation in various fields, China has grown into one of the most reliable partners of the Association of Southeast Asian Nations (ASEAN), since they established the strategic partnership 15 years ago.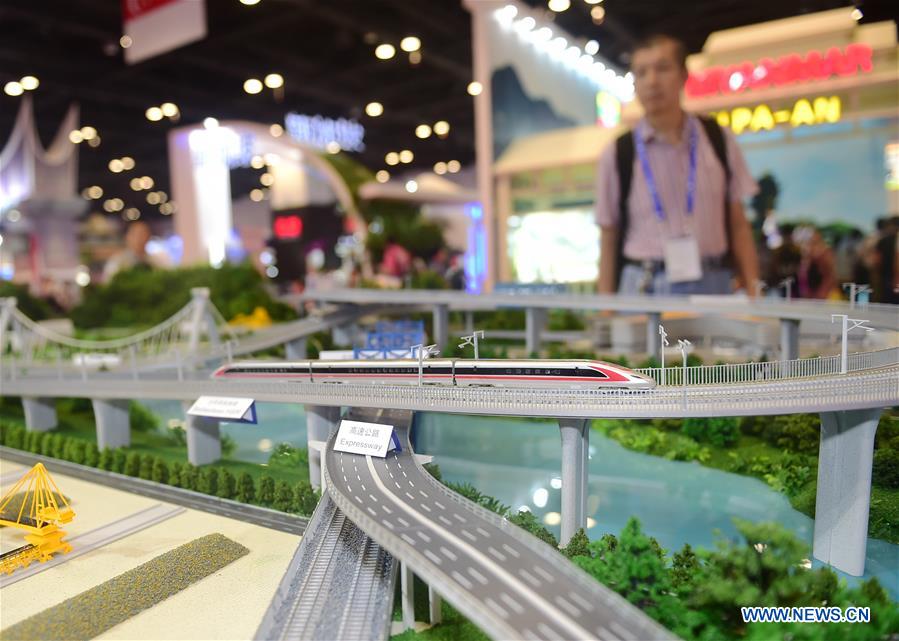 Photo taken on Sept. 13, 2018 shows a model of high-speed railway at the 15th China-ASEAN Expo in Nanning City, south China's Guangxi Zhuang Autonomous Region. [Photo/Xinhua]
Over the years, rapid and healthy development of the ASEAN-China ties based on mutually beneficial cooperation has made important contributions to regional peace and prosperity.
The ASEAN-China dialogue partnership is among "the most dynamic and substantive," according to Secretary-General of ASEAN Lim Jock Hoi.
Growing trade
As a close neighbor, ASEAN is sharing the fruits of a fast growing Chinese economy, while China is also gaining benefits from a more integrated ASEAN market.
Trade volume between China and ASEAN countries hit a record high of 514.8 billion U.S. dollars in 2017, more than six times of that of 2003, said the Chinese Ministry of Commerce. China remains ASEAN's largest trade partner for nine consecutive years while ASEAN is the third largest trade partner of China for seven years in a row.
China's exports to ASEAN countries reached 279.1 billion U.S. dollars in 2017, up 9 percent year-on-year, while imports grew 20 percent year-on-year to 235.7 billion U.S. dollars. China's trade surplus with ASEAN narrowed by 27.4 percent from 2016, said the ministry.
Accumulated two-way investment between the two sides reached more than 200 billion U.S. dollars and over 4,000 Chinese companies have set up their ventures in the ASEAN market, creating over 300,000 jobs for locals.
"China's economic progress has currently placed it as the second largest economy in the world and has greatly contributed to the region's overall growth, including that of ASEAN," Lim said in a recent interview with Xinhua.
"ASEAN and China have also made great strides in socio-cultural cooperation, with work conducted in the areas of, among others, public health, science and technology, education, culture, labor and social security, local government and people-to-people exchanges, environment, media, youth, social development, and poverty reduction," the ASEAN secretary-general said.
Mutual trust
Over the past 15 years, China has supported ASEAN's development agenda, including the construction of the ASEAN Community.
China was there to help when natural disasters hit ASEAN countires, and the close coordination between the two sides in coping with the financial tsunami in 2008 also deepened their mutual trust.
Both China and ASEAN agreed to handle sensitive issues and disputes through dialogue and negotiations. In August, a single draft negotiating text of the Code of Conduct (COC) in the South China Sea was reached between China and ASEAN, marking another significant progress on the negotiations of COC.
Last month, China and ASEAN conducted their first joint naval drills, which, according to navy commander of the Southern Theater Command of the People's Liberation Army Wang Hai, demonstrated a new level of strategic collaboration between China and ASEAN countries, built a new platform for navies to better communicate, and laid a solid foundation for future cooperation.
"ASEAN appreciates China's support on ASEAN centrality and we will continue to work closely with each other towards the full and effective implementation of the Declaration on the Conduct of Parties in the South China Sea and the early conclusion of the Code of Conduct," said Lim.
Shared development goals
Singaporean Prime Minister Lee Hsien Loong on Monday urged ASEAN members to "work resolutely" toward economic integration, saying that visible achievements have been made after decade-long efforts of progressive steps towards deeper economic integration and openness in ASEAN.
For its part, China has pledged to further open its market and join hands with ASEAN to accelerate the negotiation of the Regional Comprehensive Economic Partnership (RCEP), which covers some 3 billion population with a total gross domestic product of 21 trillion U.S. dollars.
"A strong relationship between ASEAN and China can contribute to positive synergies for Asia and support regional and global development, leveraging on growth from their burgeoning middle classes and harnessing rapid technological progress," said the ASEAN secretary-general.
Meanwhile, China is expected to be the first dialogue partner of ASEAN to make a medium to long-term plan on relations with the group.
According to Huang Xilian, Chinese ambassador to ASEAN, the two sides have agreed on the "China-ASEAN Strategic Partnership Vision 2030," which is expected to be endorsed on the 21st China-ASEAN (10+1) leaders' meeting Wednesday.