The Polish edition of the first volume of "Xi Jinping: The Governance of China" was released on Dec. 19 in Warsaw, marking the 70th anniversary of diplomatic relations between China and Poland. The book's publishing ceremony was co-hosted by the State Council Information Office of China, China International Publishing Group (CIPG), and the Chinese Embassy in Poland.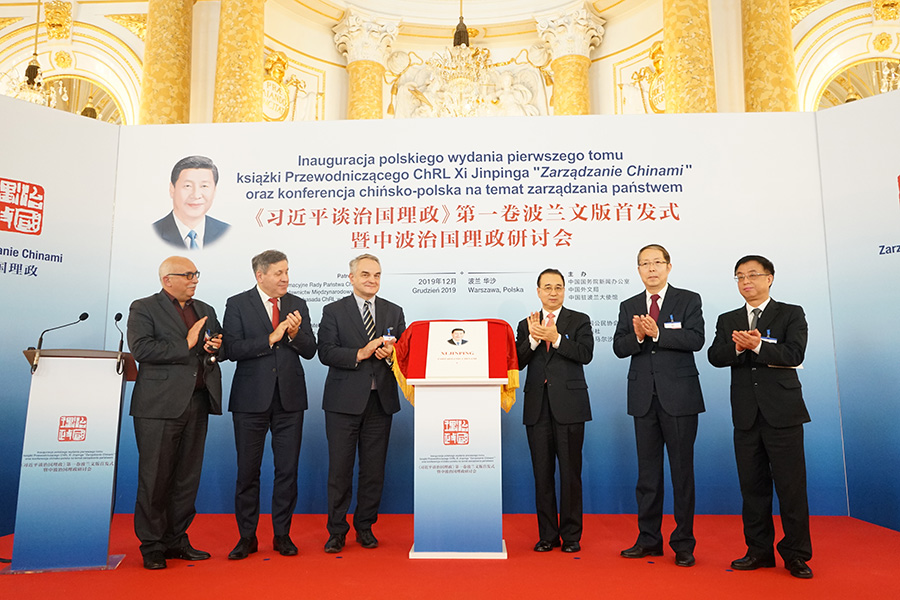 The Polish edition of "Xi Jinping: The Governance of China" is released in Warsaw, Poland, on Dec. 19, 2019. [Photo/Xinhua]
Chinese Ambassador to Poland Liu Guangyuan, vice president of CIPG Fang Zhenghui, former Polish Prime Minister Waldemar Pawlak, and former Polish Deputy Prime Minister Janusz Piechocinski attended the ceremony along with more than 200 academics, translators, publishers, and guests. The event also included a symposium on the governance of China and Poland.
Liu said the book answers key questions in China's development under new conditions, and demonstrates the philosophy of governance by the Chinese leadership. He said it will help Polish readers better understand China's path and ideas of development, as well as its domestic and international policies.
Fang noted that the book has addressed various aspects of the governance of China, especially regarding socio-economic development, poverty alleviation and anti-corruption. He said the book also expounded on global issues, demonstrating a leader's long-term planning and strategic thinking.
Poland and China has a long history of exchange, and the two countries have much experience to share with each other regarding national governance and economic reform, noted Pawlak. He said that the Belt and Road Initiative has opened up a new scope of cooperation between Poland and China as well as injected new vitality into the world economy. He added that, as an important country in Central and Eastern Europe, Poland will further promote cooperation between China and the region.
Piechocinski noted that the book has provided solutions to some of the common challenges facing people around the world, and readers can learn more about China's development ideas, ways and experience.
During the book launch seminar, academics from China and Poland held discussions regarding the Belt and Road Initiative and mutual learning between civilizations.
The Polish editions of the first volume of "Xi Jinping: The Governance of China" was translated and published in a collaborated effort by China's Foreign Languages Press and Poland's Adam Marszalek Publishing House.